Eager to try out the new features of iOS 17 but the update is nowhere to be seen on your device? You're not alone. Many iPhone and iPad users are facing the issue of the "iOS 17 update not showing up" in their software update settings. In this post, we'll delve into the common reasons behind this glitch and offer top solutions for it.
The iOS 17 update promises a range of exciting features and improvements. However, many people are facing barriers to travel to access these facilities. We've compiled this comprehensive guide to troubleshooting and resolving this issue so you can start enjoying the latest that iOS has to offer.
Main Reasons Why is iOS 17/iPadOS 17 Update Not Showing Up?
Wondering why the much-awaited iOS 17 update not showing up on your iPhone? Rest assured, there could be several possible reasons behind this. Let's look at the most common reasons you might be experiencing this issue:
Device Compatibility: If you are using an older iPhone model. then It might not support the new iOS 17 update.
Network Connectivity: A poor or unstable internet connection can prevent your device from detecting updates.
Scheduled Updates: If your iPhone is set to check for updates at specific times, you could miss immediate availability.
System Glitches: Temporary system errors or bugs can occasionally block updates from appearing.
Pending Updates: Having any pending updates for your current iOS version could interfere with the new update appearing. Additionally, before updating to iOS 17, you should be on iOS 16.5 or a newer version.
Top Best Fixes for "iOS 17 Update Not Showing" on your iPhone
Frustrated by the "iOS 17 Update Not Showing" issue on your iPhone? We've got the top fixes lined up for you. Try them one by one and let us know what works.
Check Device Compatibility
First and foremost, before diving into any troubleshooting steps, it's crucial to check if your device is even compatible with iOS 17. Apple has released a list of iPhones that can run this update:
iPhone 15 series
iPhone 14 series
iPhone 13 series
iPhone 12 series
iPhone 11 series
iPhone XS, XS Max, XR
iPhone SE (2nd generation and later)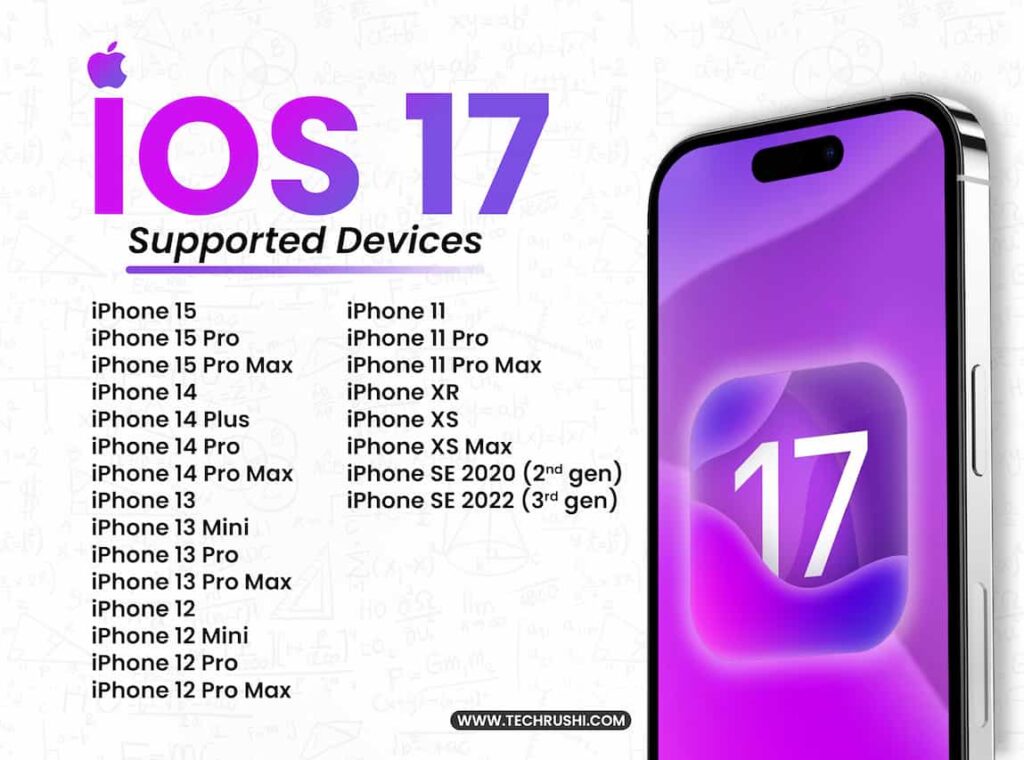 Note: If you're using an iPhone X or older models, your device is not compatible with the iOS 17. Then you can't try the below method.
Force Restart Your iPhone
If the iOS 17 update isn't appearing, your first and most effective course of action is to force restart your device. This simple step can clear any software glitches that might be preventing the update from showing up.
Quickly press and hold the power and volume up or down button.
Swipe the power off toggle right side to switch off your iPhone.
Release the side button when your iPhone vibrates and the Apple logo appears on the screen.
By following these steps, you'll effectively force-restart your iPhone, potentially clearing any hiccups and making the iOS 17 beta update visible.
Check Your Network Connection
Having trouble finding the iOS 17 update on your iPhone? A spotty network connection might be to blame. Make sure you're close to your Wi-Fi router and clear away any obstacles that could weaken the signal. If that doesn't do the trick, try restarting your router by unplugging it briefly before plugging it back in.
Still not seeing the update? You might need to reset your iPhone's network settings. Here's how to do it:
Note: Keep in mind that resetting your network settings will erase all saved Wi-Fi passwords. Make sure you have your Wi-Fi password handy before proceeding.
First, Open the Settings app on your iPhone. Go to "General".
Then scroll down to the bottom of the screen. Tap on "Transfer or Reset iPhone."
Next, Choose "Reset Network Settings."
Enter your lock screen passcode or Face ID for confirmation.
Again Tap on "Reset Network Settings" to confirm it.
Once your network settings are reset, your device should reconnect to available networks, hopefully displaying the elusive iOS 17 update.
Install Pending Updates
To access the iOS 17 upgrade or Fix iOS 17 Update Not Showing Error, your device should be running the latest iOS (iOS 16.5 or above) version. If you haven't updated your device for a while or turned off automatic updates, you'll need to install any pending updates before iOS 17 becomes available. Follow these steps to ensure you're on the newest iOS version:
Open the Settings app and tap on "General."
Select "Software Update." Check for any available updates and tap "Download and Install."
Your iPhone will prepare and install the update automatically, so you just need to wait a few minutes.
After updating to the latest version, revisit the Software Update option in the Settings app and then check it.
Remove Downloaded Updates
If you encountered issues while downloading the iOS 17 update previously and it's causing problems, you can delete the unused update by following these steps:
Go to Settings > General > iPhone Storage.
Next, Find the "software update" in the list of apps. Then tap on the "software update".
Finally, Choose "Delete Update" and confirm the action.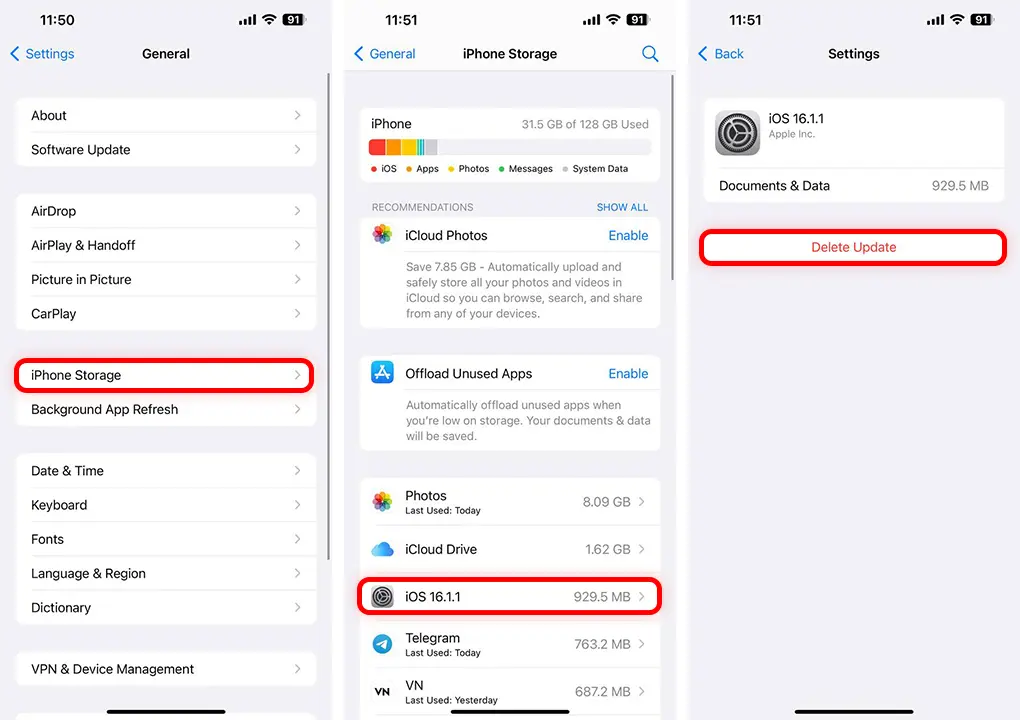 By following these steps, you can ensure that your device is up to date with the latest iOS version and resolve any issues related to incomplete or problematic iOS 17 updates.
Disabling Your VPN Connection
If you're a VPN user (for example, I personally prefer NordVPN) and find that the iOS 17 update not showing up, your VPN might be the issue. To resolve this, you'll need to remove or delete your VPN data and then try again. Here's how:
First, open the Settings app on your iPhone and tap on "General."
Next, scroll down a bit and select "VPN & Device Management."
After that, tap on "VPN."
Then Under Device VPN, you'll see your connected service (in my case, NordVPN). and tap on it.
To remove it, tap on the last option labeled "Delete."
This should fix the issue, allowing the iOS 17 update to show up on your device.
Download and install iOS 17 update using Finder
If none of the previous solutions work for you, there's still a way to get your iPhone updated to the latest iOS 17 version. Using Finder on macOS Monterey or newer, you can manually install the update. Here's how to do it:
Note: First, connect your iPhone to your computer using a Data cable.
Download the iOS beta software restore image from Apple's Developer download page.
Open Finder and connect your iPhone to your Mac.
Select your iPhone from the sidebar.
In the Summary panel, press and hold the Option key while clicking on "Restore iPhone."
Navigate to the downloaded iOS beta software restore file and select it.
Click "Restore" to initiate the installation process.
Once the update installs successfully, your iPhone will restart. To complete the activation, you'll need an active network connection (WiFi or Cellular).
Fix Your iOS 17 Update Issue…
We've explored multiple reasons why the iOS 17 update not showing up on your device and have provided a range of solutions to fix this issue. Although these methods are generally effective, they may not work for everyone. By following a few straightforward steps, you could be enjoying all the new features that iOS 17 has to offer in no time.