Using social media just got more exciting with the arrival of Instagram's new app, Threads. Have you signed up for your account in Threads? If yes and now you are thinking of changing the username of threads to make it more attractive or personality. But, you don't know how to do it on threads? So in this blog post, I will tell you how to change your username in threads.
Your username on any social media is your unique calling card to the world. If you're unsure how to update it on threads, don't worry! This blog post will ensure that you are up-to-date with the best social media etiquette.
Change Your Username in Threads on iPhone and Android
While the Threads app doesn't offer the option to change your username directly, it does allow you to edit other profile aspects like your bio, links, and privacy settings. Whenever you try to change the name directly from the Threads app, you will see that it is locked.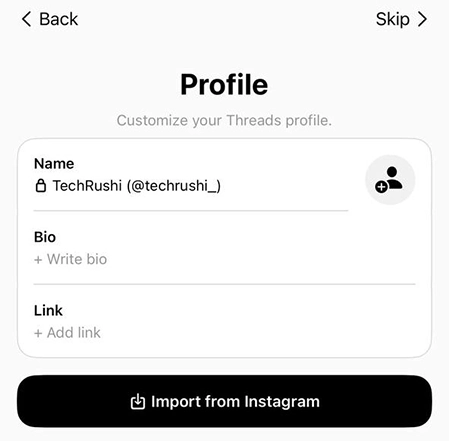 However, the only solution to change your Threads username is through the Instagram app. For this follow the following steps:
Step 1: Launch the Instagram app on your iPhone or Android device. Look for the profile icon, typically found at the bottom right corner, and tap on it.
Step 2: Once your profile is open, then tap on the "Edit Profile" option.
Step 3: Look for the "Username" field. Tap on it, and type in your desired new username. Once finished, tap "Done".
Step 4: Now, open your Threads app. Since Threads is closely integrated with Instagram, your updated username should automatically reflect here too. Verify this by checking your profile on the Threads app.
Read More: Enable Dark Mode on Instagram Threads
Wrapping Up
In conclusion, Instagram Threads provide you with an attractive platform to connect and communicate with others, but it is not possible to change your Threads username directly. So follow the steps mentioned here to change your username in Threads.
FAQs
How do I change my username on Threads?
A Threads username cannot be modified independently from its own application. You can effectively change your Threads username through the Instagram app.