If you're facing the "NameDrop Not Working" issue on your newly-updated iOS 17 iPhone, you're not alone among frustrated users. This glitch undermines the ease and efficiency that NameDrop promises, forcing you to revert to older methods of sharing contact information. Fortunately, we have solutions that can help you get your NameDrop feature up and running again.
Dive into our comprehensive guide for 7 proven tips that will fix the "NameDrop Not Working" issue on your iPhone and get it back in action in no time. Keep reading to make the most of this game-changing feature!
Why is NameDrop Not Working in iOS 17?
Due to some issues, this feature does not always work as expected. To make sure you can share Contact Photo and Poster seamlessly via NameDrop, it's crucial to know the common issues that can arise and how to solve them. In this guide, we've outlined the key reasons behind these problems.
Possible Reasons for NameDrop Issues:
Incompatible Software: The device you're trying to connect with might not be running iOS 17.
WiFi or Bluetooth Issues: Ensure that both WiFi and Bluetooth are enabled on each device involved in the NameDrop transaction.
AirDrop Settings: It's crucial that AirDrop is enabled on both devices. NameDrop heavily relies on AirDrop technology.
System Bugs: The iOS 17 update has been released recently so there may still be some bugs, that create some issues.
Best Tips to Fix iOS 17 NameDrop Not Working on iPhone
Here we give top-notch troubleshooting tips to fix the "NameDrop Not Working" issue. Give each solution a try, one at a time, and let us know in the comments below which one resolves your problem.
Check Both Device Compatibility
First up, check if both iPhones are running on iOS 17. The feature won't work if either phone is running an older version of iOS. Also, make sure that both phones are models that support iOS 17.
Here's a list of iPhones that can run iOS 17 and should work with NameDrop:
iPhone 15 series
iPhone 14 series
iPhone 13 series
iPhone 12 series
iPhone 11 series
iPhone XS, XS Max, and XR
iPhone SE (2nd gen and up)
So, if you're facing issues with NameDrop Not Working, start by making sure both phones meet these requirements.
Use NameDrop Correctly
Another common issue with NameDrop could be the incorrect positioning of the iPhones. The feature uses NFC and requires the phones to be in close proximity. Make sure the top edges of both iPhones touch each other for successful contact sharing.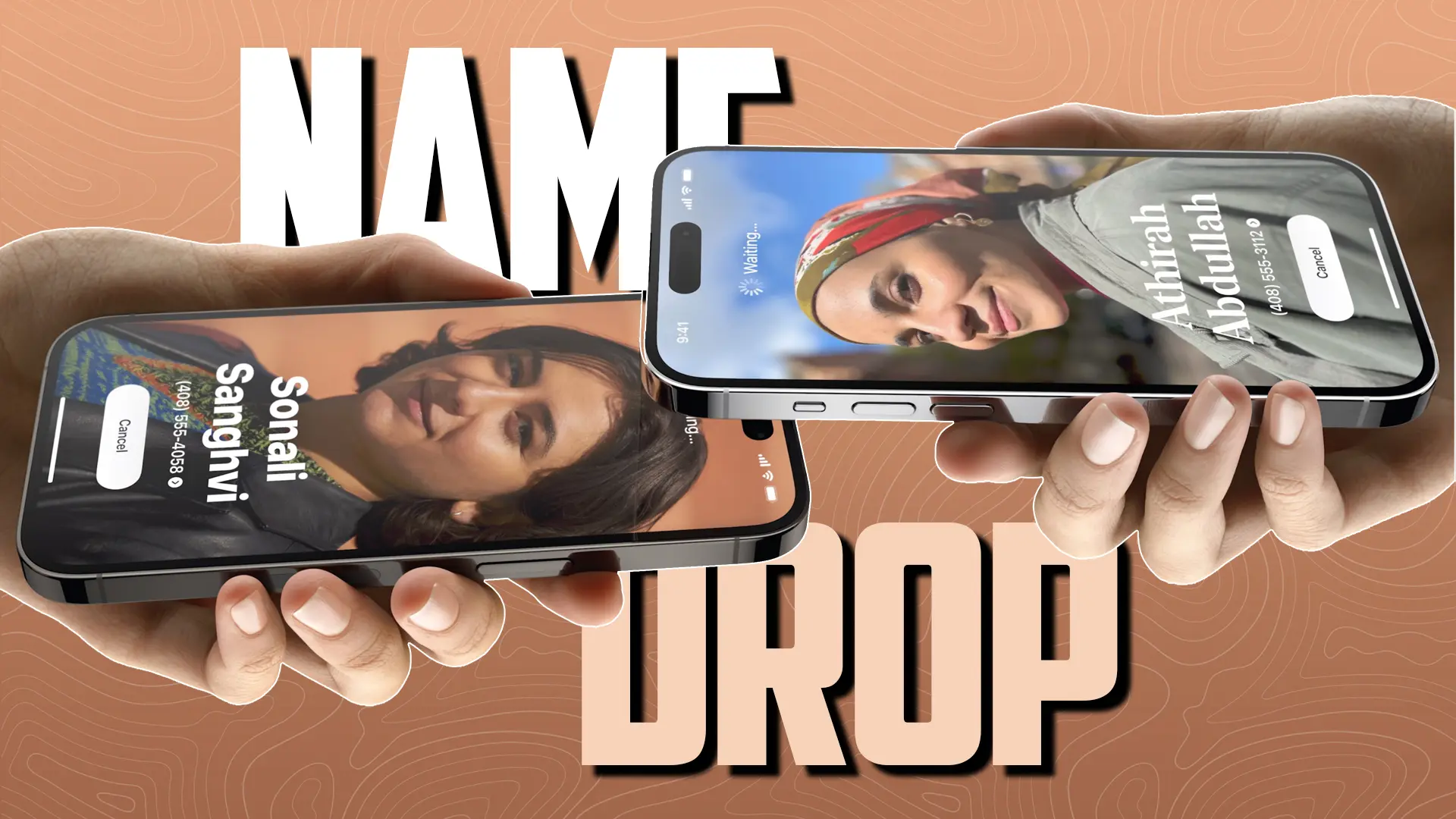 If that doesn't do the trick, try placing the phones on top of each other. Incorrect gestures can often prevent NameDrop from working as intended.
Force Restart Your iPhone
A quick fix for resolving NameDrop issues on iOS 17 is simply restarting both iPhones involved in the sharing process. A restart can often clear temporary glitches and get things working again. Here's a quick guide to restarting your iPhone:
Hold down the Power and Volume Up buttons until the shutdown screen appears.
Swipe the power-off slider from left to right. Wait for some time.
Press and hold the Power button again until you see the Apple logo.
Once both phones are restarted, test out NameDrop to see if it's now functional. If not then try below other methods.
Enable AirDrop for Everyone on iPhone
Another reason is AirDrop settings. NameDrop requires that both iPhones have their AirDrop set to "Everyone," rather than "Contacts Only," to ensure successful sharing. Here's a quick guide to adjust your AirDrop settings:
Swipe down from the top-right corner to open the Control Center.
Then tap and hold the Communication tile to expand it.
Long-press the AirDrop icon to access its settings.
Now, Select "Everyone for 10 Minutes" to temporarily set your AirDrop preference to "Everyone."
Remember, this setting will revert back after 10 minutes for security reasons. Also ensure that, Both iPhones should have the same AirDrop settings for the feature to work.
Ensure Wi-Fi And Bluetooth for Enable
If NameDrop is not working on your iPhone running iOS 17, the issue may be related to Bluetooth or Wi-Fi. Since NameDrop relies on AirDrop technology, a quick fix might be to toggle these settings off and then back on again. Here's how to do it:
First off, Open the Settings app on your iPhone.
Tap on "Wi-Fi" and toggle it off, then tap again to turn on.
Head back to Settings and tap on "Bluetooth."
Toggle Bluetooth off, then back on as well.
Tip: You can also Enable and Disable WiFi and Bluetooth from the Control center.
Disable Lockdown Mode
When Lockdown Mode is activated on your iOS device, it restricts access to apps, websites, and other essential features for added security. If you've enabled this feature -either intentionally or by mistake – you'll need to turn it off. Here's how to disable Lockdown Mode on your iOS device:
Open the Settings app on your device. Scroll down and select "Privacy & Security".
Locate "Lockdown Mode" and tap on it.
In this mode, tap on "Turn Off Lockdown Mode" to disable it.
Reset Network Settings
If you're still encountering issues with NameDrop not working properly on iOS 17, your last resort may be to reset your iPhone's network settings. Be aware that this will wipe out all saved Wi-Fi networks and paired Bluetooth devices. However, it's a step that often resolves network-related problems. To do this:
Begin with, Open the Settings app. Tap "General."
Then Scroll down and tap "Transfer or Reset iPhone."
In the pop-up, select "Reset Network Settings."
Enter your passcode to confirm. and wait for the reset to complete.
Once you've reset the network settings, test NameDrop to see if it's working. If it's still not functional, then contact Apple Support.
Fixed NameDrop Issue…
That's it, folks! Our guide aims to help you solve this problem. This new feature is an exceptional addition to the latest iOS update, and it's crucial for it to work when you need it most. We hope this post has helped you fix any issues you may be experiencing. If it did, we'd love to hear from you in the comments below.