As Apple often releases iOS updates to enhance features and improve security, users often find themselves in situations where they need to stop the current update. In this blog post, I will show you how to stop iOS updates that have already started.
Many times the new update you update comes with bugs like battery draining very fast, always on display problem, etc. so it is important to prevent it. For this follow the below steps.
What is iOS Update?
An iOS update is a software upgrade for Apple devices like iPhones, providing new features, bug fixes, and security improvements to enhance device performance and stability.
Check the iOS update download status
To check the iOS update status, Navigate to Settings > General > Software Update. If it's still downloading, you can cancel it by restarting your iPhone. If it says "Request an update", the update may have already been downloaded, or you can cancel it if it's in progress.
Reasons for stop iOS updates
There are several reasons you might want to stop an iOS update:
Insufficient storage space
Incompatibility with specific apps
Fear of bugs or glitches in the new version
Preference for the current iOS version
How to Stop iOS Updates During Download
Open Control Center while the iOS update is downloading.
Turn on Airplane mode by tapping the airplane icon. or Go to Settings > Airplane mode.
The download will pause due to a loss of connection.
To check the update status, go to Settings > General > Software Update.
Keep the phone in airplane mode until you are ready to start the update process again.
Note: During this time, it might be a good idea to disable automatic updates, so that they don't start automatically.
How to Delete Downloaded iOS Update
When you want to delete software updates that have been partially or fully downloaded (but not yet installed), follow these steps to delete them:
Go to Settings > General > iPhone Storage.
Find the software update in the list of apps.
Tap on the software update.
Tap "Delete Update" and confirm.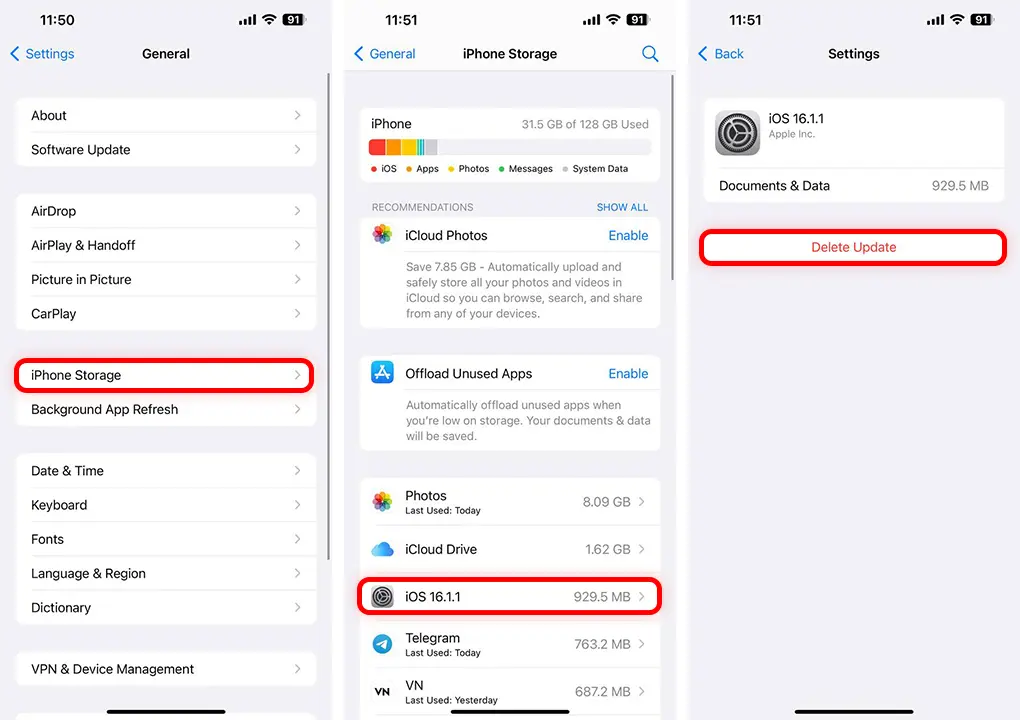 How to Disable Automatic iOS Update
To disable automatic iOS updates, follow these steps:
On your iPhone, go to Settings > General > Software Update.
Select Automatic updates.
Turn off the "Download iOS Updates" toggle.
By disabling these options, your device will no longer automatically download or install iOS updates. Now when you want to download the update, you have to update the device manually.
Conclusion
Managing iOS updates on your Apple devices is essential to ensure a smooth user experience and maintain control over your device's performance. This blog post guides you step-by-step on how to stop ongoing iOS updates and disable automatic updates. Remember, stopping the update during installation has risks, so it's best to be careful. By following these instructions, you can take control of when and how your device is updated, allowing you to enjoy a seamless and personalized user experience.
FAQ
Can I Stop iOS updates that are ongoing?
Apple doesn't provide a direct option to pause or stop iOS updates, there are two ways to cancel an update:
1) Pause the download to prevent the installation from starting, thus saving your data.
2) Delete the partially downloaded update to make sure it won't restart on its own.
Can stopping an iOS update cause any issues?
It is usually safe to stop the update before installation. However, stopping the update during installation can cause software problems.
Can I downgrade my iOS version after updating it?
Downgrading your iOS version is not officially supported by Apple, and can be a complicated process with potential risks. I do not advise you about this.