At the WWDC 2023 event on July 12, 2023, Apple rolled out FaceTime on Apple TV 4K through the debut tvOS 17 beta update. This update is packed with cool new features, such as VPN support, an updated control center, FaceTime Calling, a Siri Remote locator, fresh screensavers, and more.
For the first time, Apple TV 4K users can enjoy FaceTime and video chats. No more passing your iPhone around during a group FaceTime call – just tune in via your TV. Let's break down how to get started with FaceTime on Apple TV 4K.
What Is FaceTime on Apple TV?
FaceTime for Apple TV is a game-changer, transforming your big screen at home into a video calling hub. By leveraging the camera on your iPhone or iPad, you can now jump into FaceTime calls on a larger display.
This feature harnesses the power of the iPhone Continuity camera. This means you can use your iPhone or iPad's camera and mic for calls on your Apple TV. The best part? It's also compatible with your Mac, promising superior FaceTime video quality.
How Does FaceTime Work on Apple TV with tvOS 17?
Of course, Apple TV doesn't come with a built-in camera. But Apple's "Continuity Camera", initially introduced for MacBook and iPhone, is now used for Apple TV. With this, your iPhone will convert into a webcam. Simply position your iPhone or iPad horizontally (like standby mode) near your Apple TV and you're good to go for FaceTime calls.
Benefits of using FaceTime on Apple TV
FaceTime on Apple TV 4K shines during business conferences or relaxed calls with family. Thanks to the high-res iPhone camera, you get outstanding video and audio quality. Plus, with tvOS 17, features like center stage and hand reactions elevate the experience.
Requirement for using FaceTime on Apple TV
Before diving in, make sure:
Both your iPhone and Apple TV are running the latest versions of tvOS 17 and iOS 17.
This FaceTime capability is currently exclusive to Apple TV 4K models.
Your iPhone and Apple TV must be on the same Wi-Fi network for smooth video streaming.
Have a sturdy stand to keep your iPhone in place.
Setting Up FaceTime on Apple TV
Before launching FaceTime on your TV, activate the continuity camera on your iPhone or iPad:
Open Settings on your iPhone.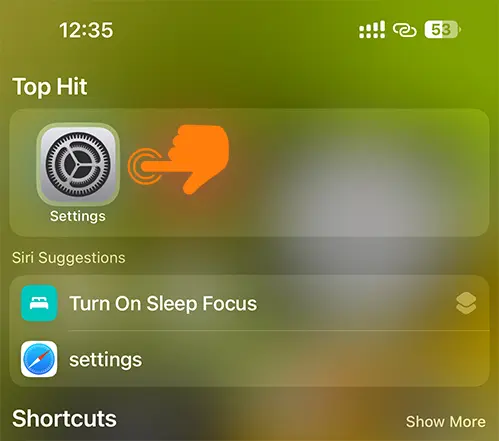 Activate the Continuity camera feature.
Remember, this feature is compatible with iPhone XR and newer. For the Center Stage feature, an iPhone 11 or later is necessary.
How to use FaceTime on Apple TV
If you've updated both your devices:
Launch the FaceTime app on your Apple TV's Home screen.
Pick your Apple ID or opt for "Choose Other" to use a different device.
A "Continuity Camera" prompt will pop up on your iPhone or iPad. "Accept" it to share your camera feed with your TV.
Adjust your iPhone's position for the perfect landscape shot.
Voila! Your FaceTime is now streaming on Apple TV 4K.
To add someone to the call, hit the "+" on the top left and select a contact.
How to Disconnect FaceTime on Apple TV
To end the session:
Unlock your iPhone and tap the small screen-sharing icon on the top left.
A "Connected to Apple TV" prompt will appear. Hit the red "Disconnect" button.
Features of FaceTime on Apple TV
Direct FaceTime calls from Apple TV.
Utilize the Continuity Camera feature for high-definition video calls without extra gear.
Stay centered in your video frame with the Center Stage feature.
Use hand reactions for better communication: Thumbs up for like, two thumbs up for fireworks, heart for love, sign, "V" for balloons, etc.
For the hearing-impaired, live captions transcribe the FaceTime conversation.
FaceTime Supported Apple TV Models
Currently, only the 4K Apple TV lineup supports FaceTime:
Apple TV 4K (1st Gen – 2017)
Apple TV 4K (2nd Gen – 2021)
Apple TV 4K (3rd Gen – 2022)
Alternative way of FaceTime on Apple TV
If you don't have an Apple TV 4K, screen mirroring offers a workaround:
Swipe into your iPhone's control center. And Tap Screen Mirroring icon.
Your TV will mirror your iPhone display. Simply launch FaceTime.
While this method has been reliable for years, some users have reported minor glitches during calls. Thankfully, the tvOS 17 built-in app offers a glitch-free experience.
FaceTime on the Big Screen
I hope, this guide should help you elevate your FaceTime calls using the new tvOS 17 and iOS 17 features on Apple TV 4K. While it's currently in beta, we anticipate even more enhancements in the official release. Got questions or feedback? Drop us a line in the comments below!