Xiaomi All Devices Code Name And How to check Region of MIUI Update?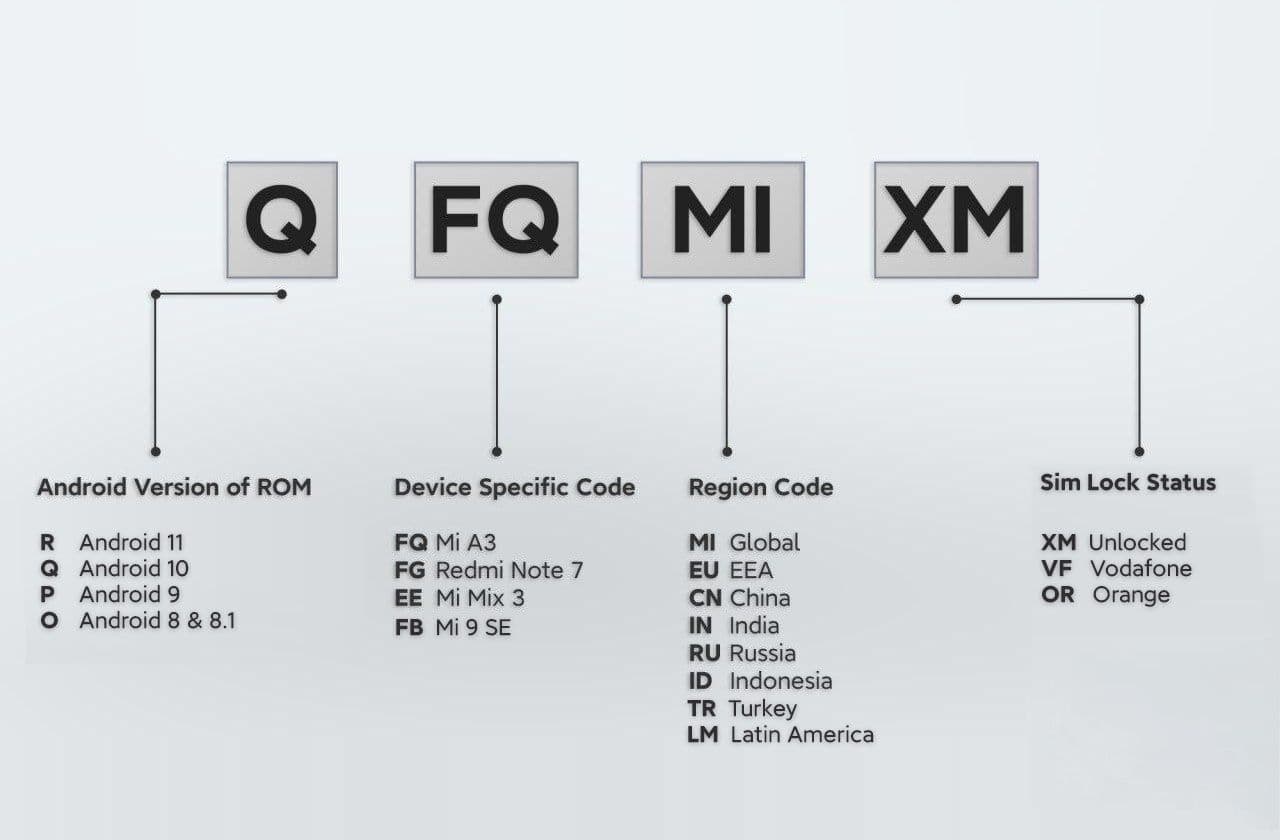 Xiaomi MIUI Version Device Code is made up of 5 letter words. All letters meaning are different so check the below post and get an idea of how Xiaomi All Devices Code Name was work and how to check any region of MIUI Updates
Every Xiaomi user is confused when they show the MIUI Version number. Daily in my mailbox and telegram groups number of people are asking what's meaning of this version is and how to identify ROM for MIUI Version code. Read More How to enable MIUI 13 control center in MIUI 12?
Just a taken Example QFQMIXM is the MIUI version number, Now the First digit was indicate the Android version, the Second and Third digits was indicated the Device Code name, then the Fourth and Fifth digits was indicated Region. The last two digits show SIM Lock Status.
Q = Android Version
FQ = Device Code Name
Mi = Region
XM = SIM Lock Status
Xiaomi All MIUI Version Codes
We provide A to Z all device codes and Region codes as well. Check complete details and download firmware for your device. Read More Download MIUI 13 Latest Updates in Xiaomi, Redmi, and POCO Phones
Android Version Of ROM
M- Android 6
N – Android 7
O – Android 8
P – Android 9
Q – Android 10
R – Android 11
S – Android 12
Region Code
MI – Global
EU – Europe
CN – China
IN – India
RU – Russia
ID – Indonesia
TR – Turkey
LM – Latin America
SIM LOCK STATUS
XM – Unlocked
VF – Vodafone
OR – Orange
Xiaomi All Devices Code Name
| | | |
| --- | --- | --- |
| Xiaomi Device Name | Xiaomi Smartphones Codename | Code |
| Mi 2 | Aries | XA |
| Mi 3 | Pisces | XC |
| Mi 3/Mi4 | Cancro | XD |
| Mi 4i | Ferrari | XI |
| Mi 4c | Libra | XK |
| Mi 4s | Aqua | AJ |
| Mi 5 | Gemini | AA |
| Mi Note | Virgo | XE |
| Mi Note Pro | Leo | XH |
| Mi Note 2 | Scorpio | AD |
| Mi Note 3 | Jason | CH |
| Mi Max 32GB | Hydrogen | BC |
| Mi Max Pro | Helium | BD |
| Mi Max 2 | Oxygen | DD |
| Mi Max 3 | Nitrogen | ED |
| Mi Mix | Lithum | AH |
| Mi Mix 2 | Chiron | DE |
| Mi Mix 2S | Polaris | DG |
| Mi 5s | Capricorn | AG |
| Mi 5s Plus | Natrium | BG |
| Mi 6 | Sagit | CA |
| Mi 6X | Wayne | DC |
| Mi 8 | Dipper | EA |
| Mi 9 | Cepheus | FA |
| Mi 9 SE | grus | FB |
| Mi 8 SE | Sirius | EB |
| Mi 5x | Tiffany | DB |
| Mi 5c | Song/Meri | CJ |
| Mi A1 | Tissot | DH |
| Mi A2 | Jasmine | DI |
| Mi A2 lite | daisy | DL |
| Mi A3 | bamboo (bamboo_sprout) | FQ |
| Mi Pad | Mocha | XF |
| Mi Pad 2 | Latte | AC |
| Mi Pad 3 | Capu | CI |
| Mi CC9 | pyxis | FC |
| Mi CC9e | laurus | FM |
| Mi CC9 Meitu Edition | vela | FE |
| Redmi 1 | HM2013023 | – |
| Redmi 1s | Armani | HC |
| Redmi 2 | HM2014811 | HJ |
| Redmi 3 | Ido | AI |
| Redmi 3 S/X | Land | AL |
| Redmi Pro | Omega | HQ |
| Redmi Note 1 | lcsh92_wet_jb9 | HD |
| Redmi Note 1S | Gucci | HK |
| Redmi Note 1/4G | Dior | HI |
| Redmi Note 2 | Hermes | HM |
| Redmi Note 3(MTK) | Hennesey | HN |
| Redmi Note 3(Qualcomm) | Kenzo | HO |
| Redmi Note 3 Special | Kate | HR |
| Redmi Note 4 | Nikel | BF |
| Redmi Note 4x | Mido | CF |
| Redmi 4A | Rolex | CC |
| Redmi 4 | Prada | CE |
| Redmi 4 Pro | Markw | BE |
| Redmi 4x | Santoni | AM |
| Redmi 5 | Rosy | DA |
| Redmi Note 5A | Ugg | DF |
| Redmi Note 5/5 Plus | Vince | EG |
| Redmi Note 5 Pro | Whyred | EI |
| Redmi 6 | cereus | CG |
| Redmi 6A | cactus | CB |
| Redmi 6 Pro | sakura | DI |
| Redmi 7A | onclite | FL |
| Redmi 7A | pine | CM |
| Redmi S2/Y2 | ysl | EF |
| Redmi Go | tiare | CL |
| Poco F1 (PocoPhone) | beryllium | EJ |
| Redmi Note 6 Pro | tulip | EK |
| Redmi Note 7 | Lavender | FG |
| Redmi Note 7 Pro | violet | FH |
| Redmi Note 7S | Lavender | FG |
| Xiaomi Mi Play | Lotus | FI |
| Xiaomi Mi Mix 3 | Perseus | EE |
| Xiaomi Mi Mix 3 5G | andromeda | EM |
| Black Shark Helo | nile | – |
| Black Shark 2 | Blackshark Skywalker | – |
| Xiaomi Mi 8 Pro | equuleus | EC |
| Xiaomi Mi 8 Lite | platina | DT |
| Redmi K20 | davinci | FJ |
| Redmi K20 Pro | raphael | FK |
| POCO C3 | angelicain | CR |
| POCO C31 | angelicainin | RI |
| Mi 10T Pro | apollo | JD |
| Mi 10T 5G | apollo | JD |
| POCO M2 | shiva | JR |
| POCO X3 NFC | surya | JG |
| POCO X3 NFC | surya | JG |
| Redmi 9 (India) | lancelot | JC |
| Mi 10 Ultravan | cas | JJ |
| Redmi K30 Ultra | cezanne | JN |
| Redmi 9 Prime | lancelot | JC |
| POCO M2 PRO | gram | JP |
| Redmi 9A | dandelion | CD |
| Redmi 9C NFC | angelican | CS |
| Redmi 9C | angelica | CR |
| Redmi 9 | lancelot | JC |
| Redmi 10X PRO 5G | bomb | JL |
| Redmi 10X 5G | atom | JH |
| Redmi 10X 4G | merlin | JO |
| Redmi K30i 5G | picasso_48m | GI |
| POCO F2 PRO | lmi | JK |
| Redmi K30 5G Racing | picasso | GI |
| Redmi Note 9 | merlin | JO |
| Mi Note 10 Lite | toco | FN |
| Mi 10 Lite 5G | monet | JI |
| Redmi K30 Pro Zoom | lmi | JK |
| Redmi K30 Pro | lmi | JK |
| Redmi Note 9S | curtana | JW |
| Redmi Note 9 Pro Max | excalibur | JX |
| Redmi Note 9 Pro (India) | joyeuse | JZ |
| Black Shark 3 Pro | mbu | – |
| Mi 10 Pro 5G | cmi | JA |
| Mi 10 5G | umi | JB |
| Redmi 8A Pro | olivewood | CQ |
| Redmi 8A Dual | olivewood | CQ |
| POCO X2 | phoenix | GH |
| Redmi K30 | phoenix | GH |
| Redmi K30 5G | picasso | GI |
| Redmi Note 8T | willow | CX |
| Mi Note 10 | tucana | FD |
| Mi CC9 Pro | tucana | FD |
| Redmi 8 | olive | CN |
| Redmi 8A | olivelite | CP |
| Mi 9 Pro 5G | crux | FX |
| Redmi K20 Pro Premium | premium | FK |
| Mi 9 Lite | pyxis | FC |
| Redmi Note 8 Pro | begonia | GG |
| Mi CC9 | pyxis | FC |
| Mi CC9e | laurus | FM |
| Mi 9T | davinci | FJ |
| Redmi K40 / POCO F3 / Mi 11X | alioth | HC |
| Xiaomi 11T | agate | WE |
| Redmi K40 Gaming / POCO F3 GT | ares | KJ |
| Redmi Note 8 (2021) | biloba | CU |
| Redmi Note 10 5G / POCO M3 Pro 5G | camellia | KS |
| Redmi Note 9 5G [China] / Redmi Note 9T | cannon | JE |
| Redmi 9 [India] / Redmi 9 Activ [India] | cattail | CT |
| Redmi Note 10 Pro 5G [China] / POCO X3 GT | chopin | KP |
| POCO M3 | citrus | JF |
| Xiaomi Mi 10 Pro | cmi | JA |
| Xiaomi Mi 11 Lite 4G | courbet | KQ |
| Xiaomi Mi 9 Pro 5G | crux | FX |
| Redmi 10A [China] | dandelionc3l2 | CZ |
| Xiaomi Mi Pad 5 Pro Wi-Fi | elish | KY |
| Xiaomi Mi Pad 5 Pro 5G | enuma | KZ |
| Redmi Note 11/Redmi Note 11T / POCO M4 Pro 5G | evergreen | GB |
| Xiaomi Mi 10T Lite / Redmi Note 9 Pro 5G / Mi 10i | gauguin | JS |
| Redmi Note 8 | ginkgo | CO |
| Redmi K40 Pro / Redmi K40 Pro+ / Mi 11X Pro / Mi 11i | haydn | KK |
| Redmi Note 9 4G / Redmi 9 Power/ Redmi 9T | lime | JQ |
| Xiaomi 11 Lite 5G NE | lisa | KO |
| Redmi Note 10 | mojito | KG |
| Xiaomi CIVI | mona | KV |
| Xiaomi Mi Pad 5 | nabu | KX |
| Xiaomi Mix 4 | odin | KM |
| Redmi Note 11 Pro / Xiaomi 11i / Xiaomi 11i HyperCharge | pissarro | KT |
| Mi 11 Lite 5 | renoir | KI |
| Redmi Note 10S | rosemary | KL |
| Redmi 10 / Redmi 10 2022 | selen | KU |
| Redmi Note 11 4G | selenes | KU |
| Xiaomi Mi 11 Ultra / Mi 11 Pro | mars | KA |
| Mi 10S | thyme | GA |
| Xiaomi Mi 8 Explorer Edition | ursa | EH |
| POCO X3 Pro | vayu | JU |
| Xiaomi Mi 11 | venus | KB |
| Xiaomi 11T Pro | vili | KD |