MIUI 13 is the latest System OS of the Xiaomi phone and it was released just a few months ago. Now some rumors and information are leks about MIUI 13.5 updates. The latest android skin comes with an Android 12 & Android 13-based update and a new control center. So are you excited about the new OS? Check below the complete post to get an idea about whether your device is eligible for MIUI 13.5 or not? Read More MIUI 13.5 Supported Indian device list is released check now
After this update, Xiaomi's operating system will offer a significantly different user experience and make the overall stability and performance even better. You can now see data usage in the control center and feel the 4D vibration in supported devices.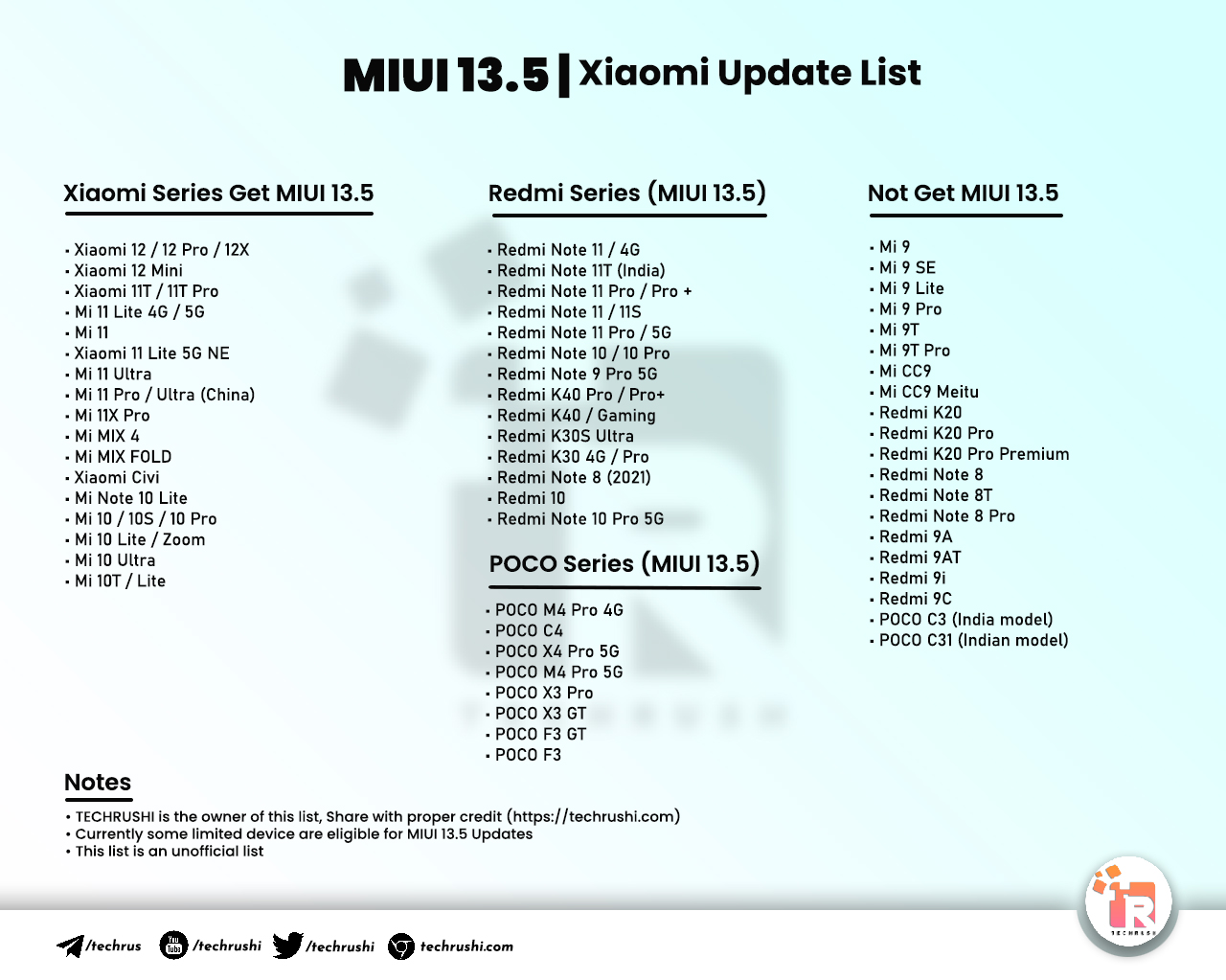 MIUI 13.5 is the next update for Xiaomi phones, and it will be the polished version of MIUI 13. This release has been supposed to come with better stability – which should keep some Xiaomi devices running smoothly for a longer time! As per sources, very few devices are going to get this update as it's not yet known when it'll be released.
MIUI 13.5 update device list: eligible devices
MIUI 13.5 Eligible Mi Devices
Xiaomi 12
Xiaomi 12S
Xiaomi 12 Ultra
Xiaomi 12 Pro
Xiaomi 12S Pro
Xiaomi 12S Pro Dimensity Edition
Xiaomi 12 Lite
Xiaomi 12 Pro 5G
Xiaomi 12X
Xiaomi 12 Mini
Xiaomi 11T Pro
Xiaomi 11T
Xiaomi Mi 11 Lite 4G
Xiaomi Mi 11 Lite 5G
Xiaomi 11 Lite 5G NE
Xiaomi Mi 11 LE
Mi 11 Ultra
Mi 11 Pro / Ultra (China)
Mi 11X Pro
Mi 11X
Mi 11i
Mi 11i Hypercharger
Mi 11
Mi MIX 4
Mi MIX FOLD
Xiaomi Civi
Xiaomi Civi 1S
Mi Note 10 Lite
Mi 10
Mi 10i 5G
Mi 10S
Mi 10 Pro
Mi 10 Lite
Xiaomi Note 10 Lite
Mi 10 Lite Zoom
Mi 10 Ultra
Mi 10T
Mi 10T Pro
Mi 10 Lite Zoom
Mi 10T-Lite
MIUI 13.5 Eligible Redmi Devices
Redmi Note 11E
Redmi Note 11E Pro
Redmi Note 11 5G
Redmi Note 11 4G
Redmi Note 11T 5G
Redmi Note 11 Pro
Redmi Note 11 Pro+ 5G
Redmi Note 11T Pro
Redmi Note 11T Pro+
Redmi Note 11T Pro+ 5G (Astro Boy Edition)
Redmi Note 11
Redmi Note 11S 4G
Redmi Note 11S 5G
Redmi Note 11SE
Redmi Note 11 Pro
Redmi Note 11 Pro 5G
Redmi Note 10 Pro Max
Redmi Note 10 Pro
Redmi Note 10S
Redmi Note 10
Redmi Note 10 Lite
Redmi Note 10T 5G
Redmi Note 10T Japan
Redmi Note 9
Redmi Note 9 Pro
Redmi Note 9 Pro Max
Redmi Note 9S
Redmi Note 9 4G
Redmi Note 9 5G
Redmi Note 9T 5G
Redmi Note 9 Pro 5G
Redmi K40 Pro / Pro+
Redmi K40
Redmi K40 Gaming
Redmi K30S Ultra
Redmi K30 4G
Redmi K30 Pro
Redmi K50
Redmi K50 Pro
Redmi K50 Gaming
Redmi K50i
Redmi K50i Pro Terminal
Redmi K40S
Redmi Note 8 (2021)
Redmi 10
Redmi 10A
Redmi Note 10 Pro 5G
Redmi Pad 5G
Redmi 10X 4G
Redmi 10X 5G
Redmi 10X Pro
Redmi 10C
Redmi 10 Power
Redmi 10 (India)
Redmi 10 Prime
Redmi 9T
Redmi 9 Power
Redmi 9
Redmi 9 Prime
Redmi Note 8
MIUI 13.5 Eligible POCO Devices
POCO M2
POCO M2 Reloaded
POCO M2 Pro
POCO M3
POCO M3 Pro 5G
POCO M4 Pro 4G
POCO X2
POCO X3 NFC
POCO X3
POCO X3 Pro
POCO X4 GT
POCO X4 GT Pro
POCO C4
POCO X4 Pro 5G
POCO M4 Pro 5G
POCO X3 Pro
POCO X3 GT
POCO F3 GT
POCO F3
POCO F4 GT
MIUI 13.5 Ineligible Devices
Mi 9
Mi 9 SE
Mi 9 Lite
Mi 9 Pro
Mi 9T
Mi 9T Pro
Mi CC9
Mi CC9 Meitu
Redmi K20
Redmi K20 Pro
Redmi K20 Pro Premium
Redmi Note 8
Redmi Note 8T
Redmi Note 8 Pro
Redmi 9A
Redmi 9AT
Redmi 9i
Redmi 9C
POCO C3 (India model)
POCO C31 (Indian model)
Don't forget to tell us your opinion, by dropping your comment below, Thanks