MIUI 13.5: Release Date, Features, and Eligible Devices
Xiaomi, a popular smartphone brand, is getting ready to release its latest operating system called MIUI 13.5. This update is highly anticipated and promises to bring a lot of new features, better performance, and a better overall experience to Xiaomi phones.
In this article, I'll be going to take a closer look at the release date, the coolest features, and which phones can get the MIUI 13.5 upgrade. MIUI 13.5 is an updated version of MIUI 13 and will make your phone run smoother and faster while also adding new features. If you want to learn more about what's in store with MIUI 13.5, keep reading!
What is MIUI 13.5 update?
MIUI 13.5 is the newest upcoming version of Xiaomi's custom Android skin. It's a special design for Xiaomi and Redmi phones and makes your phone's user interface even better. MIUI 13.5 is an update to MIUI 13 and is designed to give you a faster, more secure, and more enjoyable experience on your Xiaomi phone.
MIUI 13.5 Overview
Version
MIUI 13.5
Release Date (Estimated)
Second half of 2023
Android Version Compatibility
Android 11 and above
Key Features
– Improved Performance and Battery Life
– Dark Mode 2.0
– New Super Wallpapers
– Improved Privacy Features
– Revamped Control Center
– Floating Windows
Eligible Devices
– Xiaomi 12 series
– Redmi 12 series
– POCO F3 series & more.
MIUI 13.5 Release date
While Xiaomi has not officially announced a specific release date for the MIUI 13.5 update, it is expected to be released in the second half of 2023. We don't know the exact date yet, but as soon as it's ready, Xiaomi will start rolling it out to phones.
MIUI 13.5 Features
Faster and Better: An update makes your phone run faster and smoother, with quicker app launches and better battery life.
Dark Mode 2.0: The dark mode is now even better, with better contrast and readability. Plus, all your apps will look great in dark mode 2.0 now.
Privacy on Point: MIUI 13.5 has got you covered with a privacy dashboard that lets you control which apps have access to your information. There is also a new feature to protect your clipboard.
Cleaner Notifications: You'll love the new Notification Control Center, which aggregates notifications from the same app. No more crowded mess!
Multitasking made easy: You can now open 3-4 apps in floating windows, so you can use multiple apps at the same time without having to switch between them.
Fresh look: The user interface has been completely updated with new animations and effects. Looks and feels more immersive.
Better Camera: The camera has been improved, so your photos will look even better.
Enhanced Security: MIUI 13.5 has enhanced its security features, so your personal information will be safer and more private.
MIUI 13.5 Eligible Devices
The following devices are eligible for the MIUI 13.5 update
Xiaomi Phones:
Xiaomi 13 Series
Xiaomi 12X
Xiaomi 12 / Mini / Lite / Pro / Ultra
Xiaomi 12S / Pro
Xiaomi 12S Pro Dimensity Edition
Xiaomi 11T / Pro
Xiaomi Mi 11 LE / Lite
Xiaomi 11 Lite 5G NE
Mi 11 / Pro / Ultra
Mi 11X / Pro
Mi 11i / Hypercharger
Mi MIX 4
Mi MIX FOLD
Xiaomi Civi / 1S
Mi Note 10 Lite
Mi 10 / 10i / 10S
Mi 10 Lite / Pro / Lite Zoom / Ultra
Mi 10T / Pro / Lite
Redmi Phones:
Redmi Note 8
Redmi Note 9S / 9T
Redmi Note 9 / Pro / Pro Max
Redmi Note 10S / 10T
Redmi Note 10 / Lite / Pro / Pro Max
Redmi Note 11E / Pro
Redmi Note 11 / Pro / Pro+
Redmi Note 11T Pro / Pro+
Redmi Note 11 / 11S / 11SE
Redmi Note 12 Series
Redmi K40 / Pro / Pro+ / Gaming
Redmi K30 / Pro
Redmi K30S / Ultra
Redmi K40S
Redmi K50 / Pro / Gaming
Redmi K50i / Pro Terminal
Redmi Pad 5G
Redmi 9T
Redmi 9 / Prime / Power
Redmi 10C / 10A
Redmi 10X / Pro
Redmi 10 / Prime / Power
POCO Phones:
POCO C4
POCO M2 / M2 Pro
POCO M3 / M3 Pro
POCO M4 / M4 Pro
POCO X3 / X3 NFC / X3 Pro
POCO X3 GT
POCO X4 / X4 Pro
POCO X4 GT / X4 GT Pro
POCO F3 / F3 GT
POCO F4 / F4 GT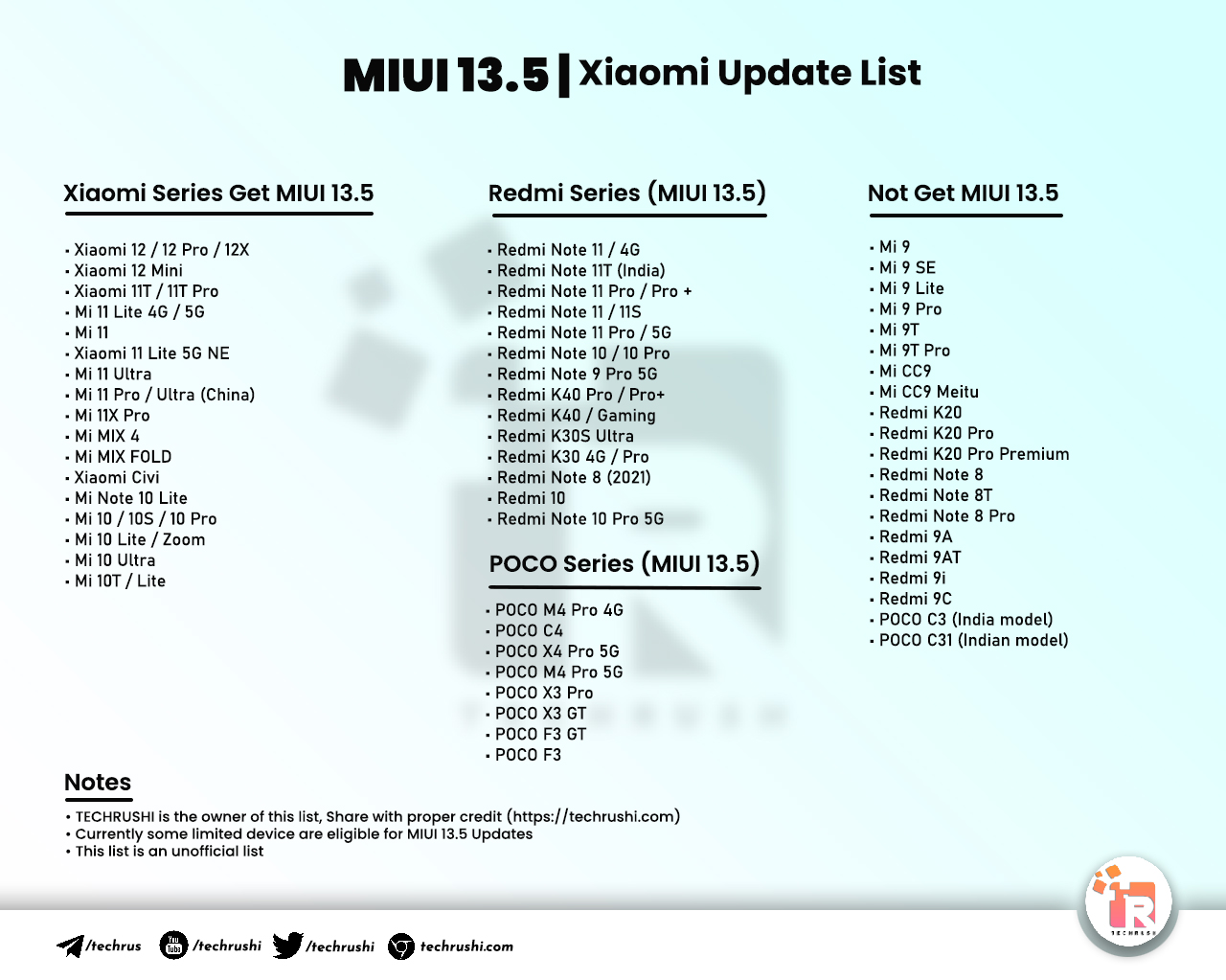 Note: The MIUI 13.5 update is currently speculative and unconfirmed by Xiaomi. Details in this article are based on expectations from previous versions. Stay tuned for official updates.
How to Download MIUI 13.5 Update
Steps to Download and Install the newest Xiaomi update:
Go to the Settings app on your Xiaomi device
Navigate to the "About Phone" section
Check for the availability of the MIUI 13.5 update by tapping on the "MIUI Version"
If the update is available, click the "Download" button to start downloading the update
Once the download is complete, tap on the "Install" button to install the latest update on your phone."
In conclusion, the MIUI 13.5 update brings a lot of exciting new features and improvements to Xiaomi phones. You will have a smoother and more enjoyable user experience with this update. Stay tuned for more news from Xiaomi on when the update will be available for your device