In 2023, Apple is set to launch its brand-new operating system, iOS 17, for iPhone. As per tradition, Apple unveiled their upcoming iOS 17 beta update for iPhones during their WWDC23 event.
Not sure how to download the iOS 17 beta profile for your iPhone? Don't sweat it – this guide has you covered. Check out the step-by-step process below.
iOS 17 Beta Release Date
The buzz is that the full-fledged iOS 17 will drop in September 2023, right alongside Apple's latest iPhone 15 series. Apple dropped the first developer beta on June 5th, 2023, during WWDC23, and rolled out the first iOS 17 Public Beta on July 13th.
| iOS 17 Beta Profile | Release Date |
| --- | --- |
| iOS 17 Developer Beta | June 5, 2023 |
| iOS 17 Public Beta | July 12, 2023 |
| iOS 17 Stable Release | September 12, 2023 |
What's the Apple Beta Software Program?
It's Apple's cool initiative that lets its users get a sneak peek at pre-release versions of their operating systems – think iOS, iPadOS, macOS, tvOS, visionOS, and watchOS. It's a playground for both developers and the public to try out Apple's freshest features.
Hop on board, and you can test drive beta OS versions on your devices and submit some feedback to Apple if you run into glitches. This helps Apple squash those pesky bugs before the final release.
Pros and Cons
Pros
Get first dibs on the newest features.
Send bugs and hiccups directly to Apple.
Network with fellow testers and developers.
Develop apps compatible with the latest OS.
Cons
Risky business – software can be glitchy.
Some apps might throw a fit and not work.
Potential data loss scares due to bugs.
iOS 17 Beta Profile Precautions
Before diving in, remember:
Beta software is a work in progress and might have some quirks.
Stick to testing on secondary devices, not your main one.
Back up your device before going beta – downgrading later isn't an option.
Enrolling in Apple's Beta Software Program is totally on you, so be aware of the risks.
Bonus tips: UltFone iOS System Repair is a powerful software designed to fix iOS system problems stuck during updates or downgrades. It is compatible with various iOS versions, including the latest iOS 17 update. You can use this cost-effective tool to download the beta iOS 17 free profile without an Apple developer account safely.
Here's How to Download the iOS 17 Beta Profile
Apple usually serves up three versions of its OS. Wanna get the iOS 17 beta profile? Here's the game plan:
Good News: From iOS 17 onwards, Apple lets you try the beta versions for free by registering your device on their official site. So, no need to fork over $100 for public beta access.
Download iOS 17 Public Beta Profile
This one's a bit more public-friendly, offering a taste of new features before the stable release.
Skim a bit, and you'll see the "Sign In" button adjacent to "Already a member?". Tap on it.
Log in using your Apple ID credentials.
Once in, give the Agreement a once-over and hit "Accept."
You'll land on a new screen. Here, select "iOS" to proceed with the iOS 17 update.
Glide a bit down, and under the "Get Started" header, choose "Enroll your iOS device."
Keep scrolling down, and right at the bottom, you'll spot "Open Beta Updates" under the "Turn on beta update" section. Go ahead and click on it.
Your iPhone will do its magic and whisk you away directly to the software update screen. Right there, you'll see the tempting iOS 17 beta profile, ready and waiting for you.
Zero in on the "iOS 17 Public Beta" option and tap on it.
Force quit your Settings app and then boot it up again.
Head back to "Software update," and voilà! Your iOS 17 Beta update will be geared up and good to go.
Download iOS 17 Developer Beta Profile
This one's for the tech gurus – the iOS developers crafting and testing iOS apps. You'll need a developer account. Once logged in, the newest beta version is yours for the taking.
Fire up Safari on your iPhone and head to developer.apple.com.
Log in with your Apple ID.
Click on "Install profile."
Confirm by clicking "Allow" then hit "Close."
Once downloaded, go to Settings > Profile Downloaded > Install.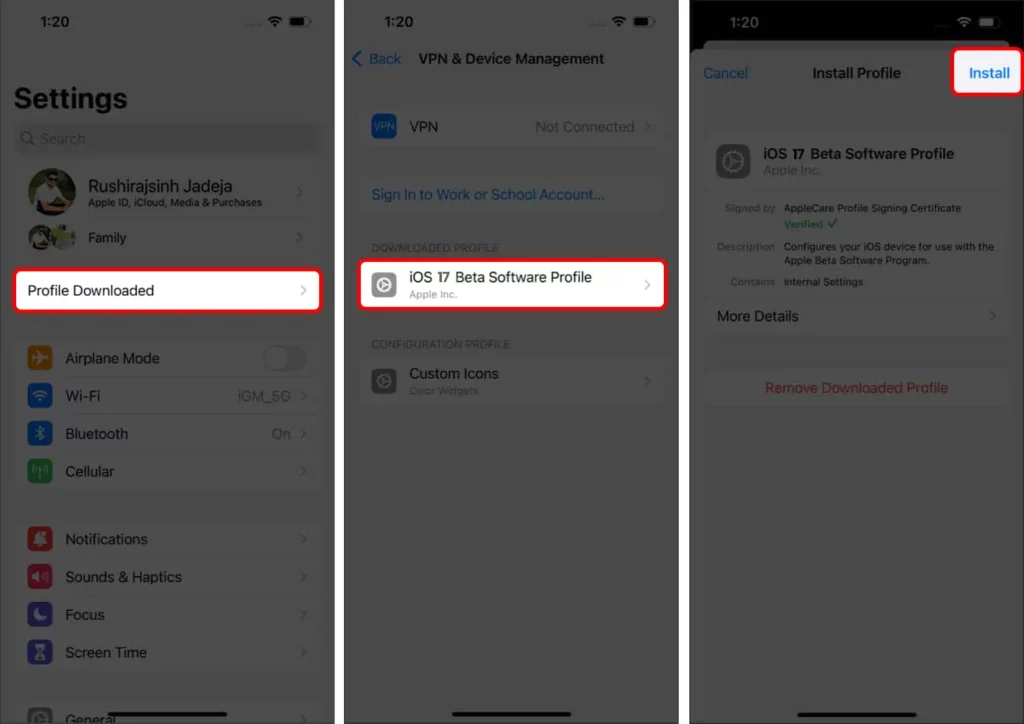 Enter your passcode and re-confirm the install.
Restart your iPhone.
After that, go to Settings > General > Software Update > Download and Install.
Getting the iOS 17 Update
On your iPhone, navigate to Settings > General > Software Update.
If iOS 17 is available, click on "Download and Install."
Warning: If you're jumping onto the iOS 17 beta profile, make sure your iPhone's battery level is over 50%. If not, plug it into a charger.
Apple's upped their game with a new feature that lets users access beta versions right from the Settings app, simplifying the whole process. Now you can pick between Developer Beta and Public Beta.
Hopefully, this guide cleared up how to get the iOS 17 beta profile on your iPhone. However, a word to the wise: tread lightly with beta profiles. They're still in the works, and there's a tiny chance your iPhone could hit a snag.
Need more info? Contact us at admin@techrushi.com or drop your thoughts in the comments below.