Apple is releasing its new OS for iPhone in 2023 named iOS 17. They always announce new iOS update launches in their WWDC event, this time they will announce new iOS 17 updates with iPhone 15 Series in the WWDC23 event.
If you do not know how to download iOS 17 beta profile on your iPhone then read this article carefully and follow the steps given below.
What is Apple Beta Software Program?
The Apple Beta Software Program is a program that allows Apple users to try pre-release versions of its operating systems, such as iOS, macOS, tvOS, and watchOS. This program is designed for the public to test Apple's new features and functionality.
Users who join the program can download and install beta versions of the operating system on their devices and provide feedback to Apple about any issues they encounter. This feedback helps Apple identify and fix any bugs or other issues in the final version.
iOS 17 Beta Release date and Roadmap
According to our team research and internet sources, this iOS 17 will be announced in early June 2023. The first iOS 17 Developer Beta version will be released from June 6 to 10 exclusively for iOS developers. After 1 month of testing and bug fixing this profile will be released to the public who will be the first to try some of the new features. And last, this update will roll out for all iPhone users.
iOS 17 Developer beta: 6 to 10 June 2023
iOS 17 Public beta: 12 July 2023
Stable iOS 17: month of September
Precautions of ios 17 beta profile
Before proceeding, there are a few important things you should be aware of:
Beta software is pre-release software that may contain bugs or other issues that may affect your device's performance.
You should only install beta software on non-production devices, such as test devices or secondary devices.
You should always back up your device before installing beta software, as it is not possible to downgrade to an earlier version of the operating system after this.
Participation in the Apple Beta Software Program is voluntary and you should be aware of the risks involved.
How to Download iOS 17 beta profile
Every time they launch three versions of this iOS 17 beta profile. If you are planning to download any iOS 17 beta profile, follow the below steps for that profile,
iOS 17 Developer Beta Profile
As mentioned, this profile is made for iOS developers only, who are building and testing iOS apps and other iOS software. You need a developer account for this, with this account you can easily download and install the latest version on your iPhone. Keep in mind that this beta software is under testing and has not been released to the public.
If you need this account then you can purchase this for $100 USD. Once you are purchased this account Go to Settings > Privacy & Security > Enable it.
Open Safari on your iPhone, Go to the Developer.apple.com website.
Log in with your Apple ID.
Tap on Install profile.
Click on Allow and then tap the Close button.
After downloading the iOS 17 beta profile, Go to Settings.
Click on Profile Downloaded
Tap on the Downloaded profile and click on the Install button.
Enter your Passcode.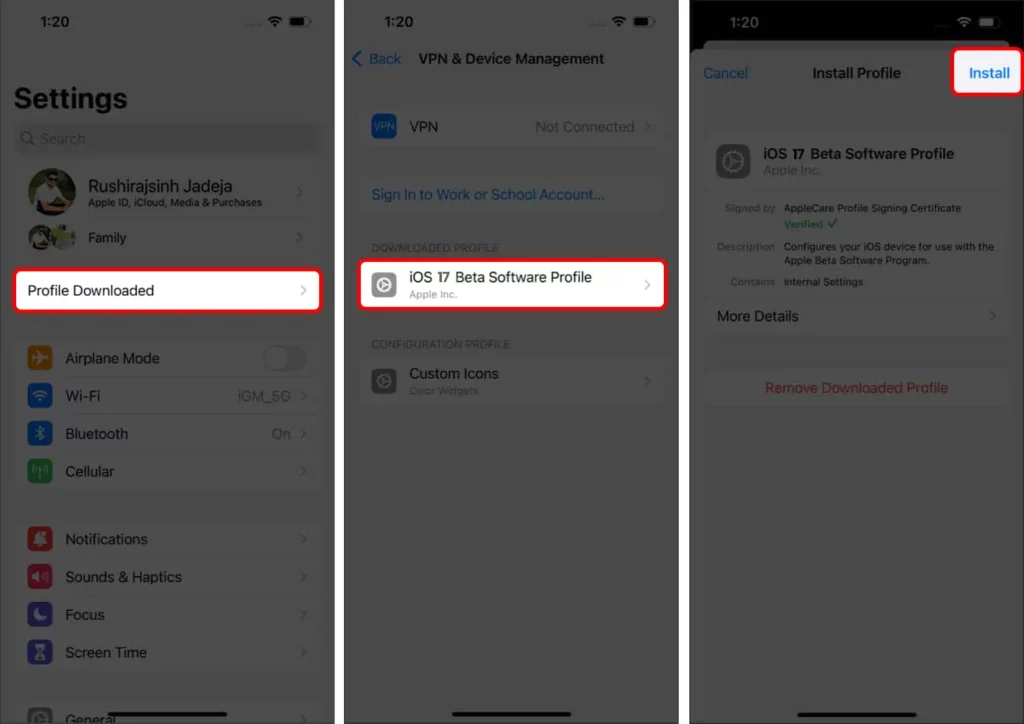 Once again tap the Install button to confirm that.
Now, Click on the Restart button to install this profile on your iPhone.
Once you are installing the developer beta profile on your iPhone then Go to Settings > General > Software Update > Download and Install.
iOS 17 Public Beta Profile
This beta profile is designed for people who want to use some new features before the stable version is rolled out. This version has some bugs but not more than the developer version.
Go to beta.apple.com and Download the iOS 17 Public beta profile. (To download this profile follow all the above developer profile steps.)
Once download and install this profile then Go to Settings > General > Software Update > Download and Install.
How to Download iOS 17 Stable version
On your iPhone, Go to Settings.
Click on General.
Tap on Software Updates and now the system will check if the new version is available for you.
If the latest iOS 17 update is available. Click on "Download and Install".
Once the download is complete, tap on "Install Now".
Now restart your iPhone.
Note: If you install the latest iOS 17 beta profile, your iPhone must have more than 50% charging or your iPhone must be connected to a power source.
Apple recently introduced a new feature that allows its customers to easily access beta versions of iOS from the Settings app. This new feature simplifies the beta download process and offers two options: Developer Beta and Public Beta included.
So I hope you have learned how to download and install the iOS 17 beta profile on your iPhone. But one thing I strongly recommend is that you don't go with the beta profile because this profile is under the development process. If you use this beta profile, it might be possible your iPhone will be dead.
For any kind of help, you can contact us via [email protected], or leave your thoughts in the comment box below.