VLC Player is a popular multimedia player that lets you play different video and audio formats on different devices (mobile phone, tablet, computer, TV). Also, it is a free and open-source player that provides a comprehensive media playback solution. In this blog post, we will show you how to install VLC Player on Amazon Fire TV Stick.
What is VLC Player?
VLC Media Player is a free, open-source, and cross-platform multimedia player used to play various audio and video formats. It was developed in 2001 by VideoLAN. In this app, you can play AVI, MP4, MKV, FLAC, and many other formats. It also supports several streaming protocols including HTTP and RTSP.
VLC Player has a simple, intuitive, and user-attractive interface, and is available for various operating systems including Windows, MacOS, Linux, Android, and iOS. It also offers advanced features like video and audio filtering, playback speed control, and extracting audio from video files.
Features of VLC Media Player On FireStick
Free of Cost
Platform Compatibility: VLC supports a wide range of popular audio and video formats such as MP4, AVI, and FLAC.
Subtitle support: VLC allows users to load external subtitles in different languages and adjust their timing and appearance.
Playback controls: The player provides basic playback controls such as play, pause, rewind, fast forward, and volume control.
Network Streaming: VLC can stream content from network sources including HTTP, FTP, and MMS.
Playlist Support: Users can create playlists of their favorite media files and can also manage them.
Customization: VLC provides many customization options including skin and visualization to make the media player more personalized.
Install VLC Player on Amazon Fire TV Stick
Step 1: Open Fire TV Stick Home on your Television and click on the Find Menu button
Step 2: Tap on the Search bar and Search VLC player using the virtual keyboard
Step 4: From the suggestions, select the VLC Player and Click on it
Step 5: Hit the Get or Download button, and wait a couple of minutes to Download VLC Player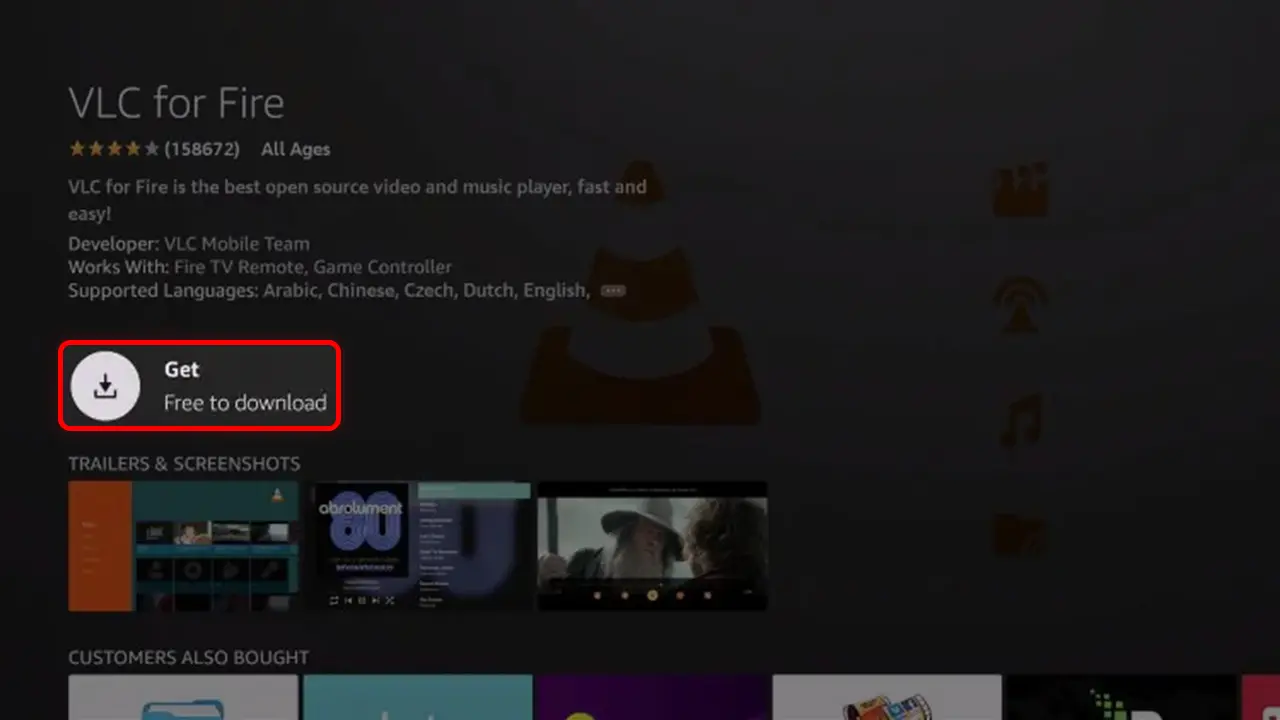 Step 6: Once downloaded it will be automatically installed on your FireStick. Now, tap on Open and use it.
That's it. Your VLC media player is successfully installed on your Fire TV Stick and you can watch local and online video content through it.
Place VLC Media Player on Amazon Firestick Home Screen
Step 1: Open the Firestick home screen and Long Press Home Button to the see "Apps" section
Step 2: Locate the VLC media player app and select it
Step 3: Press the "Menu" button on your Firestick remote and Click on the "Move" option
Step 4: Use the direction buttons on your remote to move the VLC app to the desired location on the home screen. Select "OK" to confirm the changes.
That's it from my side! Follow these steps to install VLC player on any Amazon TV. Overall, VLC Media Player is a versatile and reliable player that is recommended for anyone who needs a player that can handle a wide range of file formats and has a wide range of features.