If you own an iPad and are unsure how to check its battery health, this guide is for you. It can be more challenging to check iPad battery health compared to an iPhone, but with these simple steps, you can easily monitor your iPad's battery health. Keep in mind, battery health will naturally decrease as time goes by, even if you take good care of your device.
What is iPad Battery Health?
iPad Battery Health is the status of your iPad's battery, which can impact how long it lasts and how well it works. It's measured by how much power the battery can hold compared to when it was new, and how well it can perform at its highest level. Checking and maintaining your iPad's battery health is important for keeping it running well and making sure it lasts a long time.
By following these steps, you can quickly check the health of your iPad battery:
Check iPad Battery Health using Analytics Data
Refer to the steps below to examine your iPad's battery health by utilizing analytics data.
Step 1. Launch the iPad Settings app, select Privacy & Security, and tap on Analytics & Improvements.
Step 2. Enable the "Share iPad Analytics" option and navigate to "Analytics Data" (Note: If you are enabling Share iPad Analytics for the first time, allow more than 24 hours for data collection).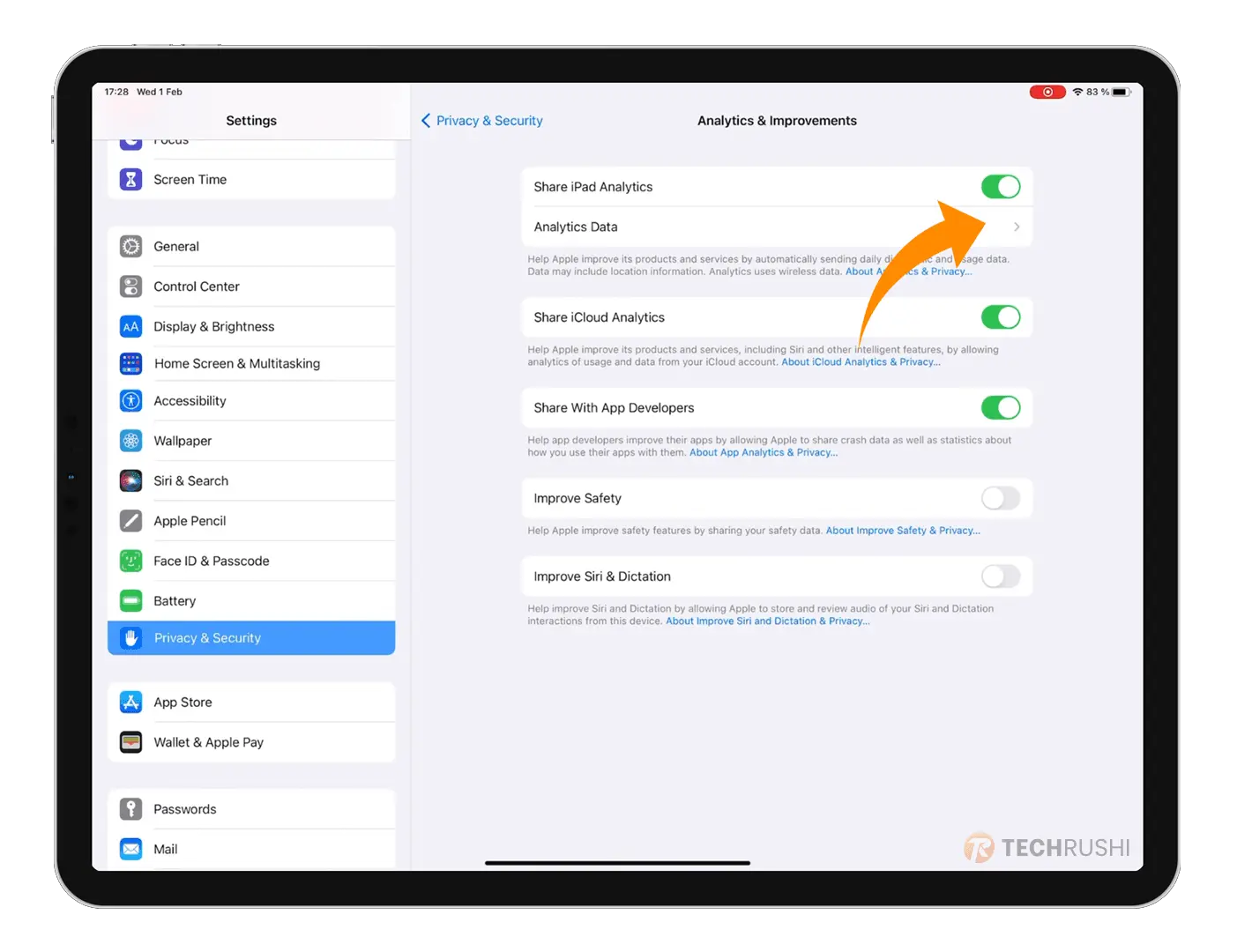 Step 3. Locate the file "Analytics-YYYY-MM-DD-XXXXX.ips.ca.synced," where YYYY represents the current year, MM the current month, DD the latest date, and XXXXX a random file code.
Step 4. After finding the log file, open it and scroll down to the page's bottom.
Step 5. Capture a screenshot of the final paragraph or copy the entire text and paste it into your iPad notes. Look for "last_value_MaximumCapacityPercent:" to determine your iPad Battery Health. Additionally, locate "last_value_cyclecount:" to check your charging cycle.
If this method does not work for you or you don't want to try this complicated method, check Method 2 as well.
Check iPad Battery Health using Apple Shortcuts
Follow the steps provided below to evaluate your iPad's battery health by employing Apple Shortcuts.
Step 1. Download the PowerUtil Apple Shortcut and add it to your iPad.
Step 2. Tap on Add Shortcuts and run the shortcut once to enable it on your iPad.
Step 3. Go to iPad Settings > Privacy and Analytics & Improvements.
Step 4. Turn on "Share iPad Analytics" and select Analytics Data.
Step 5. Find the log file as described in Method 1 (Step 3).
Step 6. Now, tap on the Share icon to activate the Shortcuts.
Step 7. The recently added PowerUtil shortcut will appear in the menu; select it.
Step 8. Wait for a few seconds, and your iPad Battery Health Statistics prompt will appear. Check the iPad Battery Health easily using this shortcut.
How to Maintain iPad Battery Life
To maximize your iPad's battery life and maintain its health, follow these steps:
Keep your iPad up-to-date: Make sure you have the latest version of iPadOS installed, as updates often include improvements to battery life.
Lower screen brightness: Lowering your screen brightness can significantly reduce battery consumption.
Use Low Power Mode: When your battery is low, turn on Low Power Mode to help extend its life by reducing background activity.
Manage app usage: Close apps that you're not using and turn off notifications you don't need, as this can help reduce battery drain.
Avoid extreme temperatures: Don't expose your iPad to very hot or very cold temperatures, as this can negatively affect battery performance.
How to Check Battery Health On iPhone
To check the battery health of your iPhone, follow these steps:
Open the Settings app.
Tap on the Battery option.
Select Battery Health & Charging.
You will now see the Maximum Capacity displayed, which indicates the percentage of your battery's health. This percentage will gradually decrease as your battery ages.
That's it. I hope you found this article informative and helpful. Don't forget to share your battery health percentage in the comments below and let me know if you have any additional tips or insights to share.