How to Check Your iPad Battery Health Without a Computer [iPadOS 17]
If you have an iPad and don't know how to check its battery health, this guide's got you covered. Checking the battery health on an iPad might seem trickier than on an iPhone, but these easy steps will let you monitor it with no sweat. Remember, battery health tends to decline over time, even if you're treating your device well.
Quick Answer: To check your iPad's battery health on iPadOS 17, use Analytics Data in Settings > Privacy & Security > Analytics & Improvements, and note the "last_value_MaximumCapacityPercent". Alternatively, download the PowerUtil Apple Shortcut and follow the prompts for a quick view of battery health. Monitoring this helps ensure your iPad's optimal performance.
What is iPad Battery Health?
iPad Battery Health refers to the condition of your iPad's battery. It affects its lifespan and performance. It shows how much power the battery can hold compared to when it was brand new and how well it performs at peak levels.
Here's how to check your iPad's battery health:
Checking iPad Battery Health through Analytics Data
Follow these steps to view your iPad's battery health using its analytics data:
Open the iPad Settings app, click on Privacy & Security, then hit Analytics & Improvements.
Turn on the "Share iPad Analytics" and go to "Analytics Data".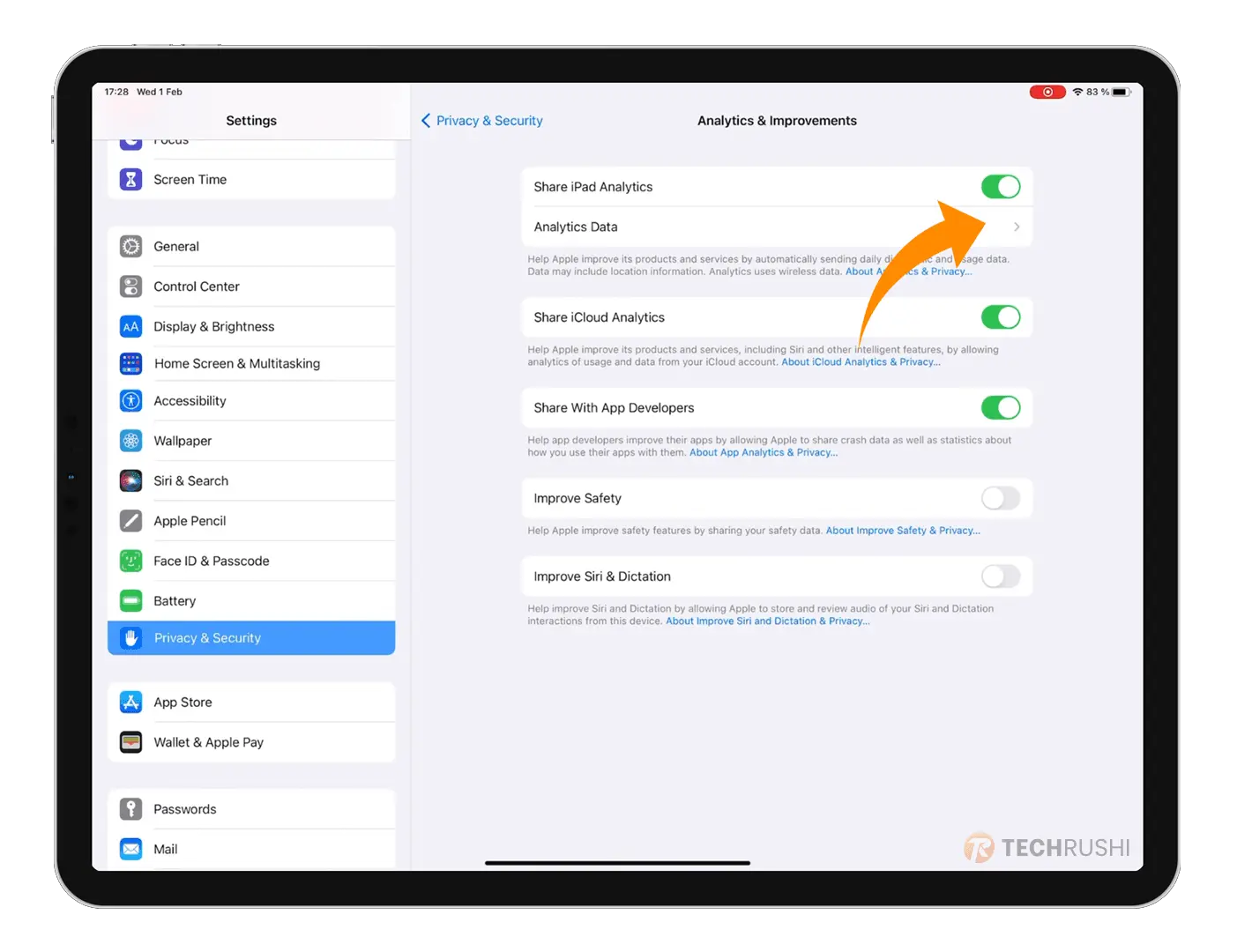 Heads up: If you're turning on Share iPad Analytics for the first time, wait for about 24 hours to collect data.
Find the file labeled "Analytics-YYYY-MM-DD-XXXXX.ips.ca.synced," where YYYY is the current year, MM is the current month, DD is today's date, and XXXXX is a random file code.
Once you've located the log file, open it and scroll all the way down.
Take a screenshot of the last section or copy the text and paste it into your iPad notes. Search for "last_value_MaximumCapacityPercent:" to see your iPad Battery Health. Also, look for "last_value_cyclecount:" to track your charge cycle.
Too complicated? No worries. Try Method 2.
Checking iPad Battery Health using Apple Shortcuts
Use the following steps to check your iPad's battery health with Apple Shortcuts:
Click on Add Shortcuts and run the shortcut once to activate it.
Navigate to iPad Settings > Privacy and Analytics & Improvements.
Enable "Share iPad Analytics" and choose Analytics Data.
Locate the log file as explained in Method 1 (Step 3).
Click on the Share button to activate Shortcuts.
The recently added PowerUtil shortcut will pop up in the menu; choose it.
Hang tight for a few seconds, and voilà! Your iPad Battery Health stats will show up. Easily check your iPad Battery Health using this nifty shortcut.
How to Maintain Your iPad Battery Health
For peak iPad battery life and health, follow these pointers:
Stay updated: Always run the newest version of iPadOS 17. Updates usually come with battery performance tweaks.
Dim it down: Lower screen brightness cuts down on battery use.
Embrace Low Power Mode: Running low? Flip on Low Power Mode to cut back on background tasks.
Handle your apps: Shut down apps you aren't using and turn off unnecessary notifications to curb battery drainage.
Steer clear of wild temps: Extreme cold or heat can mess with your battery's mojo.
Note that you may need to seek the help of an iPad professional if the iPad battery health is low.
How to Scope Out iPhone Battery Health
Wondering about your iPhone's battery? Here's a quick check:
Fire up the Settings app.
Click on the Battery section.
Choose Battery Health & Charging.
Voila! You'll see the Maximum Capacity, showing the percentage of your battery's health. This number shrinks as your battery gets older.
That wraps it up! Hope you found this piece super useful. Drop your battery health percentage in the comments and let me know if you have any additional tips or insights to share.