How to View Saved Passwords on your iPhone with iOS 17
These days, everyone has lots of accounts and passwords to remember. Forgetting a password is normal, but don't stress! If you have an iPhone using iOS 17 or later, you can easily view saved Passwords. This article shows you how to do it.
Apple's iOS 17 also lets you share passwords safely with your family through Family Passwords and iMessage. So Apple is really focusing on making things secure for you this year.
What Are Saved Passwords?
Saved passwords on your iPhone are the login details for apps, websites, or online services. Your iPhone keeps these passwords so you don't have to type them in every time you log in.
Apple has a handy feature called Autofill to help you save and fill in passwords. Keep reading to learn how to use it.
How to Save Passwords on Your iPhone
You have a couple of ways to save your passwords on your iPhone.
Method 1: Turn on Autofill
Open the "Settings" app on your iPhone and find "Passwords."
You'll need to show it's you, using Face ID, Touch ID, or your passcode.
Flip the "Autofill Passwords" switch on.
If you turn on Autofill, you can pick where to save your passwords: Keychain or Chrome.
Method 2: Use Keychain to Sync Passwords
Go to Settings > Passwords > Password Options.
Find the "Allow filling from" section and pick "iCloud Passwords & Keychain."
How to View Saved Passwords on your iPhone
To View saved passwords on your iPhone, follow these steps:
Open "Settings" on your iPhone.
Go to "Passwords."
Use Face ID, Touch ID, or your passcode to show you're the owner.
Now you can see a list of all your saved passwords.
How to Delete Saved Passwords
To get rid of saved passwords:
Follow the steps to view saved passwords.
Tap the password you want to remove.
Tap "Delete Password" and confirm.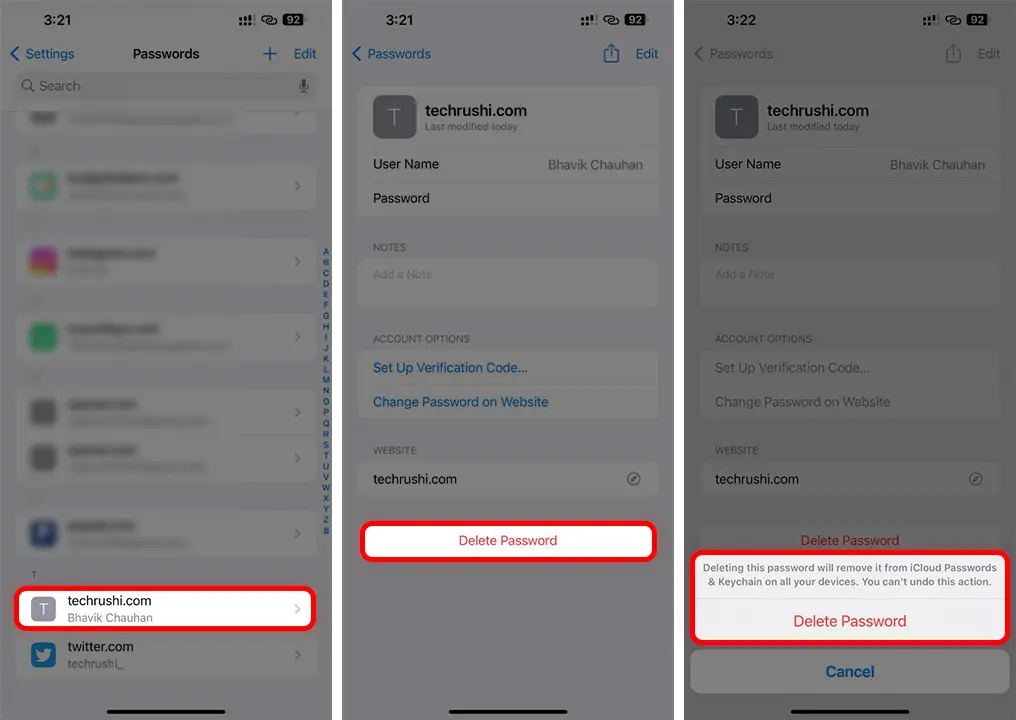 How to Add a Password Manually
To add a password yourself:
Go to the Passwords page in Settings.
Tap the plus (+) icon at the top right.
Put in the website, username, and password.
Tap "Done" when you're finished.
This way, you don't have to worry about forgetting your passwords anymore.
Keychain lets you save all sorts of passwords, not just for websites but also for apps and Wi-Fi networks. You can check your saved info on your iPhone, iPad, or MacBook.
Keeping Your Passwords Safe
Here are some quick tips to keep your passwords secure:
Make each password strong and different.
Don't use personal stuff like your name or birthday.
Change passwords from time to time.
Use a two-factor authentication when you can.
Never tell anyone your passwords.
Conclusion
If you're scared of forgetting passwords and you have an iPhone, relax! You can easily find and manage your saved passwords. Just follow these steps, and keep your accounts secure.
FAQ
Which is the best and safest password manager?
Lots of good options are out there like NordPass, 1Password, LastPass, and Dashlane.
Does Apple have its own password manager?
Yes, Apple's iCloud Keychain lets you save and autofill usernames and passwords safely on your Apple gadgets.