With the launch of the iOS 17 update, Apple has introduced many eagerly awaited features, and one of the standout functions is Contact Poster. As the name implied, this feature allows you to control how your name and photo appear when you call another iPhone user. Also, you can share this unique contact card with family and friends.
For example, if you don't want to share your contact poster with anyone, you can choose not to share it with other contacts. In this post, I'll show you how to disable Name and Photo Sharing on an iPhone running iOS 17.
Quick overview: Turn off Name and Photo Sharing on an iPhone to control who sees your contact info. To permanently disable it, go to the Contact app > your Name Card at the top > tap on Contact Photo & Poster > turn off the Name & Photo Sharing toggle.
Who Can See Your Contact Photo and Poster on iOS 17?
iOS 17 gives you the option to customize how you appear on others' iPhones when you call or text them. Pick a Memoji, text, or a personalized photo with effects for your contact photo and poster. You can effortlessly switch between different profiles and update your photo and poster at any time from your contact card.
You can tailor the visibility, allowing you to share them with contacts saved on your phone or enabling a setting that prompts you every time you communicate with a contact. If you prefer, you can permanently disable name and photo sharing so no one sees your updated photo or poster.
Disable Name and Photo Sharing with Anyone
By default, the Name and Photo Sharing feature is turned on in iOS 17. But you can adjust the privacy settings or tweak Settings to turn this off. Here's how to stop sharing your name and photos with any iPhone:
First off, Navigate and open the Contact app on your iPhone. Then, simply tap on your Name Card at the top.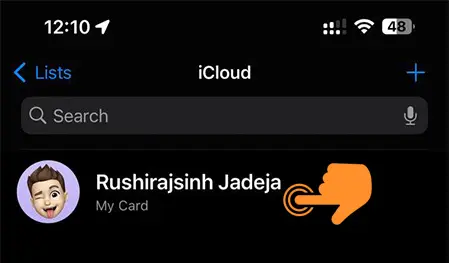 Now tap on "Contact Photo & Poster" under your profile image.
Turn off the toggle for Name & Photo Sharing at the top of the screen.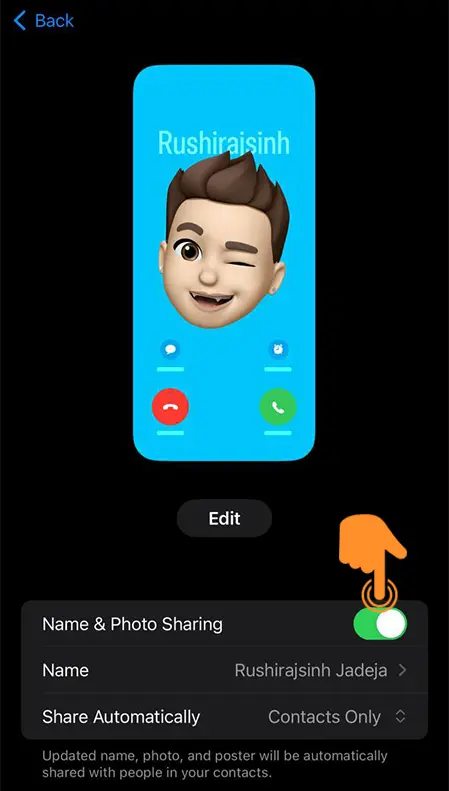 If you don't want to turn off this feature for good, tap on "Share Automatically" at the bottom instead.
Decide when and with whom you want to share your contact poster and photo. You can choose Contacts Only or Always Ask.

Contacts Only: Shared with all contacts saved on your iPhone.
Always Ask: You'll be asked each time you communicate with a contact, giving you precise control over who can see them.
You've now turned off name and photo sharing on your iPhone, and your info will no longer be shared with those you call or if you bring your iPhone close to someone else's.
What Happens When You Change Contact Photo and Poster Privacy on iOS 17?
Modifying the privacy of Contact Photo and Poster in iOS 17 affects how your contacts view your name and photo. If set to "Contacts Only," only saved contacts can see your chosen photo and poster. If set to "Always Ask," contacts won't see updates until you approve.
If Name & Photo Sharing is off, contacts will see the last available photo and name before the change and won't have able to view it.
Stop Sharing Your Contact Card…
That's it! Turning off Name and Photo Sharing on your iPhone in iOS 17 is a cinch. These simple steps stop the automatic sharing of your name card, letting you decide who sees what. Customize it how you like, and enjoy the peace of mind that comes with controlling your own information.