Are you struggling to hear in noisy environments or are you hard of hearing? Then Apple's "Live Listen" feature may be just the solution you need! Exclusively made for iOS users and compatible with AirPods and Beats, this innovative tool turns your iPhone into a personal hearing aid, broadcasting sound from a distance directly into your ears.
In this guide, we will explain how to enable and use the "Live Listen" feature on your iPhone running iOS 17. Whether you want to enhance your everyday listening experience or just want to see what this much-talked-about feature can do, we've got you covered.
What is Live Listen in iOS 17?
Live Listen is an Apple feature that turns your iPhone, iPad, or iPod touch into a remote microphone, sending sound directly to your AirPods or compatible Beats headphones. It's designed to help you hear better in noisy places or over distances and requires iOS or iPadOS 14.3 or later, along with specific compatible devices.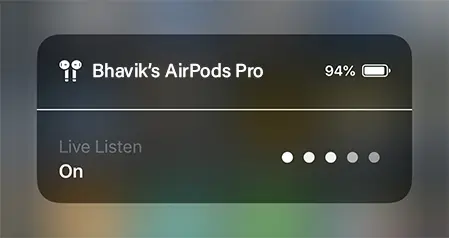 How Does the "Live Listen" Feature Work?
Apple's "Live Listen" feature turns your iOS device into a directional microphone, transmitting targeted sounds to your earbuds or hearing aids via Bluetooth. Useful up to 15 meters away, it's great for enhancing sounds in meetings, lectures, or as a baby monitor, but its potential for eavesdropping has raised some ethical questions.
Live Listen Feature Supported Devices
This feature works with many Apple devices and requires iOS or iPadOS 14.3 or later. The list of compatible devices is below:
AirPods (all variants)
AirPods Pro
AirPods Max
Powerbeats Pro
Beats Studio Pro
Use Apple "Live Listen" Feature on iPhone in iOS 17
Connect your AirPods, or Beats to your iOS device. Now, Open the Settings app, scroll down a bit, and tap "Control Center".
Scroll down to More Controls and tap the green plus symbol next to Hearing to add it to your Control Center (necessary for the use of this feature).
Swipe down from the top right of your display to open the Control Center, then tap and hold the "Hearing icon".
Tap on the Hearing button and select "Live Listen".
Position your iOS device near the audio source you want to hear. Live Listen will now be on, and you'll see a decibel meter on your device displaying the volume of sound coming through your AirPods. Enjoy your enhanced hearing experience!
How to Remove the Hearing Icon from Control Center
Open the Settings app > tap Control Center > tap the red minus symbol next to Hearing to remove it from your Control Center > tap on the Remove button.

Listen Better…
That's it! Apple's "Live Listen" feature brings powerful hearing aid functionality to compatible iOS devices, offering flexibility in various settings. Though simple to set up and utilize, users should be mindful of potential ethical concerns related to eavesdropping. This feature represents an innovative approach to enhancing your audio experience.