With the rollout of the latest iOS 17 update, Apple has introduced a range of new features. Notably, the iOS 17 Golden Master (RC) introduces the HEIF Max Pro format for iPhone cameras, ensuring high-quality photos in smaller file sizes.
With the unveiling of the iPhone 15 series, Apple emphasizes its dedication to enhanced photography and videography. Both the standard iPhone 15 and iPhone 15 Plus come equipped with a 48MP camera. Similarly, the premium iPhone 15 Pro and iPhone 15 Pro Max continue to boast the 48MP high-resolution camera. The introduction of the HEIF MAX mode ensures that users can capture top-notch images without consuming too much storage.
Nowadays, photos and videos quickly fill up our device storage. Recognizing this, Apple has launched the HEIF MAX Pro format for iPhones supporting the 48MP camera, including the iPhone 14 Pro, iPhone 14 Pro Max, and the iPhone 15 series.
Let's dive deeper to understand the HEIF MAX features on the iPhone, its benefits, and how to activate and use it.
What is HEIF MAX on the iPhone Camera?
HEIF Max is a recent addition to the iPhone camera settings. It allows users to take photos at a 48-megapixel resolution while compressing them to save space. Apple's unique HEIF file format succeeds the older JPEG format.
As a comparison, photos taken in HEIF Max mode might only be around 3.8MB, while those in ProRAW Max mode can be a substantial 62.7MB. This distinction becomes crucial when storing thousands of photos.
Note: HEIF file format is primarily for Apple devices and certain photo editors, as many other smartphones don't support it.
How to Enable HEIF Max Pro Format on iPhone Camera
Go to your iPhone's settings.
Navigate to the Camera settings.
Tap on the Formats option.
From the displayed options, choose "ProRAW & Resolution Control" and turn it on.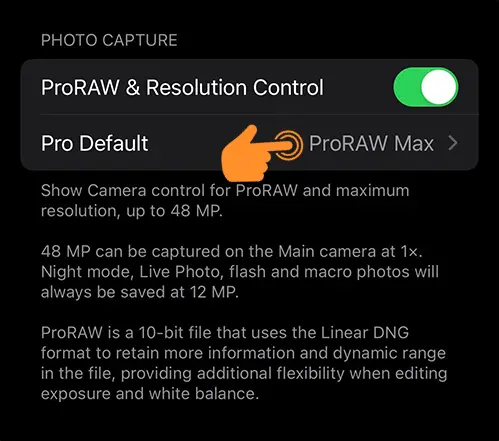 Select from the three Pro formats: HEIF Max, ProRAW, or ProRAW Max. For this guide, we'll focus on the HEIF Max setting to optimize image quality.
Types of Pro Formats on iPhone Camera
HEIF Max: Captures photos using the 48 MP Camera, with each image approximately 5MB.
ProRAW: This format uses the 12 MP Camera and stores more data, resulting in photos that are roughly 25MB each.
ProRAW Max: Captures images in RAW mode with the 48 MP Camera, preserving intricate details, with file sizes ranging from 75-100MB.
How to Use HEIF Max On iPhone Camera
Open your iPhone's camera app and locate the new HEIF MAX option at the top. Tap on it.
Here, you can also switch between Pro formats. Once selected, go ahead and capture your moments.
Last Words
Experiment with these Pro formats on your iPhone to discover the one that best suits your needs. If you predominantly use Apple products and don't often share photos with non-Apple users, the HEIF MAX mode is an ideal choice, enabling you to conserve storage while maintaining photo speed and quality. Keep in mind, that this feature is only available on specific iPhones that support the 48MP camera and have the latest iOS 17 updates.