Want to make your iPhone's StandBy mode even smarter? iOS 17 Update has a nifty feature that rotates your widgets based on what you like and where you are. In this blog post, we'll show you how to enable or disable Smart Rotate for widgets in StandBy mode.
Do you ever find yourself wishing that your iPhone's widgets would show you the most relevant information without you having to do anything? Well, iOS 17 has got you covered with its Smart Rotate feature for StandBy mode widgets. Keep reading, and we'll walk you through how to set it up.
What is Smart Rotate for Widgets, and What's the Upside?
Smart Rotate for StandBy Mode Widgets is a feature in iOS 17 that automatically rotates widgets in StandBy mode to show the most relevant information. For example, if you have a weather widget, Smart Rotate might rotate it to show the current temperature when you are in a different location. Or, if you have a calendar widget, Smart Rotate might rotate it to show the next upcoming event when you are in a meeting.
The perk of using Smart Rotate for Lock Screen Widgets is that it keeps you in the loop effortlessly. A quick glance at your Lock Screen, and you're updated in a snap.
Keep in your Mind
It only works with widgets in your StandBy mode Widget stack.
It won't flip through widgets if they aren't showing useful info.
You can still manually swipe through widgets if you prefer.
Enable Smart Rotate for Widgets in StandBy Mode in iOS 17
If you're a widget junkie like me, you'll love that iOS 17's Lock Screen widgets are interactive. This lets you interact with a widget without launching the associated app. Note that not all apps support this feature yet. Here's the rundown on how to get started:
First, make sure your iPhone is in StandBy mode. Plug it into a charger, lay it flat, and hit the lock button. Tap the screen to fire up StandBy mode.
Once you're on the smart display, make sure you're on the home screen. Swipe left or right to explore this revamped Lock Screen.
Long-press on the screen to jump into edit mode.
Tap the Smart Rotate icon, usually found in the upper-right corner, to enable the feature.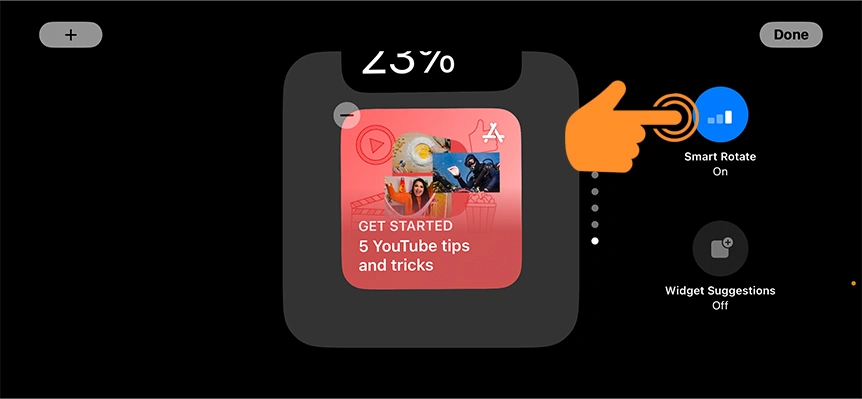 Click the "Done" button to save your tweaks.
Now, your widgets will auto-flip based on time, location, and your preferences. For example, if you often check reminders before hitting the hay, expect to see that widget at bedtime.
Disable Smart Rotate for StandBy Mode Widgets
If for any reason Smart Rotate isn't your cup of tea, or you'd rather control your widgets manually, turning it off is a breeze.
To disable Smart Rotate, go to StandBy mode > enter edit mode > turn off the Smart Rotate function, and hit "Done."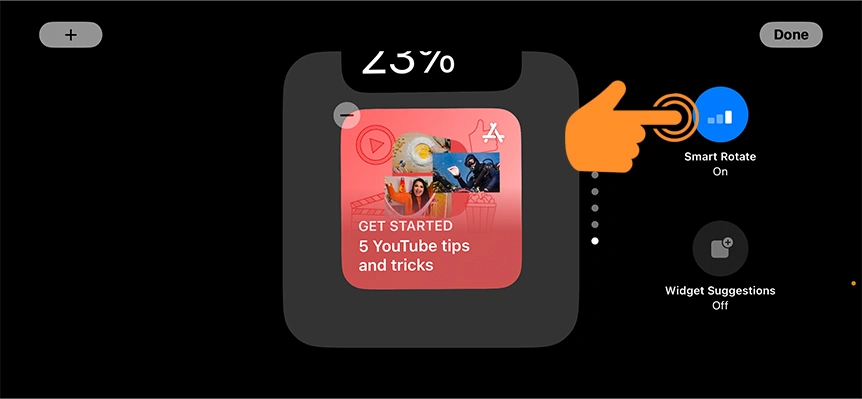 Pro Tip: For a seamless experience, we recommend enabling location-based apps like weather services and schedule planners like your calendar app.
Final Word…
And there you have it! That's how you can leverage this somewhat hidden gem in iOS 17 to make your StandBy mode smarter than ever. With this feature enabled, you won't have to sift through menus or apps; your widgets will intelligently present you with the information you need when you need it.
We'd love to hear about your experience, so feel free to share your thoughts in the comments section below.