Apple's iOS operating system has been a major player in the mobile world since its first release in 2007. Over the years, iOS has evolved significantly, introducing new features and improvements to each new version of it. The latest version, iOS 17, is expected to release later this year, and it could be an exciting update for Apple users.
Officially iOS 17 will be released in September 2023 as Apple releases major iOS updates every year. iOS 16 was previously announced at WWDC22. It had many new features like lock screen customization, new widgets, depth effect wallpapers, dynamic island, and many more.
In this article, I cover what new features Apple might bring in iOS 17. Apart from this according to my opinion when will it be launched and which device will support it?
iOS 17 release date
iOS 17 is expected to be released in September 2023 alongside the new iPhone 15 lineup. Apple usually releases new versions of iOS in September, so this is the most likely timeframe for iOS 17. Apple has not officially announced the iOS 17 release date, so this is just an estimate. But iOS 17 launch will be announced today on 5th June 2023 at WWDC23. The time of which is 10:30 PM according to Indian Standard Time. You can watch its live stream on YouTube and other social media.
Given the track record of the past decade, we expect this update to be hosted at WWDC23 on 5-9 June and its public rollout to come in September 2023.
iOS 17 Release Date Schedule
| iOS 17 Version | Release Date |
| --- | --- |
| iOS 17 Announce | 5 June 2023 on WWDC23 |
| iOS 17 Developer Beta | 6 June 2023 |
| iOS 17 Public Beta | 12 July 2023 |
| Stable iOS 17 | September 2023 |
iOS 17 Features
Sideloading and Alternate App Stores in the EU
In response to regulatory changes, iOS 17 will support sideloading and alternate app stores in the European Union. This opens up a world of possibilities for users, allowing them to access a wider range of apps and content. Furthermore, 3rd party browsers like Firefox will no longer require the WebKit engine in the EU, providing a more seamless browsing experience.
You must have heard the latest events and news from Apple, and also Including Bloomberg's Mark Gurman news. who claims that in the next iOS update, Apple will allow its users to use third-party app stores to install apps. This could be a major iOS update.
Call Recording
Call recording is a standard feature in Android. but Talking about this feature on iOS it can be a big advantage. Users have been requesting native call recording support on the iPhone for many years. Hopefully, Apple will heed his request and make this feature available with iOS 17.
Split Screen
The split screen feature allows you to use Two different screens or applications simultaneously. This feature has been available in Android for a long time. Although this feature is already available on iPad (Split View) and Mac, it is not available on iPhone.
While iPhone Plus and Pro Max users can make the most of this feature on their 6.7-inch screens, there must be a more compelling reason why this feature is not available on iPhone.
Dual Apps
Apple lags behind when it comes to cloning apps. Dual Apps allows you to clone a single app on your phone, allowing you to use two accounts simultaneously.
Some apps allow users to use multiple accounts on a single app and switch between them. For example, Instagram, Twitter, and Facebook. In comparison, many apps allow users to keep one account active in only one app. For example, WhatsApp.
New iMessage
According to one Twitter leak, Apple will redesign iMessage with iOS 17. The new version will give new and improved iMessage features like a home screen, new AR chat features (most likely designed for Apple's upcoming AR headset), chat rooms, stickers, etc.
Revamped Notifications
Apple may launch a new improved notification design in its iOS 17 updates. They already worked on it in iOS 16. But reading and managing notifications on iOS is messy, especially on the lock screen. There is a more convenient option to access and manage them on any Android smartphone. With iOS 17, Apple is expected to take some steps to improve this experience.
iOS 17 will introduce notification changes, streamlining the way users interact with their devices. While specific details are scarce, users can expect an enhanced notification experience that simplifies day-to-day usage.
Add More Lock Screen Widgets
Widgets play an important role when it comes to customizing your lock screen. iOS 16 has brought this feature to its devices. But there is a limit that you can use four small widgets or two large widgets. We hope that Apple will provide more customization options in iOS 17.
New Designed Control Center
The new Control Center in iOS 17 will bring more functionality to Dynamic Island, offering active widgets with one-tap buttons, sliders, and more. It's expected to deliver a more intuitive and customizable user experience.
Control Center is one of the most used things on iOS. I wish Control Center could be as quick to control as Android's Quick Settings. For example, on Android, there's a toggle to switch internet connections and you can quickly select another network to connect to, but this option has been long missing on iOS.
Apart from this, mobile data use, lock screen toggle, and some other such options should be added.
Enhanced CarPlay and CarPlay integration
Apple plans to add widgets and support for multiple displays. The first vehicles with next-generation CarPlay integration will be launched in the market by the end of 2023, which means that those that will support the iOS 17 update will be made iOS 17.
CarPlay will receive several new functions and improvements, making it more versatile and user-friendly. Additionally, the Wallet app will include CarKey improvements and more "Car implementations", expanding its utility for drivers.
Direct Beta Updates
With iOS 17, Apple plans to change how the developer and public betas are installed on iPhones and iPad. While installing this new update, users will now have another option besides iOS 17 profiles. This new approach is intended to prevent non-developers from installing a shared developer profile.
Each installation will be authenticated by the Apple ID associated with the developer account, making it more secure.
Customizable Siri Feedback Speed
Siri is a virtual assistant built into iOS devices that performs various functions using users' voice commands. Siri is not as efficient when compared to Google Assistant or Amazon's Alexa. In this update of iOS, Apple will update Siri, which will increase its efficiency. You can also enable Siri Pro mode on your iPhone.
Voiceover users can now customize the rate at which Siri speaks to them with options ranging from 0.8x to 2x, allowing them to control their interaction experience.
Apple's Mixed Reality Headset Support
With the upcoming release of Apple's mixed reality headset, iOS 17 will provide native support, ensuring seamless integration and enhanced functionality for users.
Spotlight Improvements
As with every iOS release, iOS 17 will bring performance and stability enhancements. Expect a faster, more responsive device, along with improved search and Spotlight features.
Journaling App
Apple is building a journal app for users to log daily activities and thoughts. The app will analyze daily routines, suggest topics to write about, and find close friends. It will integrate data analysis done on the device with texts and calls. According to The Wall street journal, this app may launch with iOS 17.
Open Apple Watch pairing
Rumors suggest that after the iOS 17 and WatchOS 10 updates, the Apple Watch will allow pairing with multiple devices, not just an iPhone. It can now also be connected to iPad or Mac.
Assistive Access
This new feature is designed to make iPhone and iPad more accessible to users with cognitive disabilities. By simplifying the design of apps and experiences according to their essential features, and helping users use their devices more independently. The interface will feature high-contrast buttons and large text labels for better visibility.
Live Speech
A crucial tool for those who do not speak or who have lost speech, Live Speech is designed to allow users to type what they want to say during calls and conversations and the device speaks it out loud. In addition, users can save commonly used phrases for quick access during live conversations.
Personal Voice
For people at risk of speech loss, such as those with ALS, this feature allows a synthesized voice to be created that can sound like them. With a 15-minute recording session, users can have a voice that retains their unique vocal characteristics.
Point and Speak
iOS 17 will include the Magnifier app, a feature that helps users with low vision or blindness. So users can point at text on physical objects, such as household appliances, and the iPhone or iPad will read this text.
Enhanced Hearing Device Support
Hearing-impaired users can now connect their Made for iPhone hearing aids directly to their Apple devices (iPhone, iPad, or Mac) and adjust them for individual comfort.
Voice Control Improvements
Voice Control now offers phonetic suggestions for text editing, helping distinguish words that sound similar. The new Voice Control Guide offers tips and tricks for using voice commands effectively.
Customized Switch Control
Users with physical and motor disabilities can turn any Switch into a virtual game controller to play games on iPhone and iPad.
Image Motion Control
This feature allows users sensitive to fast animation to automatically pause messages and images with moving elements such as GIFs in Safari.
SignTime Expansion
The service connects Apple Store and Apple Support customers with on-demand sign language interpreters. Originally launched in select countries, SignTime is now available in Germany, Italy, Spain, and South Korea.
Shortcuts – Remember This
This new shortcut helps users with cognitive disabilities create a visual diary in Notes for easy reference and reflection.
ASL in Apple Fitness+
The fitness service now includes American Sign Language (ASL) in its workout and meditation sessions, increasing accessibility for the deaf and hard-of-hearing communities.
Rumored Additions
While not yet confirmed, several other additions are rumored for iOS 17. These include:
More Always-On Display (AOD) settings
Additional Focus Mode filters
Customizable Accessibility settings for enhanced UI and layout control
Health app UI changes and a new "Favorites" section
A significant expansion of ARKit APIs and frameworks for augmented reality developers
iOS 17 Supported devices list
Generally, Apple's policy is to provide software updates to its iPhones for 5 years. We can guess based on the further history of iOS updates, and here is the list of all the devices we know are compatible with iOS 17:
iPhone 15 Series
iPhone 14 Series
iPhone 13 Series
iPhone 12 Series
iPhone 11 Series
iPhone XR
iPhone XS
iPhone XS Max
iPhone X
iPhone 8
iPhone SE 2020 (2nd generation)
iPhone SE 2022 (3rd generation)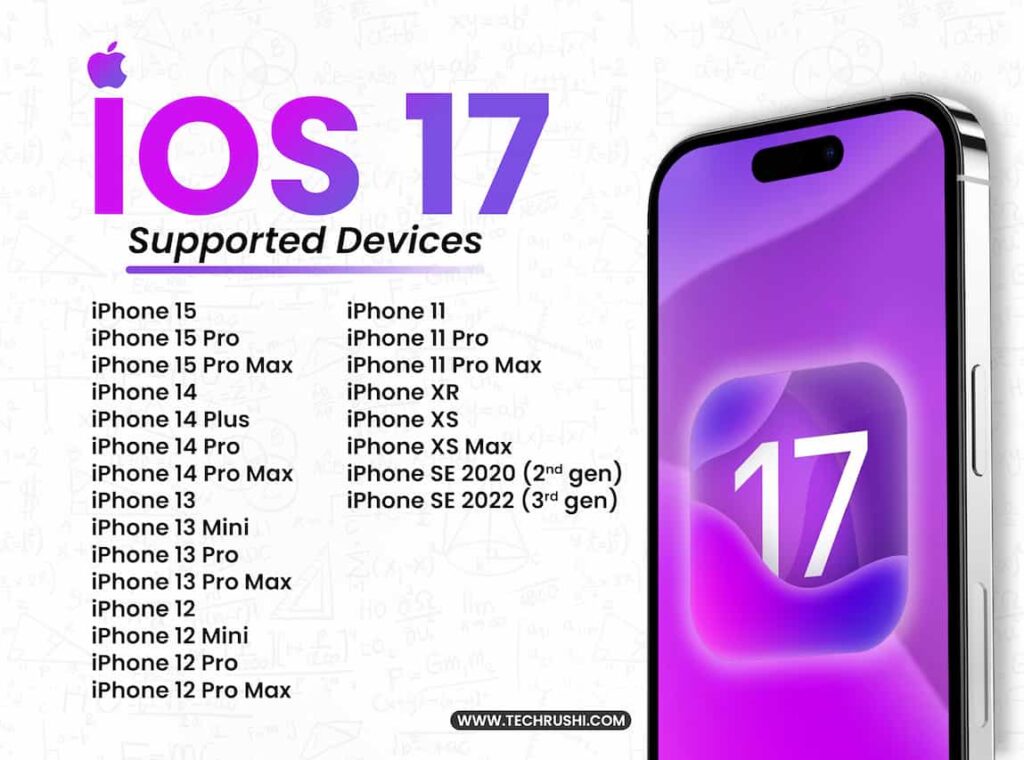 Apple's iOS 17 will support all A11 Bionic-powered devices, such as the iPhone 8 and iPhone X.
Currently, Apple has not made any official announcements regarding the release of iOS 17. However, there are numerous rumors and false information circulating on the internet. As of now, iOS 17 has not yet been released.
Apple is committed to improving the user experience of its iOS updates. Apple has a history of listening to user feedback and implementing new features and improvements based on it. What new features are you expecting to see in iOS 17? Do you have a special feature that the Apple developer team could work on to enhance the user experience? Please comment below.