Apple has been making changes to its iOS since 2007, including a redesign in iOS 7 and the addition of features such as widgets to the home screen in iOS 14. Like every year in 2023 also Apple will update its iOS system and launch its latest version iOS 17.
iOS 17 will be released in 2023 as Apple releases major iOS updates every year. iOS 16 was previously announced at WWDC22. It had many new features like lock screen customization, new widgets, depth effect, dynamic island, and many more.
In this article, I cover what new features Apple might bring in iOS 17. Apart from this according to my opinion when will it be launched and which device will support it?
iOS 17 release date
Apple announces its major iOS updates and features every year during the Worldwide Developers Conference. After that, the software is made available in beta versions for a few weeks. And after that stable update is given.
Given the track record of the past decade, we expect this update to be hosted at WWDC23 in June and its public rollout to come in September 2023.
ios 17 release schedule
iOS 17 Developer beta release: 6 June 2023
iOS 17 Public beta release: 12 July 2023
Stable iOS 17 release: September 2023
iOS 17 Features
Third-Party App Store
Call recording
Split Screen
Dual Apps
New iMessage
Revamped notifications
Add more lock screen widgets
New designed Control Center
Third-Party App Store
You must have heard the latest events and news from Apple, and also Including Bloomberg's Mark Gurman news. who claims that in the next iOS update, Apple will allow its users to use third-party app stores to install apps. This could be a major iOS update.
Call recording
Call recording is a normal feature in Android. but Talking about this feature on iOS it can be a big advantage. Users have been requesting native call recording support on the iPhone for many years. Hopefully, Apple will heed his request and make this feature available with iOS 17.
If you are using iPhone and don't know How to Record a phone call on iPhone read this article.
Split screen
The split screen feature allows you to use Two different screens or applications simultaneously. This feature has been available in Android for a long time. Although this feature is already available on iPad (Split View) and Mac, it is not available on iPhone.
While iPhone Plus and Pro Max users can make the most of this feature on their 6.7-inch screens, there must be a more compelling reason why this feature is not available on iPhone.
Dual apps
Apple lags behind when it comes to cloning apps. Dual Apps allows you to clone a single app on your phone, allowing you to use two accounts simultaneously.
Some apps allow users to use multiple accounts on a single app and switch between them. For example, Instagram, Twitter, and Facebook. While many apps allow users to keep one account active in only one app. For example, WhatsApp.
New iMessage
According to one Twitter leak, Apple will redesign iMessage with iOS 17. The new version will give new and improved iMessage features like a home screen, new AR chat features (most likely designed for Apple's upcoming AR headset), chat rooms, stickers, etc.
Revamped notifications
Apple may launch a new improved notification design in its iOS 17 updates. They already worked on it in iOS 16. But reading and managing notifications on iOS is messy, especially on the lock screen. There is a more convenient option to access and manage them on any Android smartphone. With iOS 17, Apple is expected to take some steps to improve this experience.
Add more lock screen widgets
Widgets play an important role when it comes to customizing your lock screen. iOS 16 has brought this feature to its devices. But there is a limit that you can use four small widgets or two large widgets. We hope that Apple will provide more customization options in iOS 17. Read this article if you don't know how to add third-party lock screen widgets on iOS 16.
New designed Control Center
Control Center is one of the most used things on iOS. I wish Control Center could be as quick to control as Android's Quick Settings. For example, on Android, there's a toggle to switch internet connections and you can quickly select another network to connect to, but this option has been long missing on iOS.
Apart from this, mobile data use, lock screen toggle, and some other such options should be added.
iOS 17 Supported devices list
Generally, Apple's policy is to provide software updates to its iPhones for 5 years. We can guess based on the further history of iOS updates, and here is the list of all the devices we know are compatible with iOS 17:
iPhone 15
iPhone 15 Pro
iPhone 15 Pro Max
iPhone 14
iPhone 14 Pro
iPhone 14 Pro Max
iPhone 13
iPhone 13 Mini
iPhone 13 Pro
iPhone 13 Pro Max
iPhone 12
iPhone 12 Mini
iPhone 12 Pro
iPhone 12 Pro Max
iPhone 11
iPhone 11 Pro
iPhone 11 Pro Max
iPhone XR
iPhone XS
iPhone XS Max
iPhone SE 2020 (2nd generation)
iPhone SE 2022 (3rd generation)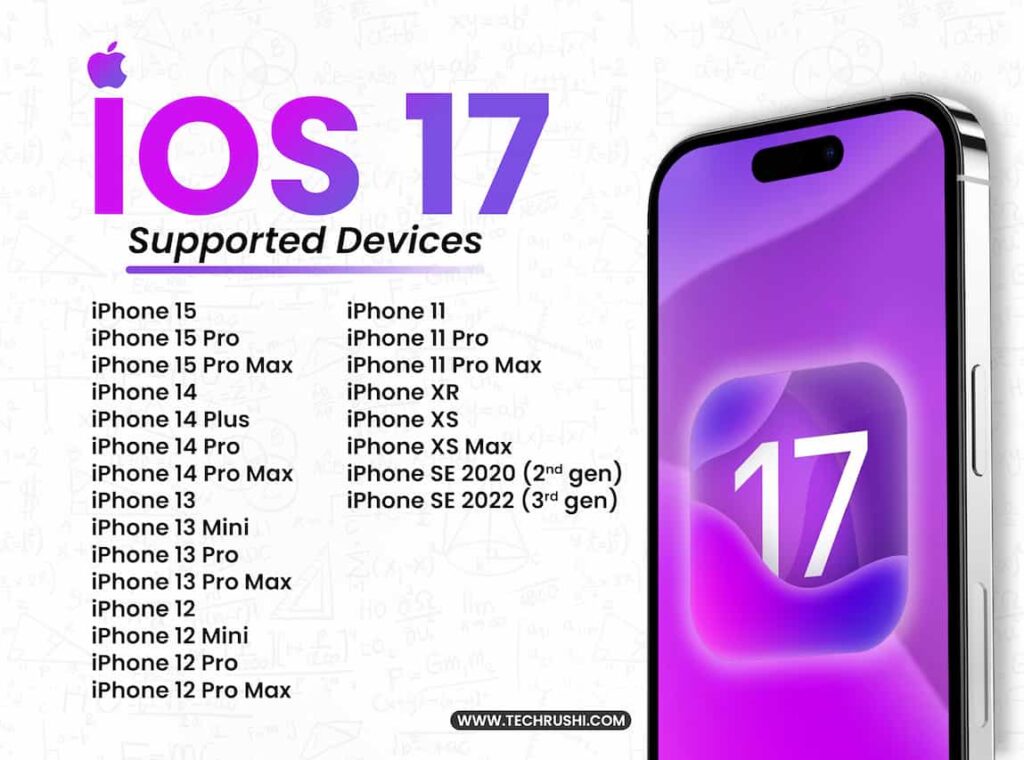 Are you wondering why the iPhone 8 series model name is not included? According to my research, all these models are launched in 2017 so they may not get iOS 17 updates.