Apple's iOS has been a game-changer in the smartphone arena since its debut in 2007. Year after year, we've seen its transformation, with each new version packed with enhancements and cool features. Fast forward to 12th September 2023, the tech giant released iOS 17 update, in tandem with the iPhone 15. In this piece, we're diving deep into all the features that come with this update. Yes, including over 60 hidden features you might not be aware of! Ready to explore iOS 17? Let's get started.
Exploring iOS 17: What's New and Noteworthy
1. Contact Poster
Say hello to one of the standout features of iOS 17: the Contact Poster. This nifty feature lets you tailor-make a unique calling screen, blending both your personal and professional details. When another iOS 17 user calls, their chosen contact photo and personalized poster pop up on your screen. Forget the old-school way of just saving numbers and photos; the Contact Poster brings a modern flair to your contacts.
2. NameDrop
Meet NameDrop. This feature ensures sharing your contact details is as simple as bringing two iPhones close together. Whatever you've saved in your Contact Poster, NameDrop can share, be it emails, documents, location, or other details. The cherry on top? It's also compatible with your Apple Watch. So, bumping watches or phones instantly saves contacts in each device.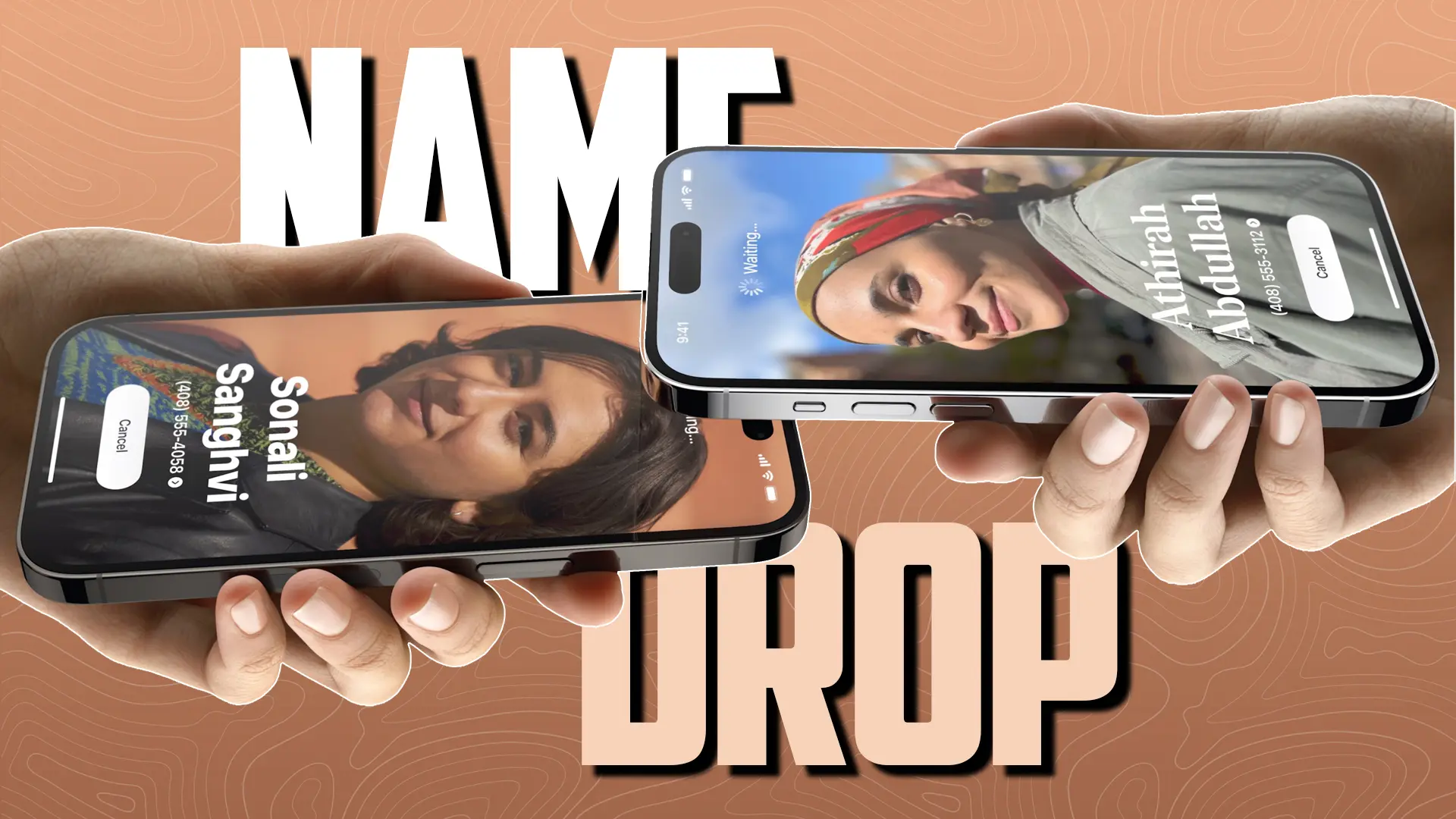 3. StandBy Mode
For those who prefer their iPhone to act as a mini-dashboard without unlocking it, the StandBy Mode is a game-changer. The iOS 17 StandBy Mode revolutionizes your lock screen, allowing you to pepper it with various widgets. Essentially, your lock screen transforms into an always-on smart display.
4. Live Wallpaper
iOS 17 marks the return of the Live Wallpaper feature. Now, you have the freedom to set any video or live photo as your lock or home screen wallpaper. It's perfect for those who like adding a touch of dynamism to their device's aesthetic.
5. New Stickers App
Sticker enthusiasts, rejoice! Apple has revamped its stickers app this year. You can now send animated stickers via iMessage or any third-party app. The new and improved Live Stickers app is available on the App Store, ready for download. Choose your favorite stickers and share the fun with friends and family. And for an added bonus, accessing stickers directly in the Messages app has never been easier.
6. Detection Mode
The Magnifier app gets a major boost with iOS 17. Just point to any object around you, and the app can identify it. Whether it's counting the number of doors nearby, recognizing people standing around, or even describing images, this feature has it covered. However, there's a catch: it's exclusively available for iPhone Pro series equipped with LiDAR sensors.
7. Personal Voice
In a world leaning more towards AI every day, Apple introduces "Personal Voice." This feature lets you train and personalize a voice assistant, almost like creating your version of Siri. Imagine using your voice across Apple devices, even replacing Siri's voice! And what's more, you can utilize your Personal Voice to voice-over videos or read out sentences.
8. Live Speech
Pairing with the Personal Voice feature is "Live Speech." Write down any sentence, and you can have it read back in your own voice. This innovative feature can be particularly beneficial for individuals with conditions like ALS (Amyotrophic lateral sclerosis) or other related health challenges.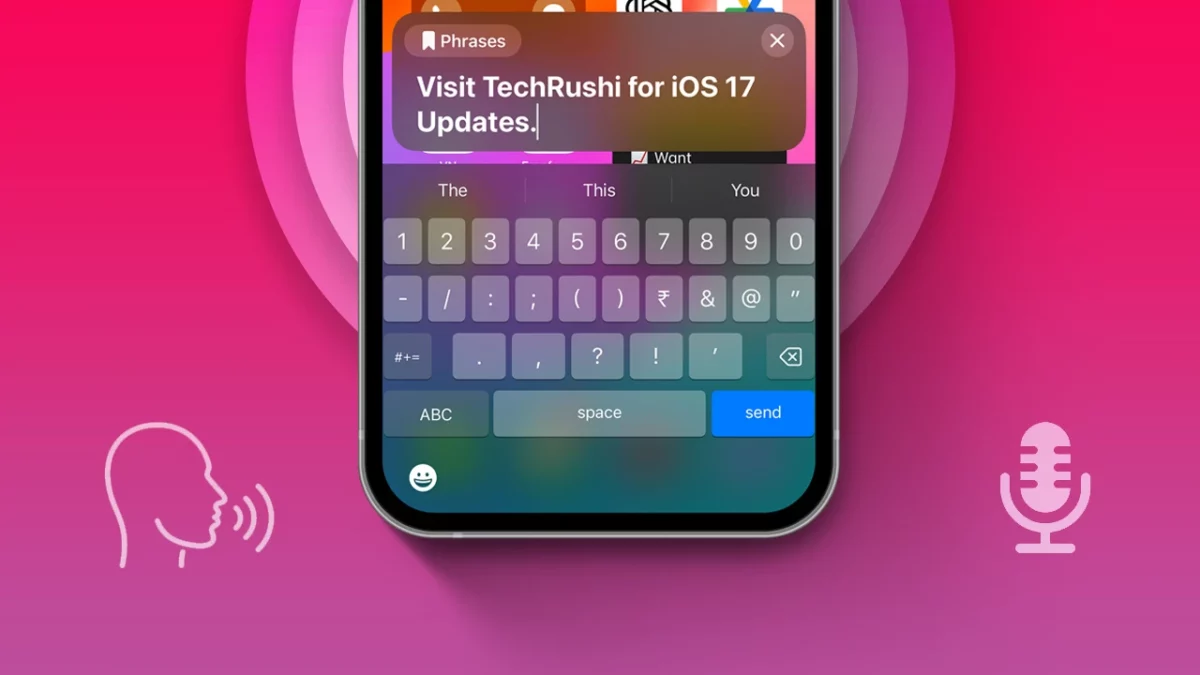 9. Song Credit
For all the music aficionados out there, the Apple Music update has something special: the "Song Credit" feature. Now, for every song playing, you can delve into its credits to discover the original singer, album details, and more. It's a treat for those who love the story behind the music.
10. Log State of Mind
Enter "Log State of Mind," a feature that's all about mental well-being. Integrated perfectly with the Apple Watch, this feature prompts you to log your daily emotions, helping you gauge if you're feeling upbeat or down. It provides a comprehensive insight into your mental state, making it a fantastic tool for ensuring mental balance amidst the chaos of daily life.
11. Multiple Profiles in Safari
For years, many browsers have offered the ability to create separate profiles for personal and professional browsing. iOS 17 brings this feature to Apple users. Now, you can set up multiple profiles in the Safari browser on your iPhone, iPad, and even Mac. It's a game changer for organizing your tasks seamlessly.
12. Clear Safari History
Safari has undergone significant updates in iOS 17, emphasizing user-friendly features and security. A notable addition is the ability to selectively clear Safari history. You can choose to erase browsing data from specific profiles or for a particular duration. No more clearing out the entire browser history when you only need to remove bits of it.
13. Private Search Engine
With Apple's continued emphasis on privacy, the Safari browser introduced the Private Search Engine feature. Users can now designate a specific search engine for their private tabs, eliminating repetitive manual data entries each time you access the browser's private mode.
14. Lock Safari Tab
Wondering how to enhance your browsing privacy on the iPhone? iOS 17 addresses this by allowing users to lock Safari private tabs using Face ID or passcodes. This added layer of security ensures that your private browsing remains just that – private. You can easily activate this feature within the Safari settings for added peace of mind.
15. Advanced Tracking Protection
Online safety is paramount, and iOS 17 introduces Advanced Tracking Protection for Safari. This feature shields users from third-party ad trackers, spider bots, and other prying eyes that might harvest personal data. By constantly monitoring your history, cache, and cookies, this tool defends against potential online threats.
Before iOS 17, sharing live locations via iMessage was a bit of a hassle. But now, Apple users can effortlessly send and request live locations directly from the Messages app. While apps like WhatsApp have had this feature for a decade, Apple's inclusion of it is a welcome addition for iPhone users.
17. Apple Check-In
The new iOS 17 introduces the Apple Check-In feature. It lets users share live locations, complete with a route path, almost like having a personal navigation companion. For instance, when you leave a specific location, say your office, selected contacts get a notification about your departure, estimated arrival time, and any delays. If your travel time exceeds the usual, the app sends out an SOS-type alert to check on your safety. This feature has quickly become a favorite among iPhone users.
18. New iMessage App
Say goodbye to the old iMessage layout and hello to a refreshed UI in iOS 17. With a slew of enhancements and new features, the Messages app has undergone a significant transformation. The former footer App drawer has shifted to a sidebar, making room for features like undoing sent messages, reacting to them, and sharing photos and videos without attached metadata.
19. Voice Memos in Messages
Gone are the days of losing voice messages due to time restrictions. With iOS 17, you can now save voice messages directly to the Voice Memos app, allowing for indefinite storage until you choose to delete them manually.
20. Audio Transcription
Another impressive addition to iOS 17's Messages app is the Audio Transcription feature. Now, when you record a voice message, it automatically transcribes your words. This means recipients can understand your message content without having to play the audio, catering to situations where audio playback might be inconvenient.
21. Quick Crop
The Photos app on iPhone now boasts the Quick Crop feature. Without navigating to the editor tools, users can simply pinch-zoom on a photo and adjust it to their desired frame to crop it. It's a nifty feature that not everyone may be aware of.
22. Smart Search Filters
Struggling to find specific details in the iMessage app? With the new Smart Search Filters in iOS 17, you can locate micro-details within your messages. Whether it's searching by location, file type, or even specific time durations, this tool is a game-changer, especially for those whose inboxes are flooded with messages.
23. Listen to Page
A lesser-known feature in iOS 17 is "Listen to Page." Here's how it works: In Safari, this tool reads aloud web pages in a voice of your choice, whether it's the default Siri voice or a personalized one. It's particularly useful for those who'd prefer to listen to articles on-the-go rather than read them.
24. Pronouns in Contacts
The Pronouns feature in Contacts is a subtle but thoughtful addition. It allows users to add titles like Mr., Mrs., and other pronouns to contacts, offering a level of formality or respect when needed.
25. Set Multiple Ringtones
For dual-SIM iPhone users, iOS 17 introduces the ability to assign different ringtones to each SIM card. It's a practical feature for distinguishing between personal and professional calls, helping users identify the nature of the call even before answering.
26. Straighten Shooting Angle
The Straighten Shooting Angle ensures more stable photo captures on the iPhone. A white horizontal line serves as an indicator to help align the iPhone camera's position, making it easier to get the perfect shot. This feature is particularly useful for digital creators and photographers.
27. Fast Haptic Touch
Enhance your touch experience with improved haptic feedback. iOS 17 offers the option to switch between three haptic touch speeds – Fast, Default, and Slow. The new "Fast Touch" gives users quicker and more subtle vibration feedback, elevating the touch experience, especially during gaming.
28. AirPlay in Hotel
AirPlay now lets users mirror photos, videos, and documents directly to TVs in selected hotel rooms. No need for an Apple TV or any additional equipment; simply use the AirPlay in Hotel feature via a QR code and enjoy seamless screen casting.
29. Autofill Email Verification
iOS 17 brings enhanced convenience by allowing the Apple Mail app to autofill email verification codes. Users no longer need to manually open the Mail app to retrieve and fill in verification codes.
30. Auto Clean Up Verification Codes
One standout feature in iOS 17 is the Auto Clean Up Verification Codes. Once email and message verification codes are auto-filled, they'll automatically be deleted from the iPhone, conserving storage. Gone are the days of manually removing OTP messages from the Apple Mail and Messages apps; iOS 17 handles this clutter for you.
31. Interactive Widgets
iOS 17 introduces widgets with interactive capabilities, eliminating the need to open specific apps for certain tasks. Directly from these widgets, users can make calls, play music, set reminders, or check locations. Plus, these widgets work efficiently even in StandBy mode, saving users time and enhancing accessibility.
32. Just "Siri"
Siri 2.0 is here, and it's more intuitive than ever. The traditional "Hey Siri" prompt has been simplified to just "Siri". So, instead of saying "Hey Siri, call TechRushi Office," it's now as simple as "Siri, call TechRushi Office."
33. Continuous Commands for Siri
Siri 2.0 brings a more streamlined interaction. There's no more need to repeatedly say "Hey Siri." Users can say "Siri" once and give several commands in succession. This enhanced version of Siri can handle various commands, from picking up calls to turning off specific features.
34. Revamped Call Dialer
Apple has given the dialer a fresh and minimalistic makeover in iOS 17. Not only has the button placement been revamped, but the new design also seamlessly integrates with contact photos, ensuring a more intuitive calling experience.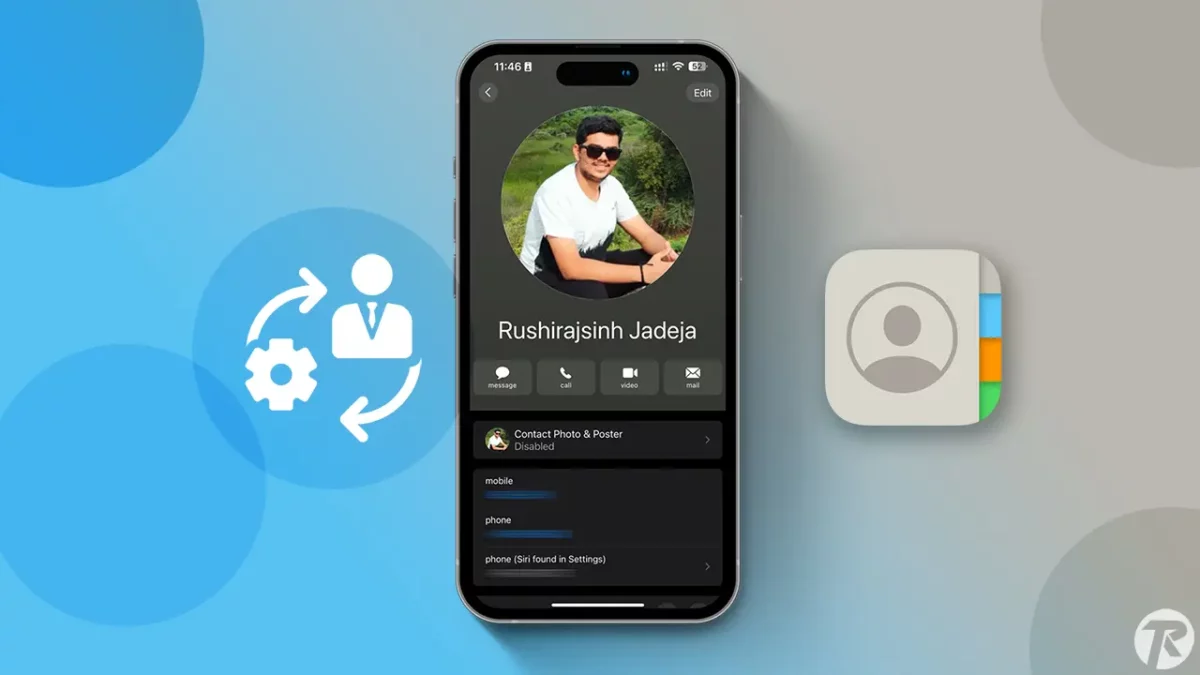 35. Custom Quick Responses
iOS 17 allows users to set personalized quick responses. When someone calls, these predefined messages can be sent instantly, offering a more tailored communication approach.
36. Crossfade in Apple Music
Apple Music has finally introduced the much-anticipated Crossfade feature. While competitors like YT Music and Spotify have offered this for some time, Apple Music users can now seamlessly transition between songs by setting a desired crossfade duration. It's a feature that many, including myself, use daily and thoroughly enjoy.
Sharing passwords securely is now simpler with the Share Family Passwords feature. Users can effortlessly share passwords within a designated family group in iCloud. This is especially handy for sharing streaming platform credentials among family members. Thanks to Apple's robust end-to-end encryption, users can be assured their data remains protected.
38. Grocery Reminders
The Apple Reminders app has become smarter, capable of auto-detecting and categorizing grocery lists. Whether it's fruits, dairy, or stationery, items are sorted for easier and more efficient shopping. This feature is available on both iOS 17 and iPadOS 17.
39. Live Voicemail
Live Voicemail is a modern twist to traditional Voicemail. In iOS 17, users can record voicemail messages and share them in real-time, reminiscent of the voice transceiver feature in the messages app.
40. Offline Apple Maps
A long-awaited feature is now live: Offline Apple Maps. Users can download maps based on specific areas, cities, or locations. The size of the offline map is dependent on the chosen area and is conveniently displayed below the download button. Perfect for remote areas, this feature ensures uninterrupted navigation even without an internet connection.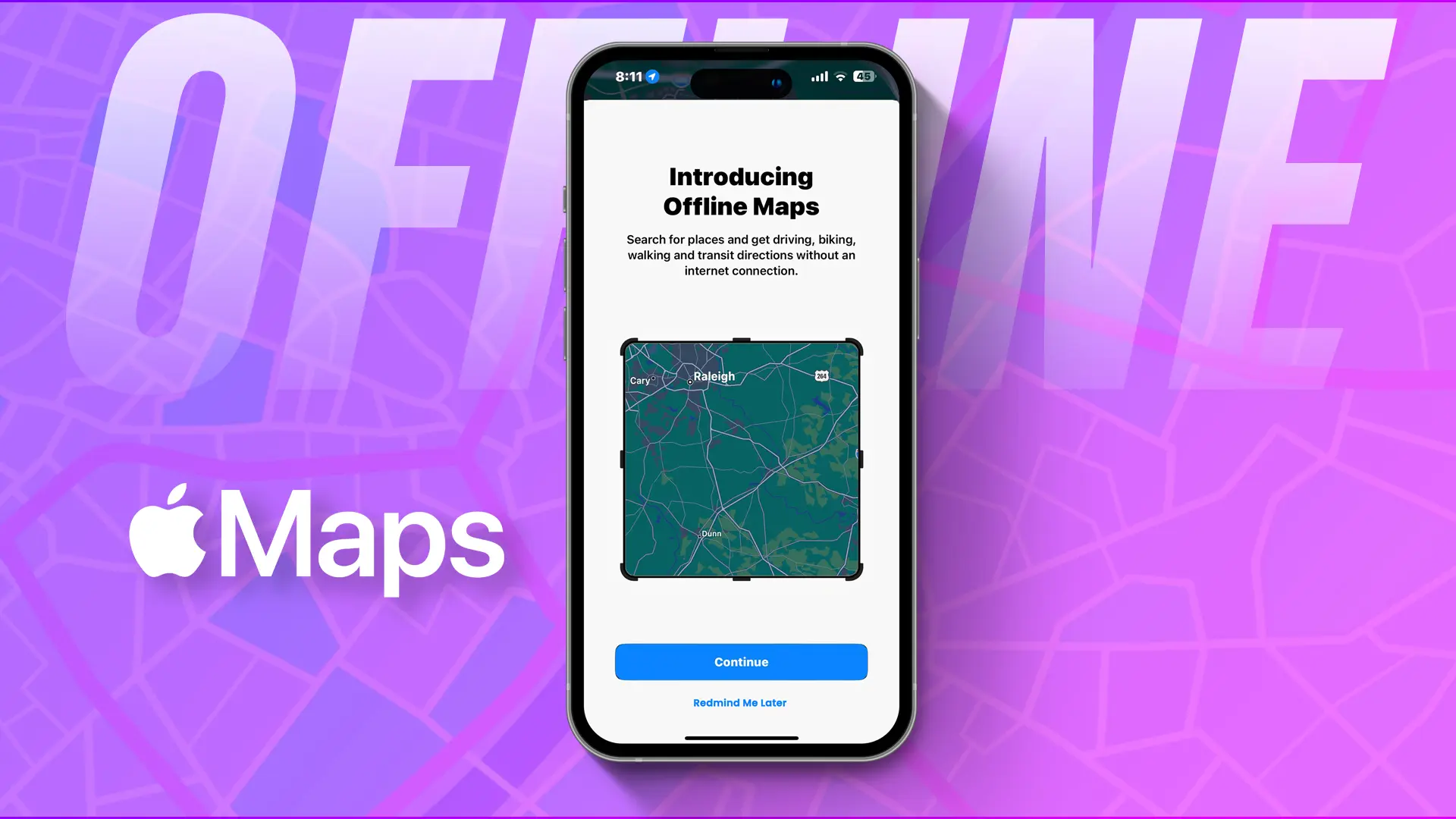 iOS 17 brings a plethora of sharing options, including the ability to share your AirTag with family members. Gone are the days of resetting an AirTag to sync with another Apple ID. Now, users can effortlessly share their AirTag via the Find My app.
42. Screen Distance
For those conscious of their eye health, iOS 17 introduces the Screen Distance feature. Once enabled on your iPhone or iPad, a warning, "Screen is Too Close", will be displayed if the device gets too close to your face. All ongoing tasks will pause until the device is held at a safe distance of 12 inches or more.
43. Multiple Timers
For users frequently setting multiple timers for tasks like cooking or sports, there's good news. iOS 17 allows the setting of multiple timers simultaneously, eliminating the need for third-party apps.
44. Sensitive Content Warning
The Sensitive Content Warning feature ensures safety, especially when children use the device. When enabled, it blurs previews of potentially inappropriate content encountered online, be it during web browsing or while viewing platforms like Instagram reels or TikTok.
45. Lock White Balance
For photographers, videographers, and digital creators, the Lock White Balance feature in iOS 17 is invaluable. Users can lock their iPhone camera's white balance during video recording, ensuring consistent lighting conditions without unwanted color shifts.
46. Enhanced Spotlight Search
Spotlight Search in iOS 17 has received notable upgrades. Users can now toggle a range of settings directly from the search, including turning off Wi-Fi or enabling specific features. Its integration with shortcuts and automation is seamless, and it can also manage Apple Home products directly without the need to open individual apps.
47. Sideloading
In alignment with recent regulatory changes, iOS 17 introduces sideloading and support for alternative app stores in the European Union. This widens the scope for users to explore diverse apps and content.
This move has been highlighted by industry experts, including Bloomberg's Mark Gurman, who suggests that an upcoming iOS update might allow users to install apps from third-party stores, marking a significant shift for Apple.
48. Call Recording
While call recording has been a staple feature for Android users, its potential inclusion in iOS would be revolutionary. For years, iPhone users have been vocal about their desire for native call-recording capabilities. With the anticipation surrounding iOS 17, many hope Apple will finally incorporate this feature.
49. Split Screen
Split Screen functionality, allowing simultaneous use of two different apps, is a feature Android users have enjoyed for some time. While iPad and Mac users benefit from Split View, the iPhone has been left out. Although iPhone Plus and Pro Max models, with their expansive 6.7-inch displays, would greatly benefit from such a feature, it remains unclear why Apple hasn't extended this functionality to iPhones.
50. Dual Apps
Apple has traditionally been slower to embrace app cloning. The Dual Apps feature enables users to replicate an app on their device, facilitating the simultaneous use of two accounts. While platforms like Instagram, Twitter, and Facebook allow users to toggle between multiple accounts within the app, others restrict users to a single active account, like WhatsApp.
51. Expanded Lock Screen Widgets
Widgets have transformed the lock screen's personalization potential. Introduced in iOS 16, there's currently a limitation: users can only deploy four small or two large widgets. Enthusiasts anticipate that iOS 17 will expand these customization options.
52. Redesigned Control Center
The upcoming Control Center in iOS 17 update promises a feature-rich hub, melding active widgets with quick-access buttons and intuitive sliders. This Control Center revamp aims to rival Android's Quick Settings in speed and functionality. Desired additions include swift internet connection toggling, mobile data usage checks, and enhanced lock screen toggles.
53. Upgraded CarPlay Integration
Apple is set to innovate CarPlay further, introducing widget capabilities and multi-display support. Vehicles integrated with next-gen CarPlay are slated to hit the market by the end of 2023, making them iOS 17 compatible from the outset. Beyond this, CarPlay will undergo numerous enhancements, boosting versatility and usability.
54. Customizable Siri Feedback Speed
Apple is set to optimize Siri in its latest iOS update, aiming to enhance its efficiency to compete with rivals like Google Assistant and Amazon's Alexa. Users can also activate the advanced "Siri Pro Mode." A noteworthy feature for VoiceOver users: they can now adjust Siri's speech rate between 0.8x to 2x, offering a more tailored interactive experience.
55. Support for Apple's Mixed Reality Headset
In anticipation of Apple's forthcoming mixed reality headset, iOS 17 will integrate native support. This promises a seamless fusion and elevated functionality for users, ensuring the best of both worlds.
56. Journaling App
Apple is crafting a dedicated journal app, allowing users to chronicle daily activities and musings. This intuitive app will analyze routines, suggest journaling themes, and integrate data concerning calls and texts – all processed securely on-device. A report from The Wall Street Journal hints at its debut with iOS 17.
57. Assistive Access
Apple continues to prioritize inclusivity. The new "Assistive Access" feature aims to make devices more user-friendly for those with cognitive disabilities. It simplifies app interfaces, focuses on core functionalities, and is complemented by high-contrast buttons and prominent text labels for clarity.
58. Upgraded Hearing Device Integration
Those with hearing impairments can now effortlessly link their Made for iPhone hearing aids directly with their Apple devices, be it an iPhone, iPad, or Mac. Users can also fine-tune device settings for optimal comfort.
59. SignTime Expansion
To further its commitment to accessibility, Apple has expanded the SignTime service. Initially available in a limited number of countries, this facility connects Apple Store and Apple Support customers with sign language interpreters on the fly. With its latest update, SignTime has been rolled out to Germany, Italy, Spain, and South Korea.
60. ASL Integration in Apple Fitness+
Apple Fitness+ is taking significant strides towards inclusivity. The fitness platform has incorporated American Sign Language (ASL) within its workout and meditation sessions. This integration greatly improves the accessibility and experience for members of the deaf and hard-of-hearing communities, allowing them to seamlessly participate in the platform's offerings.
iOS 17 Supported devices list
Apple's software updates are renowned for their longevity. They ensure that even older iPhone models can benefit from the latest iOS features, security patches, and improvements.
iPhone 15 Series
iPhone 14 Series
iPhone 13 Series
iPhone 12 Series
iPhone 11 Series
iPhone XR
iPhone XS
iPhone XS Max
iPhone X
iPhone 8
iPhone SE 2020 (2nd generation)
iPhone SE 2022 (3rd generation)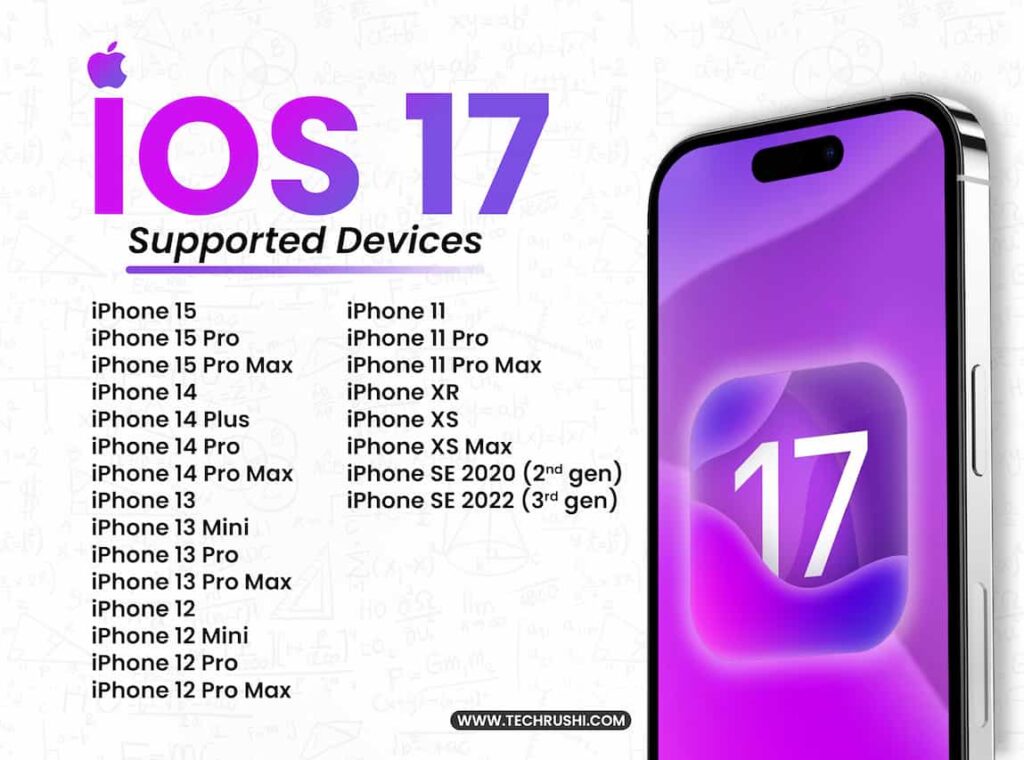 Apple's iOS 17 extends its support to include devices powered by the A11 Bionic chip, encompassing models like the iPhone 8 and iPhone X.
Conclusion
Apple remains steadfast in its dedication to refining the user experience with every iOS version. Drawing from its track record, the company continuously values user feedback, introducing features and enhancements that resonate with its vast user base. As iOS 17 looms on the horizon, which innovations do you anticipate? Is there a specific feature you'd like Apple's developer team to spotlight for a more enriched user experience? We invite your thoughts in the comments below.