Apple's AirTag is widely known as an effective way to keep track of your belongings. However, you must set up the AirTag first before you can use it to track items. Some users encounter an issue of "AirTag Not Connecting" when they try to connect their AirTag to an iPhone or iPad.
If your AirTag isn't connecting, you might see a message on your 'Find My' App that says "AirTag not reachable move around to connect". In this blog post, I'll share some methods to fix this error.
Requirements for connecting an AirTag
If you are setting up, Connecting, or Pairing an AirTag for the first time, please keep the following points in mind before you begin:
The device (iPhone, iPad, or iPod touch) to be paired with AirTag must be running iOS 14.5 or iPadOS 14.5 or later.
Apple ID must have two-factor authentication turned on.
The "Find Me" option should be turned on.
Make sure your Bluetooth or Wi-Fi is enabled.
Your iPhone or iPad's location services must be turned on.
If you have an iPhone 11 series or 12 series smartphone, use Precision Finding's go-to location settings for AirTag's exact location.
How to Connect or Pair AirTag with iPhone (Set Up AirTag)
If you have done everything mentioned earlier, here are the steps to connect your AirTag:
Bring your AirTag near your iPhone or iPad.
Soon, a pop-up will show up at the bottom of your screen with a "Connect" button. Click on it.
Your AirTag will offer many name options for different items. Choose one of them or if none of them fit, you can create a custom name. Then press "Continue".
Next, the AirTag will ask if it can register with your Apple ID. Click Continue to let it, and your AirTag will begin to register. This only takes about a minute, and then your AirTag will be linked to your Apple ID.
After that, you can attach your AirTag to the item you want to track. If you've followed all the steps and your AirTag still won't connect, you can try some simple solutions for "AirTag Not Connecting" to help you attach the AirTag.
Note: If your AirTag not connecting with your iPhone or iPad, first update your device to the latest version. Also, restart your device once.
Solution For AirTag Not Connecting Problem
Still, your AirTag Not connecting. So we'll look into all the possible reasons for this. Then let's try the best AirTag tips and tricks accordingly.
Method 1: Factory Reset AirTag (Remove and Reconnect AirTag)
If your AirTag won't connect to any device, the easiest fix is to remove and reconnect your AirTag. This often solves the problem. To reset your AirTag:
Open the Find My app on your iPhone or iPad. Next, pick the "Items" option below. Then, choose the AirTag you want to reset from the list.
Swipe up to get to the AirTag settings. Tap on the "Remove Item" option at the bottom.
Finally, confirm your choice by clicking on "Remove" again.
After resetting the AirTag, follow the steps above to reconnect it to your iPhone or iPad.
Method 2: Enable the Find My iPhone option
To use AirTag, you need to use a switch in the "Find My" Settings. You can turn this on or off if needed. To turn on 'Find My iPhone':
Open Settings on your iPhone and tap your name.
On your profile page, scroll down and find "Find My". Tap on it.
Switch on the "Find My iPhone" toggle.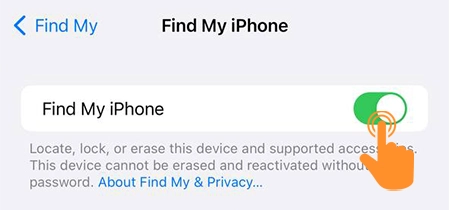 Method 3: Enable Two-Factor authentication for Apple ID
To connect AirTags to your iPhone or iPad, you need to have two-factor authentication (2FA) turned on. If it's off, here's how to turn it on:
Open Settings on your device. Tap your name.
On your profile page, tap "Password & Security".
Make sure "Two-Factor Authentication" is on.
To set up 2FA for your Apple ID, you'll need to provide your phone number and answer some security questions.
Method 4: Enable Precision Finding
Apple's rules say you must turn on Precision Finding to use AirTag. This helps accurately find the distance and direction of the AirTag when it's close. It uses a U1 chip, which helps AirTags detect and connect to each other accurately.
Also, make sure Find My can access your location. To do this:
Open the Settings app on your iPhone. Scroll down and click on "Privacy & Security".
Tap on "Location Services".
Choose the "Find My" option on the 'Location Services' page.
Choose an option for Allow Location Access and switch on the "Precise Location" toggle.
Method 5: Reset Network Settings
If you're using AirTag, you need to enable Wi-Fi or Bluetooth. If there's a problem with either, your AirTag may not connect to your iPhone. To solve this, you can reset all network settings. Here's how:
On your iPhone, open Settings. Click on General.
Scroll down to the end and tap on "Transfer or Reset iPhone".
Click 'Reset', then tap on "Reset Network Settings" in the pop-up menu.
Click "Reset" again to confirm.
That's it! This guide helps you connect your AirTag to your iPhone or iPad. By following these steps, you can easily set up AirTag and troubleshoot any AirTag Not Connecting issues. Remember, two-factor authentication, Wi-Fi, Bluetooth, and precise location must be enabled for AirTag to function optimally.
FAQs
How long does the AirTag battery last?
The battery in an AirTag can last over a year with regular use.
Do AirTags need to be charged?
Your AirTag battery does not need to be charged, but you will need to replace its battery. Because it has a removable battery.