How to Set Up and Naming a Group Text on iPhone With iOS 17
Group texting is a game-changer for staying in the loop with multiple people at once, whether you're planning a party, talking sports with buddies, or catching up with your fam. This all-in-one guide breaks down how to create and manage a group text on iPhone with iOS 17 Updates. We'll dive into the must-knows and how-tos, all while keeping it super simple.
Talking face-to-face is great but can be a time-suck, especially when you're juggling schedules for work projects or social events. Thanks to iMessage group chats on the iPhone, you can send off a single message to your whole crew without needing another app. But before we go step-by-step, let's break down the kinds of group chats you can have on your iPhone.
Related: 12 Expert Fixes for "Why Can't I Unsend a Message on iMessage" in iOS 17
What is Group Text on iPhone?
A Group Text on iPhone is basically your one-stop-shop for messaging multiple folks at once in a single chat thread. It's a streamlined way to ping multiple contacts without spamming them with individual texts.
Uses
Coordinate social events and get-togethers.
Share news, updates, or the latest buzz with your circle.
Team up with coworkers on projects.
Rally your classmates for study sessions or group assignments.
Connect with clubs, teams, or community groups.
Basic Requirements
An iPhone on iOS 14 or newer.
Contacts with either phone numbers or Apple IDs.
Types of Group Texts on iPhone
There are two flavors of group texts you can whip up on an iPhone:
SMS/MMS Group Text: Goes old-school with regular SMS or MMS, works on any phone but has limited functionality.
iMessage Group Text: Leverages Apple's iMessage for features like read receipts, "typing…" indicators, and rock-solid encryption. Everyone has to be Team Apple to join the chat.
iMessage Group Text Vs SMS/MMS Group Text
Feature
iMessage Group Text
SMS/MMS Group Text
Protocol
iMessage service
SMS/MMS protocols
Compatibility
Apple devices only
Any phone, including non-iPhone
Text Bubble Color
Blue
Green
Internet Connection Required
Yes
No
Message Types
Text, photos, videos, audio, and message effects
SMS: Text only
MMS: Text, photos, and videos
Read Receipts & Typing Indicators
Yes
No
End-to-End Encryption
Yes
No
Add/Remove Participants
Yes
No
Mute Notifications
Yes
MMS only
Leave Group
Yes
No
Carrier Charges
None, uses data or Wi-Fi
May incur carrier charges for SMS/MMS
How to Set Up Group Text on iPhone
Here's how to set up group text on iPhone:
Open your Messages app.
Hit the compose button (the pencil icon) up top.
Type the first recipient's info in the "To:" field and pick them from the dropdown
Keep adding folks the same way.
Drop your message in the text box at the bottom.
Press the Send button (it's the blue arrow) to let it fly.
Note: Adding more people to the chat later is an iMessage-only feature. For SMS/MMS groups, you'll have to start fresh.
Related: iOS 17: How to Access and Manage Sticker Apps in iMessage on iPhone
How to Naming a Group Text on iPhone
To rename your group chat, just do the following:
Open the chat in Messages.
Click the little arrow under the chat title, then hit "Info".
Choose "Change Name and Photo".
Pick a cool name and maybe even toss in an emoji or Memoji.
Click "Done" twice to lock it in.
How to Add or Remove Someone to a Group Text on iPhone
To Add:
Open the group text in Messages.
Tap the title or recipients up top.
Tap on People's names or contact numbers.
Click on "Add Contact" and find your person.
Choose them and tap "Done".
To Remove:
Same as above, but swipe left on the contact and hit "Remove".
Note: Removing someone is only possible in iMessage groups with more than two participants.
How to Mute a Group Text on iPhone
Toggle on "Hide Alerts" to mute the ringer but keep the messages rolling in.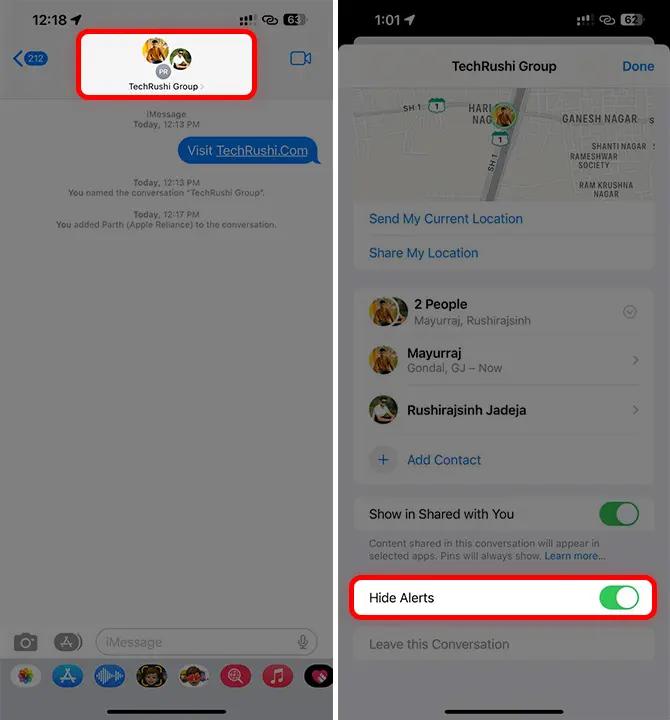 How to Delete a Group Text on iPhone
By following this way, you can remove yourself from a group text on your iPhone.
Open the Messages app and tap the group text message you want to leave.
Tap the group icons at the top of the conversation thread.
Scroll down and tap "Leave this Conversation".
Tap "Leave this Conversation" again to confirm to remove yourself from a group text.
How To Pin a Group Text on iPhone
Need to keep a group text front and center? Here's how to pin it at the top of your Messages list:
Launch the Messages app on your iPhone.
Scroll to find the Group Text you want to keep handy.
Long-press on that group text.
Tap "Pin."
Your group chat will now stick to the top of your Messages app. Want to unpin it later? Just repeat these steps and hit "Unpin."
Conclusion
Group texting on the iPhone is a killer feature for keeping in touch with everyone from your BFFs to your coworkers. This guide's got you covered for managing group texts on any iPhone running iOS 17. Use it wisely and stay plugged in without the hassle.
FAQ
Can I leave a group text?
Yes, you can leave a text message group, Go to Group > Tap on Group icons > Scroll down and Click on Leave this Conversation.
Do I need an internet connection to send group texts?
An internet connection is required for iMessage group chats. However, SMS/MMS group chats do not require an internet connection and use your carrier's network.