Apple watchOS 10: Features, Release Date & Supported Devices
Apple is gearing up to unveil its highly anticipated watchOS 10 software at WWDC23, which could be an exciting software update for Apple Watch users. With significant updates and new features expected, watchOS 10 could be a game changer for Apple's flagship smartwatch, which could come with the upcoming Apple Watch Series 9.
Rumors suggest that watchOS 10 will focus on widgets and deliver an improved user interface, including a possible new home screen layout. Additionally, Apple is rumored to be primarily working on health features, making a software update essential to take care of. As the release date is fast approaching, Apple Watch enthusiasts can follow this post to learn more about compatibility, interface changes, and new features offered by watchOS 10.
What is watchOS?
watchOS is a special operating system designed for the Apple Watch, a software update provided on Apple's smartwatches. Apple Inc. Developed, watchOS powers the device's features and applications, providing users with an intuitive and seamless experience. This operating system is optimized for Apple Watch's small screen and unique functionality, enabling users to track their health and fitness, receive notifications, control music, use navigation and access various other applications.
watchOS is regularly updated to introduce new features, improve performance, and enhance the overall user experience for Apple Watch owners. The latest update of this operating system is WatchOS 10.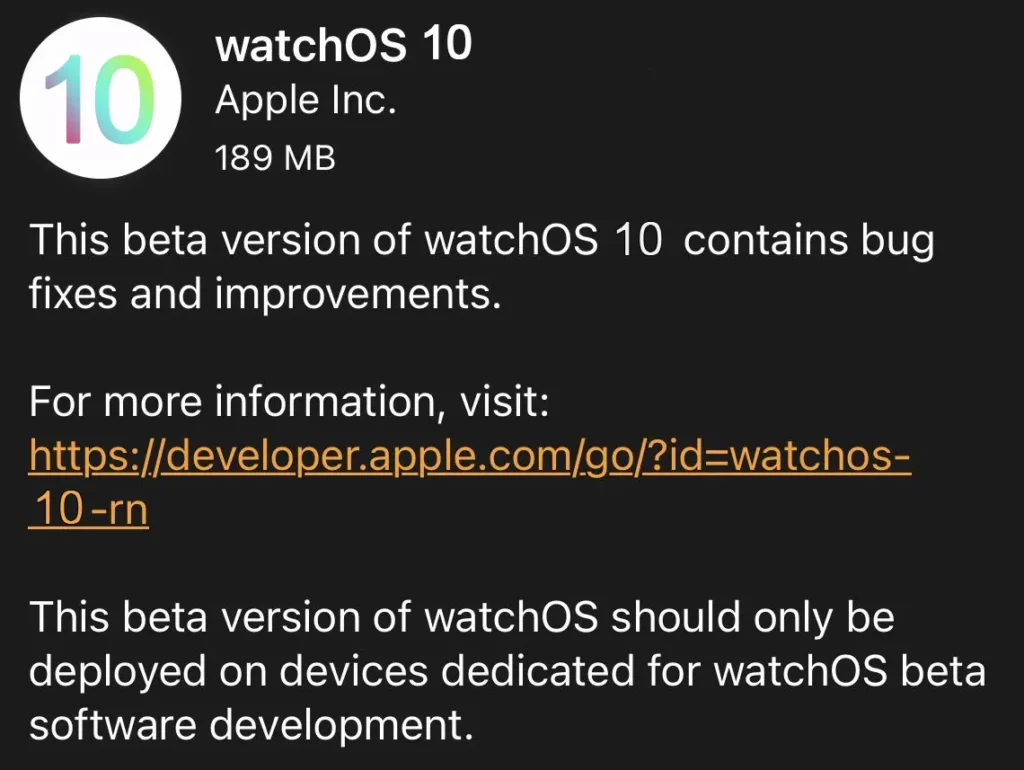 watchOS 10 Release Date
Apple is expected to announce the watchOS 10 at the WWDC 2023 keynote on June 5, along with other software updates like iOS 17 and iPadOS 17. Following the announcement, the first developer beta of watchOS 10 should be released on the same day. While the public beta is expected to be available in July, a series of beta versions will be released between June and September to refine the software.
| watchOS version | Release Date |
| --- | --- |
| watchOS 10 developer beta release | June 5, 2023 |
| watchOS 10 public beta release | July 2023 |
| Series of watchOS 10 beta versions | June-September 2023 |
| watchOS 10 final public release | September 2023 |
The final public release of watchOS 10 is likely in September 2023, coinciding with the launch of the Apple Watch Series 9. The exact dates for the public beta and final release won't be confirmed until closer to the event, but this is the timeline. Based on Apple's past release patterns for its software updates.
watchOS 10 Features
Apple has announced watchOS 10, a new operating system update for its Apple Watch. It comes with redesigned apps, a new Smart Stack, additional watch faces, and additional features for cyclists, hikers, and mental health support. So let's get more information about these features.
Redesigned Apps and New Smart Stack
Apple has redesigned apps in this OS to provide more visible information, making it easier for users to quickly see important details. The Smart Stack feature automatically brings up widgets containing relevant information based on context. For example, it shows the weather forecast at the start of the day, boarding passes when traveling, and information about upcoming meetings or tasks from the Calendar and Reminders app at the top.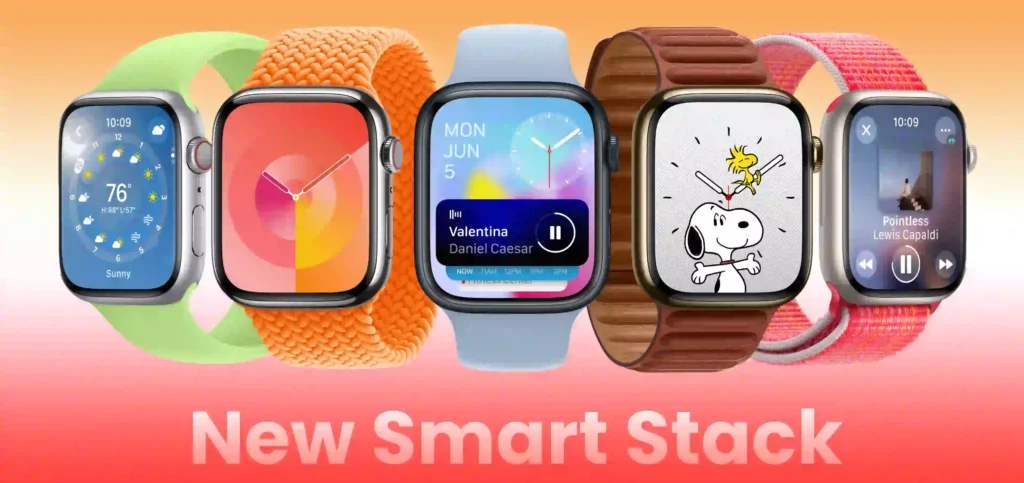 You can now easily access the Control Center on your Apple Watch just by pressing the side button, no matter which app you're currently using. If you want to go back to an app you were using recently, simply press the Digital Crown two times quickly.
New Watch Faces
Two new watch faces have been introduced in this new WatchOS: Palette and Snoopy. A palette watch face will use different color layers to represent the time, with the colors changing as time passes.
Snoopy watch faces bring the famous comic strip characters to life on your watch, where they interact and play with the watch hands. It also reacts to the local weather and becomes active during your workout, showing animations accordingly.
Enhanced Cycling Features
New cycling features in watchOS 10 are designed to provide a more engaging and informative experience. For instance, you can now connect your watch to Bluetooth-enabled cycling accessories such as power meters, speed sensors, and cadence sensors. which enables new metrics such as cycling power and cadence. Also, you can connect it to your iPhone and track everything related to your health.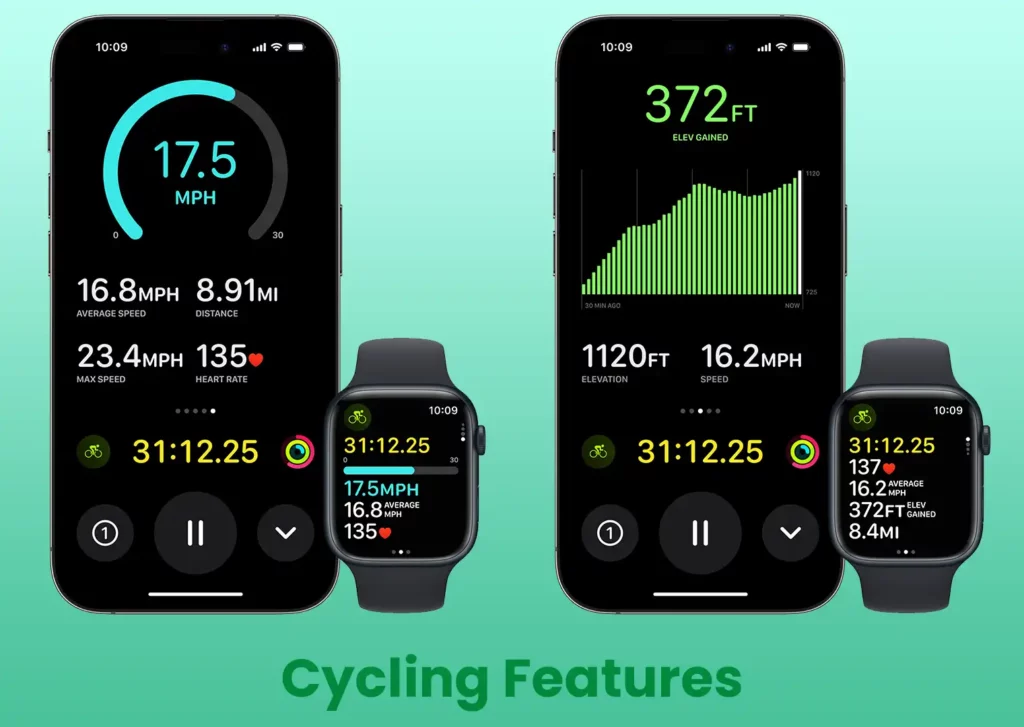 The update also includes an estimate of Functional Threshold Power (FTP), which helps track and improve cycling performance. with FTP, your Apple Watch will create custom Power Zones. These are divided into 6 different power zones, which vary depending on your cycling action. You can see which zone you're currently in and how long you've spent in each, helping you enhance your cycling performance.
New Features for Hikers
The Compass app has been upgraded to provide more valuable information to hikers. It generates waypoints showing the last locations with cellular reception, which can be helpful for hiking in remote areas. Your Apple Watch will now keep track of where it last had a cellular connection, so it's useful to know where you can send messages or make calls. In an emergency, it can also show the last location where it could have made an emergency call, helping you find a signal if you need it.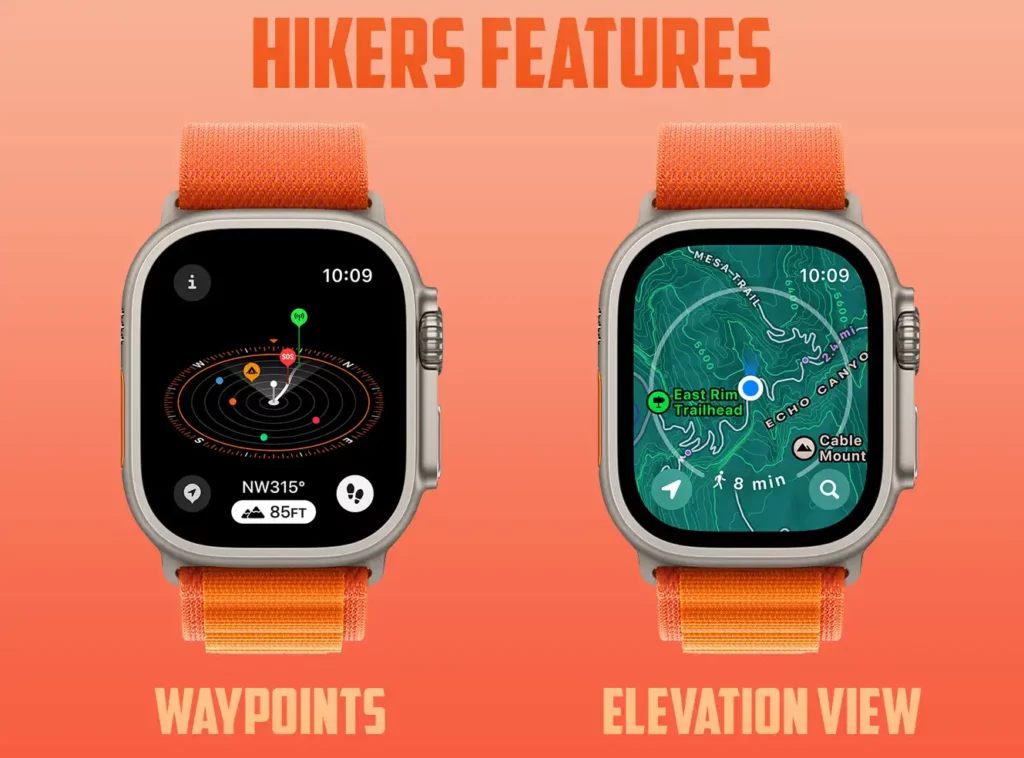 Elevation View provides a three-dimensional look at saved waypoints, and Apple Maps will now offer a topographic map feature with detailed information about trails, this feature will first lunch in only the US region. This map will include contour lines, hill shading, elevation details, and points of interest.
Mental Health Support
Mindfulness apps allow users to log and track their emotions and daily moods to build emotional awareness and resilience. It's a handy feature for gaining insight into your mental health and patterns over time. Users can rotate the Digital Crown to scroll through attractive, multidimensional shapes. So he knows what he likes based on how he's feeling the emotions.
The Health app associated with iOS 17 and iPadOS 17 will also provide resources for dealing with their mental conditions (depression and anxiety). A health app that can help users determine their risk level, connect with resources available in their region, and create a PDF to share with their doctor.
Vision Health
Myopia, or nearsightedness, is a significant cause of vision problems worldwide. Apple has introduced a feature in watchOS 10 to reduce the risk of nearsightedness in its users, which measures the time spent in daylight and encourages users to maintain an appropriate distance from their screen. This feature uses the device's ambient light sensor to monitor daylight exposure.
The International Myopia Institute suggests that children should spend 80-120 minutes outside each day to reduce the risk of myopia. With watchOS 10, the Apple Watch can track how much time you spend in daylight using its ambient light sensor. Then you can monitor the time spent in the light.
Enterprise Support
This feature is primarily designed for enterprise customers to increase productivity and safety in the office or in the field. Enterprise users can now manage multiple devices remotely using Mobile Device Management (MDM). This includes installing apps, applying passcodes, and configuring Wi-Fi and VPN settings.
APIs for watchOS Developers
In watchOS 10, developers can access new APIs to create more engaging workout apps. They can access high-frequency motion data to analyze specific actions, such as the golf or tennis swing, and create custom workouts that can be imported directly into the workout app.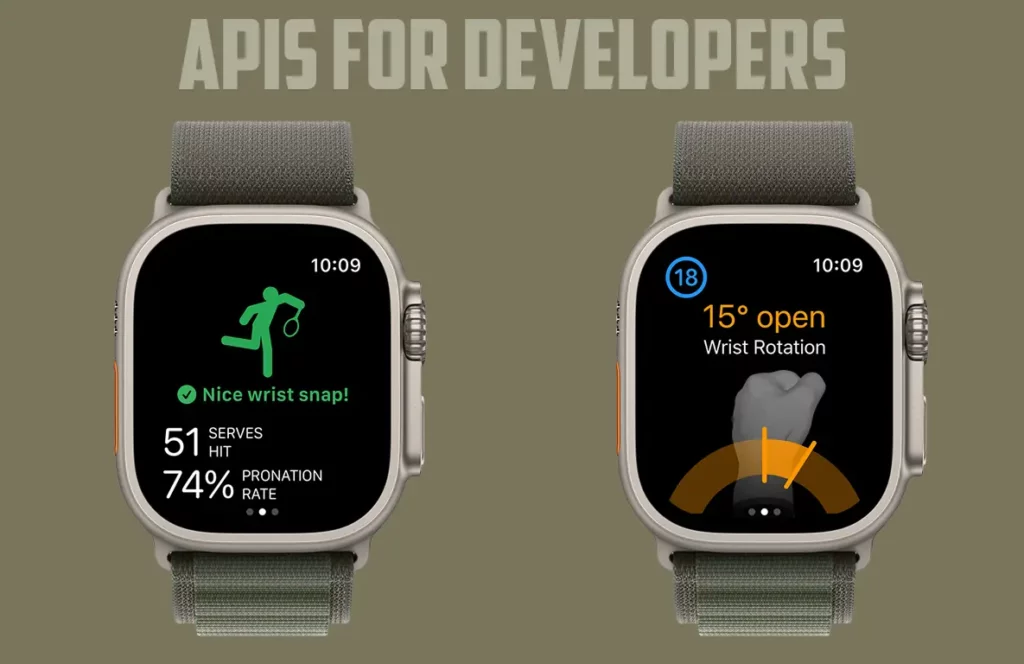 Coaching apps like TrainingPeaks can now create custom workouts that you can use directly in the workout app. HealthKit developers can provide accurate calorie counts for golfing, whether you're walking or using a cart. They can also track your speed, cadence, and power while cycling. Plus, you can view your Apple Watch workouts on your iPhone, too.
Additional Features in watchOS 10
NameDrop: This feature enables users to easily share contact information by bringing their Apple Watch close to someone else's iPhone or Apple Watch. they can use this feature by tapping the Share button in My Card in his Contacts app or by tapping the My Card watch face complication.
Offline Maps: This feature provides turn-by-turn navigation, estimated time of arrival, locations in maps, and other details even without Wi-Fi or cellular services.
FaceTime Integration: Users can now playback FaceTime video messages directly on their Apple Watch. In addition, Apple Watch will now support Group FaceTime audio as well.
Medication Reminders: If a user does not log a medication within 30 minutes of the scheduled time, the Medications app sends a reminder for this.
watchOS 10 Availability
The developer beta of watchOS 10 is currently only available to members of the Apple Developer Program. A public beta will be available to users next month, and the full update will support devices running iOS 17 on Apple Watch Series 4 or later, iPhone Xs or later this fall. Which will be available as a free software update.
watchOS 10 Supported devices
Based on rumors and information from previous update releases, the following is the list of watchOS 10 supported devices:
Apple Watch Series 4
Apple Watch Series 5
Apple Watch SE (2020)
Apple Watch Series 6
Apple Watch Series 7
Apple Watch SE (2022)
Apple Watch Series 8
Apple Watch Series 9
Apple Watch Ultra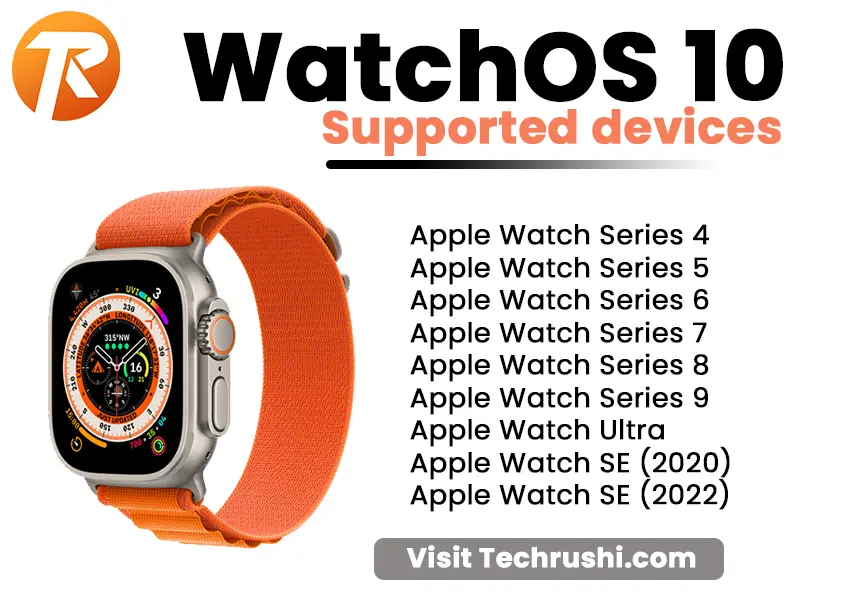 Please note that some features may be exclusive to certain Apple Watch models with always-on displays, new health sensors, or larger displays. The final compatibility list will be confirmed by the WWDC 2023 event.
How to Download and Install watchOS 10?
To download and install watchOS 10 on your Apple Watch, you'll need to follow these steps.
Open the Watch app on your iPhone.
Tap the My Watch tab at the bottom of the screen.
Tap Software Update.
If an update is available, tap Download and Install. You may need to enter your iPhone passcode.
Keep your iPhone and Apple Watch close together during the installation process.
Once the download is complete, your Apple Watch will display a message prompting you to install the update. Tap Install on your Apple Watch.
The update process may take some time. Your Apple Watch will restart during the installation, and you'll see a progress wheel on its screen.
Note: Make sure your iPhone is running on the latest iOS version, your Apple Watch is on its charger during the update, and your iPhone is connected to Wifi.
Conclusion
watchOS 10 is an exciting update that brings new features and improvements to Apple Watch users. It aims to make the Apple Watch experience more seamless and personalized, with a focus on offering a more intuitive user interface, enhanced recovery options, a unified health dashboard, and a native Notes app. So, stay tuned to this post for more updates, and get ready to take your Apple Watch experience to the next level with watchOS 10.