Apple Watch is a powerful device to make your life easier which offers you a wide range of features. However, it requires a lot of energy to keep all its attractive features going. For this, Apple introduced a low-power mode, which helps you save battery life. In this article, I'll guide you on how to turn on/off Apple Watch Low Power mode.
What is Low Power Mode?
Apple Watch Low Power Mode is a feature that helps you save battery life by turning off your device's background and non-essential features. When you turn on Low Power Mode, your Apple Watch will automatically disable some features that consume a lot of power, such as background app refresh, heart rate monitoring, and automatic download. This allows you to use your device for a longer period of time without having to worry about battery life.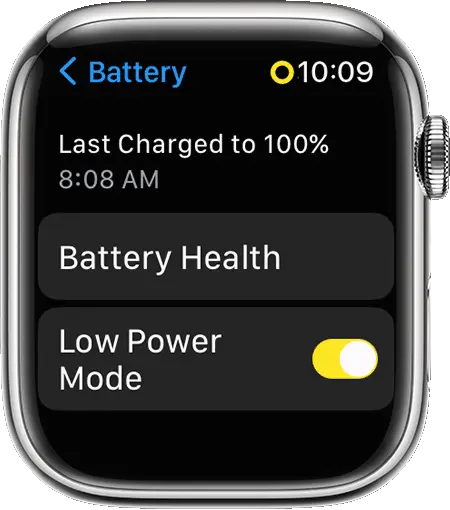 Low Power Mode Supported Devices
Low Power Mode is available on all Apple Watch models running the latest watchOS 9 firmware. The feature was first introduced with the launch of the Apple Watch Series 8 during the September 2022 Apple event.
Apple Watch Series 4
Apple Watch Series 5
Apple Watch Series 6
Apple Watch Series 7
Apple Watch Series 8
Apple Watch SE (first-gen)
Apple Watch SE (second-gen)
Apple Watch Ultra
Features that are Disabled when Low Power Mode is turned on
Apple Watch Low power mode disables some features to save battery power. When you Enable Low Power Mode on your Apple Watch, the following features will not work.
Automatic Wi-Fi and Bluetooth Scanning
Background App Refresh
Disable always-on display
App notification delivered hourly
Phone call notifications disable
Cellular and Wi-Fi are also disabled (this is an option that can be turned on or off separately from Low Power Mode)
Siri takes a longer time to respond
Animation stutters when scrolling through apps (this is not directly affected by Low Power Mode, but may occur if the device is experiencing performance issues due to reduced power)
How to Turn On Apple Watch Low Power Mode
Turning on Low Power Mode on your Apple Watch is very easy. Follow the steps below to turn on Apple Watch Low Power Mode:
Open Control Center

Swipe up on the screen of your Apple Watch to access Control Center.

Open Battery Section

Tap on the battery percentage icon in Control Center.

Enable Low Power Mode

Shows you the low power mode, below the battery percentage. To enable this feature, turn on the Low Power Mode toggle button.

Click On Turn On

Scroll down a little and press the "Turn On" button.
Note: Low Power Mode automatically turns off when your Apple Watch is 80% charged, but if you want to use it for a long time, you can keep it on for up to 3 days.
How to turn off Apple Watch Low Power Mode
If you've been using Low Power Mode on your Apple Watch to conserve battery life, but now you're ready to return to full functionality, turning it off is quick and easy. Here are the steps to follow:
Open the Settings app on your Apple Watch.
Tap the Battery icon.
Turn off Low Power Mode.
Conclusion
Low Power Mode is a great feature that can help you save battery life on your Apple Watch. With just a few taps, you can turn low power mode on or off on your device. It is important to note that when Low Power Mode is on, some features may not work as usual or may be disabled. So, I suggest you turn off Low Power Mode when you don't need it.
I hope this article was helpful in guiding you on how to enable/disable Low Power Mode on your Apple Watch. If you have any more questions or concerns, comment below.
FAQ
How long will Apple Watch last after enabling Low Power Mode?
Apple has confirmed that enabling Low Power Mode on the Apple Watch will double battery life. That is it extends from 18 hours to 36 hours. After enabling this feature in Apple Watch Ultra, the battery life extends from the standard 36 hours to 60 hours.
What happens if low power mode is always on?
If Low Power Mode is always on, your Apple Watch will be in a low power state, which means that certain features will be disabled or performance will be reduced to help save battery life.
When does Apple Watch automatically turn on Low Power Mode?
Apple Watch automatically turns on Low Power Mode when its battery level drops below 10%. You can manually enable low power mode any time after 80% battery.