How to Get Apple Pay Card Number on iPhone [2 Ways]
Using Apple Pay allows you to shop conveniently without cash. However, some locations require a card and don't accept Apple Pay. In these instances, you'll need your Apple Pay card number. However, these details are not displayed on your Apple Card to ensure security.
If you're wondering, "How do I get my Apple Pay card number?" then rest assured, it's easy! This guide provides quick steps to locate it using either your iPhone's Wallet app or settings. Let's dive into this guide!
Quick Answer: To see your Titanium Apple Card Number. Just go to Wallet > Choose Apple Card > tap on card number icon > you can view Card information.
Why would you need your Apple Pay card number?
There are several scenarios where you might need your Apple Pay card number. Some of the most common include:
Making purchases where Apple Pay isn't accepted, such as in certain apps or online stores.
Adding your Apple Card to a new device.
Verifying your identity when applying for Apple Cash.
Disputing a charge on your account.
Reach out to Apple support with queries or complaints about your Apple Card.
How to Find Your Apple Pay Card Number
Accessing your Apple Pay card number is a breeze. You have two convenient options: using the Wallet app or your iPhone settings. Here's how you do it:
Via Apple Wallet App
First, open the Wallet app on your iPhone, then choose your Apple Card from the collection of cards you have stored.
Tap the card number icon (displayed with 123 and a card) in the upper-right corner of the screen.
Authenticate yourself using Face ID, Touch ID, or your passcode.
On the card information page, under the virtual card number section, you'll see details such as:

Name: Your name is listed on your Apple Card.
Card number: The distinct 16-digit number associated with your Apple Card.
Expiration: The expiration month and year of your Apple Card.
Security code: A three-digit number used for identity verification during transactions.
Network: Identifies the payment network your Apple Card belongs to (e.g., Mastercard).
Via Settings
You can also view your card number through iPhone settings. To do this:
Open the Settings app on your iPhone. Scroll down and select "Wallet & Apple Pay."
On the next screen, under the Payment Cards section, choose Apple Card.
Then, tap on Card Information.
Here, you'll be able to view your Apple Card details such as your name, card number, Express Transit, and Express Transit Settings.
Note: Only the last four digits of your Apple Card are visible here.
How to Request a New Apple Card Number
If you believe your current card number is compromised, or you have another concern, you can easily request a new Apple Card number by following these steps:
Launch the Wallet app on your iPhone and select your Apple Card.
Tap the card number icon in the upper-right corner.
Verify your identity with Face ID, Touch ID, or your passcode.
Choose Card Information.
Scroll to the bottom and select "Request New Card Number".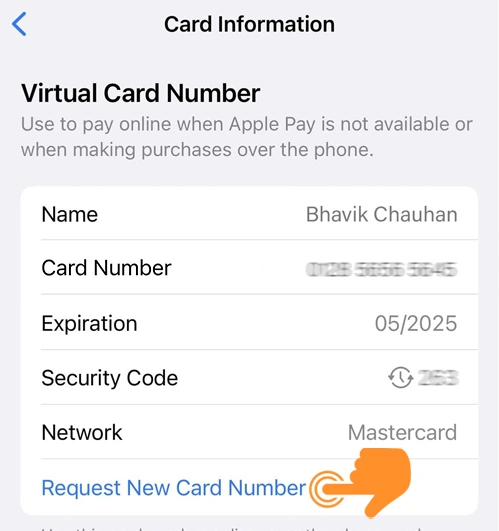 After you've requested a new number, you'll get a confirmation email from Apple. Remember to update your Apple Pay details on all devices you use for transactions.
Note: A new card number won't affect your credit account status, limit, or history.
Check Your Card Number…
In conclusion, accessing your Apple Pay card number or requesting a new one is simple with these methods. Whether you're shopping in places without Apple Pay support or addressing security concerns, these steps ensure smooth, secure transactions.
FAQ's
Can I view my full Apple Card number?
Yes, you can see your complete 16-digit card number, expiration date, and three-digit CVV code.