How to Add Custom Artwork to Apple Music Playlist in iOS 17
Enhance your Apple Music playlists by adding custom artwork, turning them into unique, eye-catching collections of your favorite tunes. Not only does this personalize your playlists, but it also allows you to showcase your creativity and musical preferences to others.
In this blog post, I'll guide you through the simple steps to add custom artwork to your Apple Music playlists on iOS 17, using images from your device or photo library.
How to Add Custom Artwork to Apple Music on iPhone
In past iOS versions, you could only use a basic tile of album artwork or upload your own image for playlist customization. Now, iOS 17.1 offers eight new artwork styles for playlists, adding variety with shapes and gradients. The playlist's title is shown in the top left, and the artwork's colors come from the first song's album cover.
If you don't choose a custom style, the default is a tile of the first four songs album artwork. But, you can always pick a personal image from your photos or the Files app.
Create a Custom Apple Music Playlist
If you want to create your own unique playlist on Apple Music, follow these steps:
Start by opening the Apple Music app on your iPhone or iPad.
Click on the "Library" tab at the screen's bottom.
Then, go to Playlists.
Now, select "New Playlist".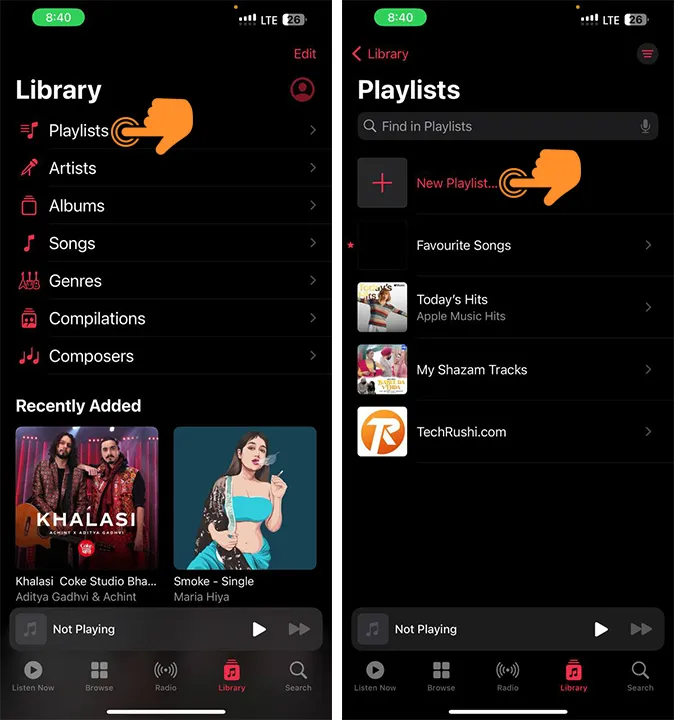 Give your playlist name.
Add all your favorite songs to the playlist.
Add Custom Artwork to Apple Music Playlist in iOS 17
Add a personal touch to your Apple Music playlist by putting your own custom artwork on it. To do this:
To create your playlist artwork, click on the triple-dot icon at the screen's top-right corner.
From the dropdown menu, choose "Edit".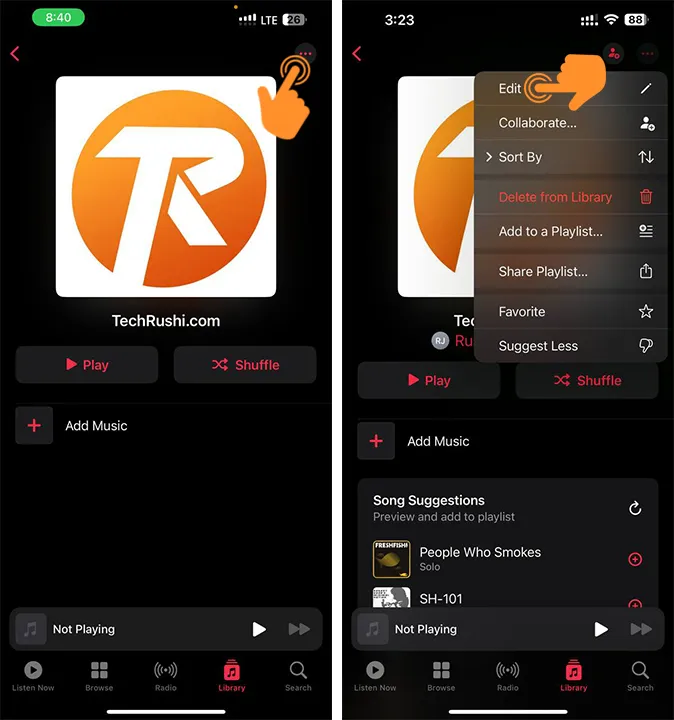 Swipe right-left to see all the artwork options available.
Pick and center the artwork you want to use.
Hit the "Done" button at the top-right corner of the screen, and you're good to go!
Wrap Up…
That's it! With iOS 17.1, adding custom artwork to Apple Music playlists is easy, making them look great. You also get new features like liking songs from your Lock Screen and playlist song suggestions.
FAQ's
Is it possible to modify the cover art on Apple Music?
Yes, you can change the cover art of your playlists on Apple Music to make them look the way you want.