Recently, Meta, formerly known as Facebook Inc., has introduced a new social media application "Threads". Designed to work in tandem with Instagram, Threads is rapidly gaining a reputation as a potential rival to Twitter, earning it the nickname "Twitter killer". Sign up or create Threads account is a straightforward and very easy process.
If you are ready to dive into the digital sphere of communication, the following simple steps will guide you on how to sign up or create Threads account. If you don't know how to Thread on Instagram Threads then read our guide.
Sign Up or Create Threads Account
Here's the process of installing and setting up the Thread App on your iPhone. To Create Threads Account on your iPhone then follow the below steps:
Open the App Store on your iPhone. Use the Search bar to find the Threads app. Tap on "Get" to download and install the Thread App.
If you have an Instagram account already in use on the device, the app will suggest your username. Click on it. If you want to change your account, click on "Switch Account".
Click on "Import from Instagram" to copy your data from your Instagram account.
Once your profile data is imported, tap the "Next" button.
On the Privacy page, choose either "Public Profile" or "Private Profile". Tap the "Next" button after choosing your privacy settings.
Public Profile: Anyone on or off Threads can see, share, and interact with your content.
Private Profile: Only your approved followers can see and interact with your content.
Start following your friends and family members on Threads. The app may provide suggestions based on your Instagram followers.
Click on "Join Threads" to start communicating within the digital world through the Threads platform.
You can now view and modify your Threads profile as needed.
Notes
If You have an Instagram Account then creating a Threads account is very easy.
How to Create Threads Profile
If you're setting up your Threads profile, the following steps will guide you:
Navigate to your Profile Page. Tap on the image icon to select a profile image from your device's storage.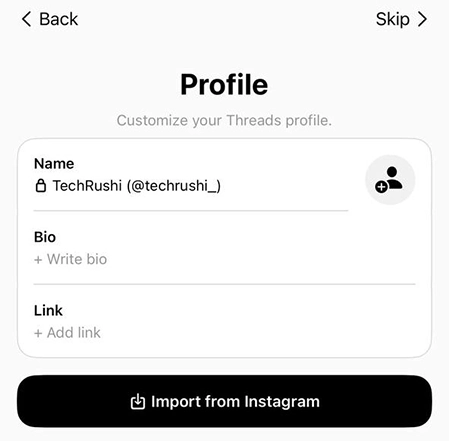 Select "Choose from library" to upload the chosen profile picture.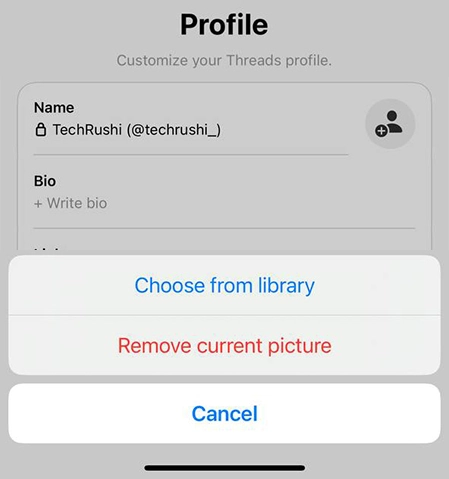 After setting your profile picture, tap on the "Bio" section to input your personal biography.
After completing your profile setup, tap on "Done" to finalize your profile.
Wrapping Up
In conclusion, the introduction of Meta's Threads offers users a new and unique platform to express themselves and connect with their social circles. Leveraging its integration with Instagram, Threads presents an easy and efficient way to stay engaged with your network. The steps provided in this blog make setting up and personalizing your Threads account a straightforward process, encouraging you to explore and thrive in this digital communication landscape. So, go ahead, create your account, and dive into the fascinating world of Threads.