How to Add Widgets to Your iPad's Lock Screen with iPadOS 17
Apple just rolled out iPadOS 17, packed with a bunch of cool features for iPad users in the US and around the world. One of the most anticipated features? You can finally add widgets to your iPad's lock screen!
After the release of iOS 16 for the iPhone last year, iPad users were itching to get that interactive widget action on their devices. This year, Apple made it happen with the iPadOS 17 update.
Ready to jazz up your iPad lock screen with widgets? First, make sure your device is updated to the latest iPadOS 17. Then, just follow these steps:
How to Add Widgets to Your iPad's Lock Screen:
Wake up your iPad and give the lock screen a long press.
Hit the "Customize" button to add widgets that match your current wallpaper. Or, tap the "+" to design a new lock screen look.
Next, select "Lock Screen."
For portrait view, hit "Add Widgets" and pick one or two large widgets. It'll look just like the iPhone's lock screen.
If you're in landscape mode, select "Add Widgets" from the left panel.
Browse through recommended widgets or explore ones from other apps you've installed.
Choose your favorite widgets, tap 'em, and drag 'em right where you want them on the lock screen.
Rearrange your widgets by holding and dragging them to your preferred spot.
Once you're set, hit the "Close" button (look for the "X" in the upper right) and then tap "Done."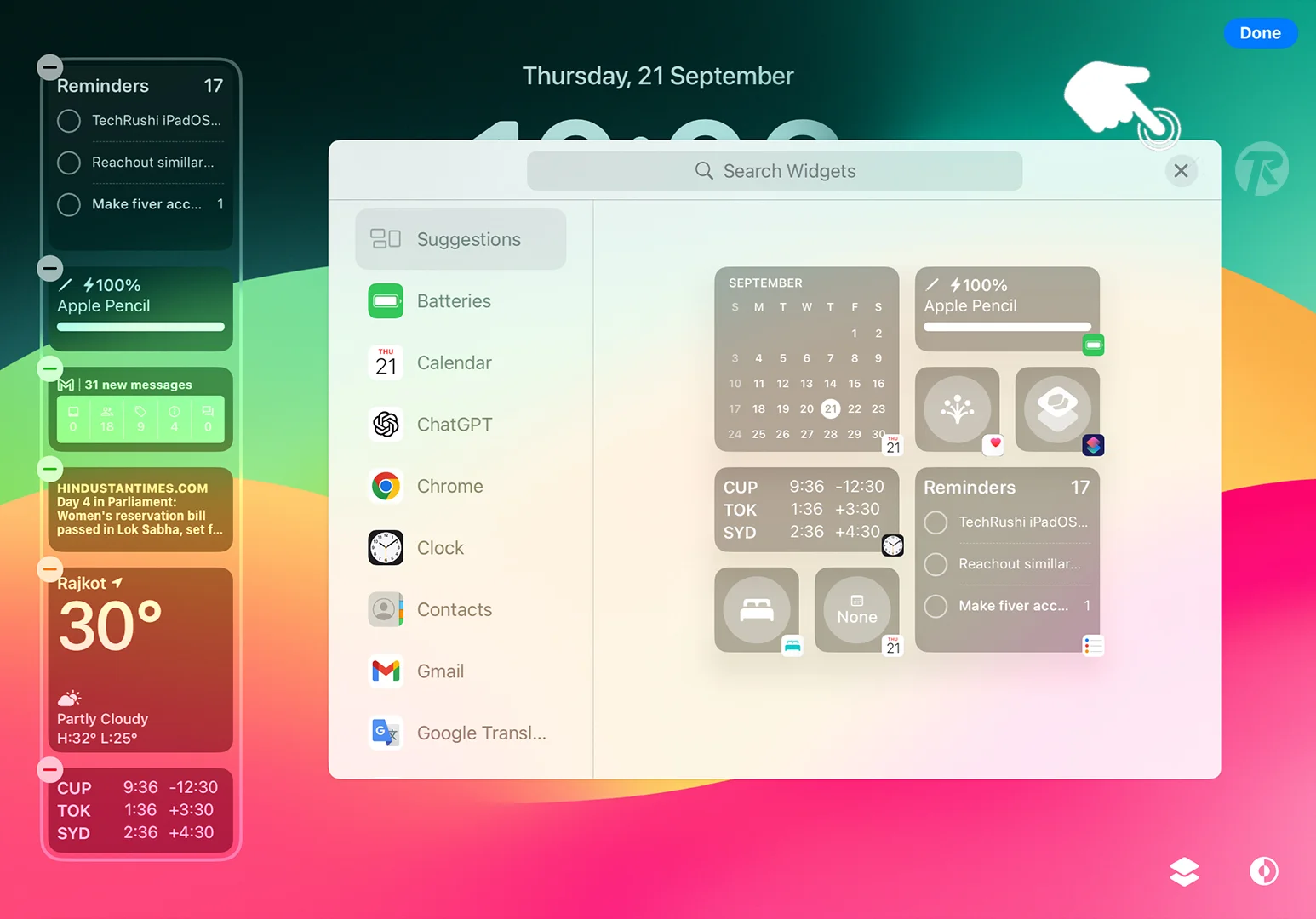 And just like that, you've revamped your iPad's look! The new iPadOS 17 is more than just widgets – play with depth effects on wallpapers, switch up your lock screen style, enjoy new live wallpapers, and boost your productivity with added widget functionality.
FAQ's
Which iPad Support Widgets on the Lock Screen
– iPad Pro (2nd generation and later)
– iPad Air (3rd generation and later)
– iPad (6th generation and later)
– iPad mini (5th generation and later)
Are these features available on iPadOS 16?
Nope! This fresh widget functionality is only for iPads running iPadOS 17 or newer.