Apple frequently rolls out iOS 17 beta updates to beef up features and ramp up security. However, there are times when you may need to halt an ongoing update. In this blog post, we'll walk you through the steps to cancel iPhone update that's already in progress.
Why Might You Want to Cancel iPhone Update?
There are plenty of reasons why you might want to stop an iPhone update in progress:
Limited storage space
App incompatibility issues
Concerns about bugs or glitches
Running low on data
Warning: It's generally safe to stop an update before it installs. However, interrupting the installation process could brick your device, so be cautious.
How To Cancel iPhone Update While Installing iOS 17
Apple doesn't offer a straightforward way to pause or cancel updates, but you have one options. Follow these step-by-step instructions to cancel iPhone update.
Step 1: Check Your Update Download Status
First things first, check the status of the download. You can only cancel an iPhone update if a new update has started downloading. To do this, go to your iPhone's Settings > General > Software Update. If the update is stuck or paused, you're good to cancel it.
Step 2: Stop an Update on iPhone in Progress
Once you've confirmed that some portion of the update has been downloaded, you'll need to stop the update by cutting off the internet connection. Here's how:
Swipe to open the Control Center while the iOS update is downloading.
Tap the Airplane mode icon to turn it on.
The download will stop due to the lack of connectivity.
To check the update status afterwards, navigate to Settings > General > Software Update. Keep your phone in Airplane mode until you're ready to resume the update.
Note: During this period, you might want to turn off automatic updates to prevent them from kicking in without your consent.
Step 3: Disable Auto-Updates in iOS 17
When Airplane mode is activated, the update will pause. However, turning off Airplane mode will resume the download if the Auto-Update feature is enabled. To turn off automatic iOS updates:
Go to Settings > General > Software Update.
Tap on "Automatic Updates."
Toggle off the "Download iOS updates" option.
This way, your iPhone won't download or install iOS updates automatically, giving you manual control.
Step 4: Purge Downloaded iOS Update Files
When you stop an iOS update, the partially downloaded files still take up storage space on your iPhone. It's essential to remove these files to free up space on your iPhone and ensure your device treats future updates as new downloads. Follow these steps to delete them.
Navigate to Settings > General > iPhone Storage.
Locate the software update in the list.
Tap on it and then tap "Delete Update."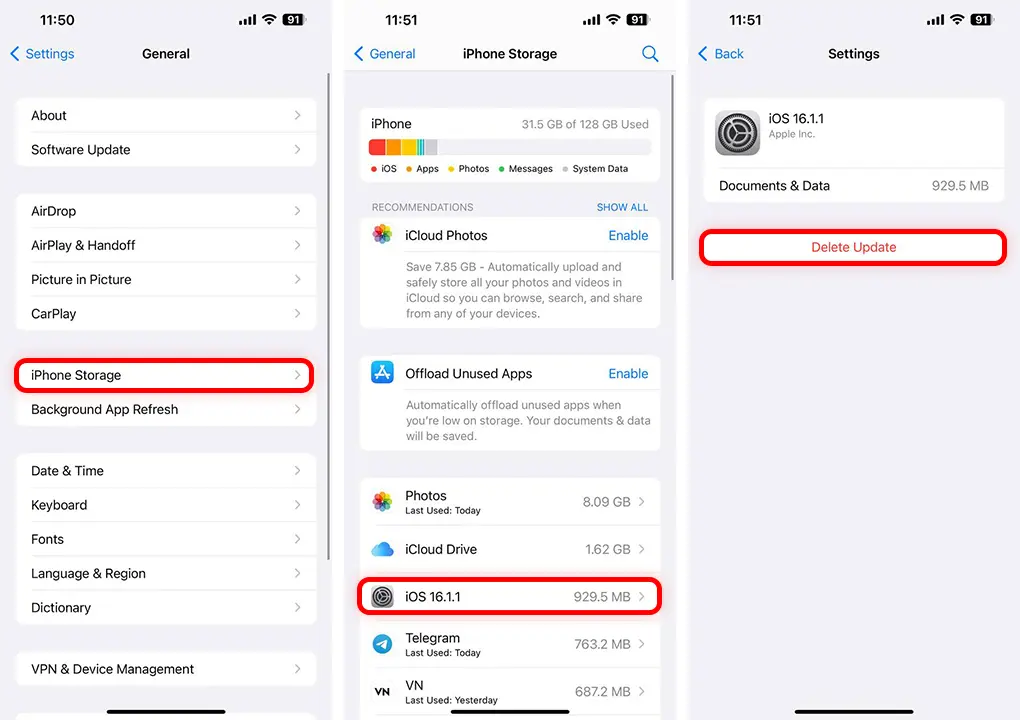 Conclusion
Hopefully, this guide helped you cancel an iPhone update during the iOS 17 installation. Remember, halting an update while installing can be risky, so exercise caution. By following these steps, you can better manage your device's updates and enjoy a more tailored user experience.