With the iOS 17 update, Apple introduced the exciting Contact Posters feature. This tool allows you to spruce up your call screens with Memojis, photos, and other cool designs. Some users, though, have experienced difficulties with this feature. This guide will help you address and solve the Contact Poster Not Working on iPhone issue.
Why Might Contact Poster Not Work?
In iOS 17, the Contact Poster feature offered iPhone users a cool option to personalize their call screens. However, some users have encountered issues. Common causes for these problems include:
Latest iOS Version: Make sure you have the latest iOS 17 version. Not being updated might cause compatibility and performance problems.
Enable Contact Posters: The feature might be turned off, so ensure it's activated.
Network Connection: A good connection is key. Contact Poster might need to sync with iCloud or other Apple services.
Configuration Missteps: Check that you've set up the Contact Poster correctly.
Software Bugs: There might be bugs that Apple hasn't recognized yet.
Third-party App Issues: Some apps, especially those that change or manage contacts, might not work well with Contact Poster.
By checking each of these, you can effectively address the "Contact Poster not working" issue.
Note: Always back up your data before troubleshooting!
Best Ways to Fix iOS 17 Contact Poster Not Working on iPhone
Update Your iPhone
Both caller and recipient need updated devices for the feature to work. Make sure you're on iOS 17. Go to Settings > General > Software Update > Download and Install. The Contact Poster feature works on:
iPhone 15, 14, 13, 12, 11 series
iPhone XS, XS Max, XR
iPhone SE (2nd generation and later)
Force Restart Your iPhone
Force restarting your iPhone can help clear out glitches and ensure features like Contact Posters work smoothly. Often, a basic restart can fix many software hiccups. To do this, follow the steps below:
For iPhone X and newer:
Press and hold the volume and side buttons until the slider appears.
Slide to turn off.
Press the side button to turn it back on.
For iPhone 8 and older:
Press and hold the side and home button until the slider appears.
Slide to turn off.
Press the side button to turn it back on.
Reset all Settings
If you're consistently having trouble with features, such as the Contact Poster Not Working, a possible solution might be to reset all settings on your iPhone. This action can address problems due to wrong configurations. While it won't delete your personal data or media, it will revert network and privacy settings to their defaults.
Open Settings > General > Transfer or Reset iPhone > Reset > Reset All Settings.
Enter your passcode and confirm.
Once you've completed the process, your iPhone will reboot with all settings reverted to their factory defaults. Afterward, check to see if the problem has been resolved.
Enable Name & Photo Sharing
A likely reason you might not see Contact Posters is if the Name & Photo Sharing option is disabled. This setting determines whether a user's Contact Poster is shown to their contacts.
Open the Phone app and tap the Contacts tab.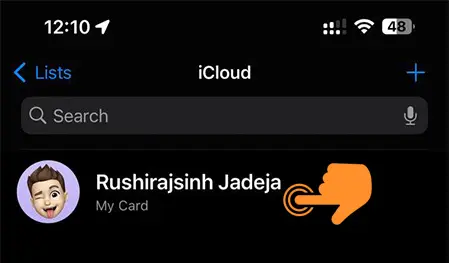 Select your profile and tap "Contact Photo & Poster".
Turn on "Name & Photo Sharing" and set "Share Automatically" to "Contacts Only".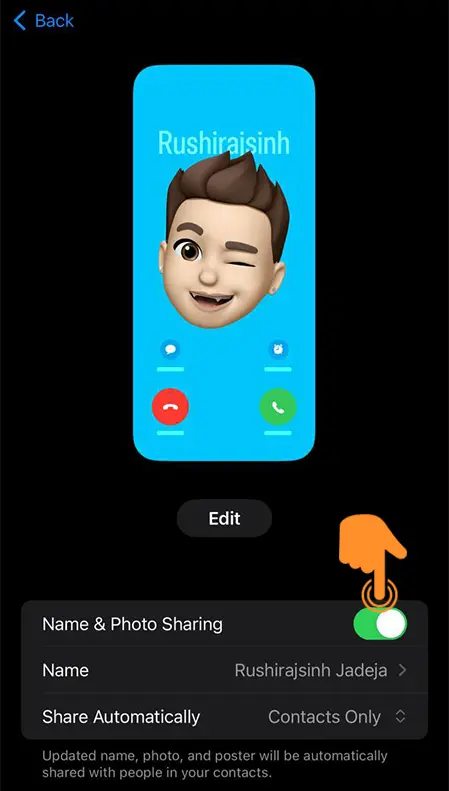 Reset or Create New Contact Posters
Open the iPhone Contacts app and select the contact that's causing the issue. Next, tap on "Contact Photo and Poster".
Slide up on the chosen design and select "Delete". Confirm the action when prompted.
Next, tap the "+" symbol at the lower right. After picking a poster, press "Done".
Force Close and Restart the Phone App
At times, a quick fix for glitches in the Phone app is to simply force-close it and then reopen it. This brief reset can clear out short-lived issues and might help resolve any Contact Poster discrepancies.
While in the Phone app, swipe up to see all open apps.
Swipe away the Phone app to close it.
Reopen the Phone app.
Check Caller ID
If you've turned off the Caller ID on your iPhone, it might prevent the Contact Posters from functioning properly. Here's a quick way to check and adjust this setting on your iPhone:
Open Settings > Phone > Show My Caller ID.
Ensure it's turned on.
Contact Apple Support
If you've tried all the above troubleshooting steps and the Contact Poster still isn't working, your best bet is to reach out to Apple Support.
Conclusion
Experiencing issues with the iOS 17 Contact Poster Not Working on your iPhone can be a challenge, but with the provided troubleshooting steps, you can handle and resolve them. Ensuring your iPhone operates smoothly and efficiently is crucial, and with the right guidance, any hiccup with Contact Posters can be overcome.